[App] Password Saver – store passwords simple and secure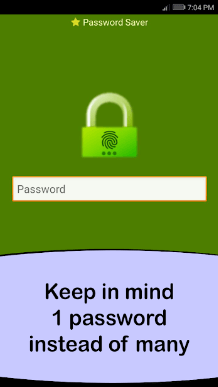 Password Saver : Breaking news! Now you can use your human memory for something better than various passwords, PIN codes and other secret staff.
Password Saver will help you to store and quickly find your personal data.
It'll help you to synchronize data across multiple devices and restore it if your smartphone is lost or broken. So there is no need for alarm: all data is well protected.
Keep calm and use your master password – it's All you need to authorize!
Two words about master password
This is the only password you need to log into the app. This is the only password you need to remember. No one in the world can access your data without your master password!
Otherwise use your fingerprint to authorize. In that case you should choose this option obviously.
And now it's time to tell all the secrets about Password Saver:
Simple and user-friendly interface
We don't like complicated and incomprehensible applications. When it comes to storing passwords – we believe that everything should be simple and reliable.
Data synchronization
Password Saver will synchronize your data and restore it at launch on a new device. Our app does it with a help of the Dropbox service. We highly recommend using the synchronization feature. You will definitely sleep well with it.
Data fully protected
Data is stored only in encrypted form. The AES algorithm for encryption is used.
Password generator
Useful thing when you think of a new and complex password.
Fingerprint login (Android 6.0 and above)
You do not need to enter the password each time, you quickly open Password Saver with a fingerprint.
Data resque and transfer
You can create backups. A backup is a file that contains a backup copy of all your data. Of course, the contents of this file will be encrypted. And if you transfer the backup to another device, you can restore data from it only by knowing the master password.
Free
We do not require you to make internal purchases in order to use any features of the program. All of them are available immediately and free of charge.
Worth a thousand words
Try Password Saver and you'll recognize: it's one of the most powerful and useful apps for smartphone and tablet.
Still doubt?
Just download and make sure that this app is right for you.
By the way, its weight is not great: about 7 megabytes.
Password Saver user reviews :
Great organization, but tried to backed up fourl times when i changed phones. NOT ONCE did it save my passwords. I've used this app for a few years because i love the simplicity and organization. However, each time i've backed up my passwords and changed phones (all Android), none of my data was able to be carried over/restored. #superannoying Update: ok, i HAVE to update my review & add 2 stars for the developer's timely response. Thank you! I did this twice, but I'm open for "operator error."
Kuzukov Sergey, Kuzukova Galina

Hello, Rebecca. Sounds weird. We recommend to use Dropbox synchronization in Password Saver to guarantee data recovery. Contact us if you have any questions or need help: gsonly.supp[at]gmail.com.
Password saver is a very good app that only stays on your phone and not on someone else's server. The only thing I found, which is ok with me is that when I got a new phone, the app transferred to the new phone but not the passwords. I've had it for a few years now and would be lost without it.
I like the saving options . If you could put a timer on how long the window will be open would be nice . I have used a lot of password keepers and this one is the best so far .
Every time have to access, need to login. Also, will generate secure passwords.
I love this App! It is very easy to use!!!
Good app. Galaxy note 4
Kuzukov Sergey, Kuzukova Galina

May 31, 2017

Good day. This issue was fixed. Try the new update 2.4.2!
Simple yet Solid and Reliable – just what's needed got the purpose at hand
It's easy to use and keeps all my info safe.
Great app I've used it for years with no problems
This is one of the best apps to secure your passwords! I rated it badly before actually it was a malfunction on my part.. so sorry to the app creators my bad
Awesome app. Just what you need to organize and keep track of all your important info. Has helped soooo much. It's a must!!!
Pretty easy app to use for storing passwords. Wish we can add a few more features but overall it's a good app to use
Contact developer :
Download Password Saver from Play Store
Leave your feedback regarding Password Saver
Get more android apps/games/updates
Subscribe to our mailing list and get new android apps / games and updates to your email inbox.
Thank you for subscribing.
Something went wrong.