[Game] Perfect Cream – Icing Cake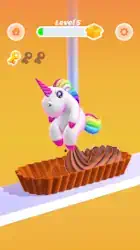 Is perfect topping an easy task for you? Master the controls and try to prove everyone who is the chef in Perfect Cream cupcake games!
How to play Perfect Cream arcade games:
Your task as a confectioner in arcade game is to add cream and decorations to desserts in such a way that not a drop of cream is lost! Hold the dispenser button to drop cream and try to match desserts.
Why you'll love Perfect Cream: Cupcake casual games:
Bright 3D arcade game graphics
Simple arcade game controls
Fun and unique arcade gameplay
Hundreds of challenging arcade game levels
So what are you waiting for? Download Perfect Cream cupcake games and become the best confectioner in casual arcade games!
COMPANY COMMUNITY:
Facebook:  www.facebook.com/AzurGamesOfficial
Instagram:  www.instagram.com/azur_games
YouTube:  www.youtube.com/AzurInteractiveGames
Perfect Cream user reviews :
This game is great, also with very great graphics. There are many different cream tools. Tubes, Unicorn's, and more. There are lots of different things to do. I do definitely suggest downloading that. I also recommended it to all ages. It's kid friendly with kid friendly ads, and also, about ads, there are hardly any ads. Which is great. You can also play offline. It's my personal favorite.
Hello! Thank you for writing us a review and encouraging stars rating We'll do our best to keep bringing you joy
Amazing game, absolutely exceptional. I love that I get to unlock things. But it would have been nice if you could win thousands of things. Anyways, it's perfect just the way it is.
Decent. The gameplay is repetitive, tge animations and systems don't look good, and there's a very limited amount of things to do.
This is very good game but it have some problem too i.e when we buy a cream it change to food and when we buy a food they given us cream…. now that's why I rate it 4 stars plzzz fixed this problem as soon as possible then I will give it 5 stars Thank you
GOOD GAME I love this game. But there is one thing to change. There is a lot of ads. Maybe just lessen the ads by 25%-50%, then I would give it 5 stars. But, overall I love the app!
I love,love this game! I don't mind the ads either,I just wish there was more to unlock,other things added. I mean once you unlock everything and update the shop there's really nothing else to do. Any updates coming?
Perfect cream is an amazing game but one thing is the ads, once you get one ad you'll get another one second "dont lose cream" what do you mean every baker is gonna lose their frosting, i wont not purfer this game TO MANY ADS FIX IT.!!!!!
Hi! I really like your game,but I have a ton of suggestions. I am on level 87- ish. First of all, add a creme bar! It shows how much creme you used, and the amount you need to maintain for extra coins. I am saying this because I went through 20 levels losing so much creme, and getting three stars each time. Also, add more stars. Like, each item has a rarity. This helps your rating. Now, maybe add more customers! It's only one girl, so there has to be more. I have a lot more but I can't say.
Hi! Thank you for the feedback, it's incredibly helpful! Feel free to let us know what you'd like to see in the game via info[at]aigames.ae
It's a great game but I think it could use more customers, and more items in the categories like cremes, confiture, and valves. It also doesn't make sense how it puts a candy cane on some things it sometimes doesn't really go with the dessert.
Hi! We're happy you like the game. Your opinion is important, as it helps us to improve the app. Thank you for the feedback!
The best game ever no lags for me and it comes like how all ads show unlike other games with ads but the best game ever everyone that reads this comment will know how much I like this game so I hope you like it as well please download this game and never delete it love everyone that downloaded this game but still love yall if you didn't download this but what I mean by love yall is love as a friends have an good day but I'm out for real this time bye
It's so fun! Even though it's simple I absolutely love your game! And I'll rate it five stars of course!
Good but as soon as I beat the first level I saw an ad I know that ads get you money but geez can you make It that you dont get an ad when you beat the first level but i still recommend downloading this game
If you like the content that we provide since 2012, put a smile on our face and give us a like or share this with your friends on any social platform. If you want to support this project, any crypto donation of $0.5, $1, $2, $3 is welcome!
You can find our crypto wallets on https://free-apps-android.com/buy-us-a-coffe/
Sponsored Links