[Game] Pirate Code – PVP Battles at Sea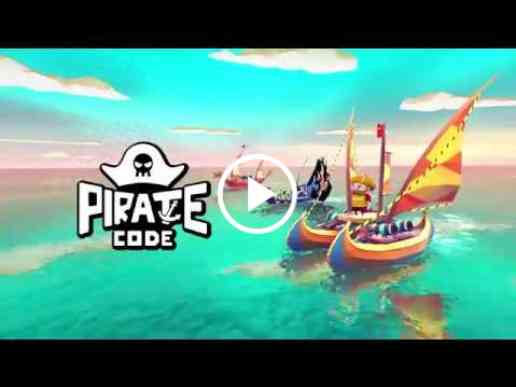 Take to the high seas in full scale PvP naval warfare, with fast paced conflicts packed with ship-to-ship seaborne action.
Choose to play as a lone wolf, or join a fleet and take part in epic ten player skirmishes at sea. Choose a captain armed with unique firepower, board a powerful battleship and dominate the high seas!
Aye Aye Captain
Choose your Pirate Code Captain, each with their own fearsome battle ability, from Vasco De Gama's lethal fireball, Billy's mighty energy wave, Hattori's cunning invisibility shield, and Catalina's fearsome frost arrow! Choosing the right captain and create a strategic advantage on the ocean wave!
Ship Shape
Choose from one of twelve powerful battleships to take into the fray from the dreaded Obsidian and the swift Dragon Boat to the mighty Flying Dutchman. Each ship has different attributes, designed to give you the edge over the competition.
Set Sail
Prepare for battle with enhanced armour, cannons or torpedoes before taking to the high seas in intense ship-to-ship combat.
Product Features
Take part in five versus five, on-line, naval battles on an epic scale
Choose one of twelve mighty ships into battle from the dreaded Obsidian, the swift Dragon Boat to the mighty Flying Dutchman
Choose from one of ten seafaring captains each with their own powerful ability; Vasco De Gama's lethal fireball, Billiy's mighty energy wave, Hattori's cunning invisibility shield, and Catalina's fearsome frost arrow!
Different combinations of captain, skill and ship allow you to deploy multiple strategies to conquer the high seas!
Prepare for battle with enhanced armour, cannons or torpedoes before taking to the high seas
Join a fleet and battle for collective glory, or play on your own as a lone shark!
Unleash all manner of attacks on the enemy fleet from frost beams, shark attacks, and fireballs or be more strategic with healing and invisibility skills
Complete a series of maritime missions and win precious gold!
Dominate one of three maps to claim victory
User Reviews :
No need of grinding, its all pure tactics and real time pvp matches, although i have a reccomendation for game in a way that devs should introduce an open world ocean where people can freely roam, loot, attack or make allies with eachother, it will be so much better. I also have a suggestion to increase chest slot to 8 atleast. Its an amazing game you should try it
Great game but the game keeps crashing for the past 24hr. This goes for a lot of other players as well ie half my fleet. All my devices have been updated but still no change. The start screen comes up but is not responsive. I've been playing for more then 12 months now and will be sad to give it up due to your technical issues. Please fix this
Interesting. Even though you'll get used to it quite fast. As long as you understand the movement and perks or every ship. One thing I like is lower grade ship could be more comfortable to use than higher grade. Even this game a bit P2W, but it's quite balanced. It will be more comfortable if the game developed even more than simple battle, such story line, massive strategic battles, more fast paced, etc. Also, please clean up the bugs. After last update, it still appears. Thx.
Game in general is good. The negative points are as followed ;. Constant battle "timeouts" not being able to find matches. When trying to look around using the obsidian ship it goes crazy so trying to aim at enemy is difficult. When I mention goes crazy you swipe slowly but it speeds up doing a 360 view of ship and back to starting view position.
Codex7 Games

Hello, thank you for the feedback. The 'timeout' issue has been fixed. Thank you for understanding and being patient. We will keep improving the game performance.
Finally, battle pirate ship game. Codexgame thank you, thank you so much make this game. There still bug when we start match making and another else
It is an amazing stragey game to play with your friends and become pirate legend it has good quality and not lag
This game is fun to play and simple and i love this game
This is a wonderfull game,nice online game but need to update the controller
Latest Update :
This version includes some bug fixes and improvement.
Pirate Code developer :
Video :
Download Pirate Code from Play Store
Leave your feedback regarding Pirate Code
Get more android apps/games/updates
Subscribe to our mailing list and get new android apps / games and updates to your email inbox.
Thank you for subscribing.
Something went wrong.