[Game] Pirates of Everseas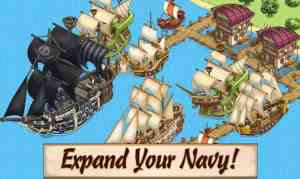 Ahoy, Captain!
Embark on an epic pirate adventure to rule the untamed waters!
Create a seafaring, swashbuckling empire in Pirates of Everseas !
Develop your city, construct ships, explore the open sea, and battle enemies in this exciting strategy game!
BUILD A POWERFUL CITY
Manage your resources to design and build a thriving city. Use strategy to expand your city as you collect loot.
DEVELOP AN UNSTOPPABLE NAVY
Customize your pirate ships with loads of weapons! Build multiple fleets and upgrade them for more might in battle.
RAID FOR RESOURCES
Plan your strategy and attack rival islands and ships to obtain goods, treasures, and weapons. Battle sea monsters and explore shipwrecks for even more booty.
FORGE BATTLE ALLIANCES
For strength in numbers, join or lead other players. Build your power over the oceans through battles and strategy!
Raise your black flag and rule the seas!
Have problems or feedback? You can reach our support at board.moonmana.com
Pirates of Everseas is a free-to-play strategy city-builder, but you can choose to pay real money for some extra items, which will charge your account. You can disable in-app purchasing by adjusting your device settings.
Use of this application is governed by Glu Mobile's Terms of Use. Collection and use of personal data are subject to Glu Mobile's Privacy Policy. Both policies are available at www.glu.com. Additional terms may also apply.
FOLLOW US at
Twitter @glumobile
facebook.com/glumobile
You may also like
Pirates of Everseas user reviews :
Ok first of all I love this game. But needs some more to it. When you attack other players or attack monsters there should be like cannon noises and sound effects. 2nd I would like to see more pirate ships in this game. 3d I would like to see more weapons as in, swords, axes, guns, cannons, etc. This is a good game I have to admit but it still needs some work.
Fair easy game. Time consuming but easy
Moonmana LLC

We are truly happy that you enjoyed our game. Thank you so much for your evaluation. Your praise will help us to create more interesting games.
Not user-friendly game.not easy for new players.many limitation like can't donate resourse or weapon to own member there can be a trade option between own member.any level of big player can attack any small player without any resoon.too much long time game to grow strong .
Moonmana LLC

Hi, We've forwarded your feedback to our developers. Thank you for taking out the time to send us your suggestions!
I enjoyed the game, so much that I paid for some gems. Unfortunately after making the purchase I never got anything, even though google play confirmed the payment. Ruined the entire experience
Moonmana Sp. z o.o.

Hello! Please contact our technical support at everseas@moonmana.com They will help you solve this problem.
If you like a game where you can meet people from around the world and also have some action within come along.
Keeps getting more bugs with each update and the devs dont care
Moonmana Sp. z o.o.

Could you kindly tell us more about the problem you are facing at board.moonmana.com/index.php? We are looking to improve the game. Thanks.
Great game smooth play, casual and fun, not pay to play! :) but you could if you wanted to lol.. i had to contact the dev for a small issue and the customer service deserves 5 stars in itself outstanding team they have there
Moonmana Sp. z o.o.

We are truly happy that you enjoyed our game. Thank you so much for your evaluation. Your praise will help us to create more interesting games.
You know, its not a bad game. It can be adictting depending on the player. But right when you start its a clear money grab. When you lose against cities, you lose PLENTY of trophies, while if you win, you sometimes get 5 or 6. Then it asks if you want to return your lost items, but of course it costs gems, which is the hardest loot to get. Fleets also cost lots of gems. And the Research for the Alchemist lab is crazy expensive. The point is if you aren't willing to pay money, don't get this game.
Nice game but resources to hard to get even if you hire captain forever and they don't even update game just same old monsters which just gets boring only getting 1 star because that's the only way to post this
Moonmana Sp. z o.o.

Sorry to hear you are unsatisfied with the progress of the updates. I hope you can enjoy our app again in the future.
I love this game and have played it for years, but now it crashes and I cannot play it after the update that came out yesterday No 12 2019. Update: the reinstall with the new update did resolve the issue. There are new features added from time to time like buildings and other things to upgrade, which is good. Edit Apr 13 2020, while here is still 1 main world event, we now have additional daily quests so that is great! It feels like 2 updates a year for new content, which is good 5/5 now.
Moonmana Sp. z o.o.

Thank you, we are constantly working to improve our game!
So far so good. Pretty fun and addictive, the only reason why I rated the game 4 stars is because of the constant crashes, other than that, so far so good.
Yarrtastic! Fun and cute-looking piratey strategy game. Even without paying a dime you can still build up a fine lil island for all your plundering needs :)
The game looks good, I am concerned that I am in the midst of experienced players and will be a target Good game
Great game! Easy to play
Video :
https://www.youtube.com/watch?v=SGW8I40Y0ns
Download Pirates of Everseas from Play Store

Leave your feedback regarding Pirates of Everseas
Get more android apps/games/updates
Subscribe to our mailing list and get new android apps / games and updates to your email inbox.
Thank you for subscribing.
Something went wrong.