[Game] Rise of the Kings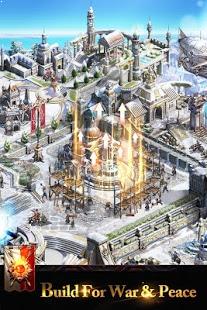 The Great Dragon casts his shadow across the land…
In Rise of the Kings, players from all over the world battle to rule this new epic real time strategy game online.
Utilizing the best of the RTS, RPG, and MMO gaming genres, take your place in this epic war game as one of many Lords fighting for survival in a hostile fantasy world.
In this army game you hold the fate of your kingdom, your army, and yourself firmly in your hands.
Tap and install this mobile game to train an army to clash with evil in the best online empire game available!
Rally your friends and engage in epic clashes against determined enemies and fearsome foes.
Utilize clever strategy, superior leadership, and cunning diplomacy, to rise to the top and claim the crown and the throne.
Download this top fantasy RTS MMO today on your phone or tablet and begin playing online with players from around the world!
Amass Your Army
Gather friends, old and new, and form a top Alliance to conquer the best new war strategy game available.
Build your empire and train an army, then lead them in PVP war against friends, new and old!
Train your army, lead them into battle, and crush your enemies.
Explore the Wild Lands!
Stalk the monster clans roaming the lands and dungeons, and kill them to sharpen your skills and claim their treasure.
Explore the dark dungeons inside the Ruins of the old Kings, and face down the Dark Guards to uncover the riches of the ancients.
A King will Rise
If you love PvP challenges, then prove your mettle against the best Lords in the Realm.
Grow faster, build faster, train faster, and then put it all on the line against the terrifying Orcs, the ghastly Grimm Raider Clan, and more as you clash with other ambitious Lords.
Do you have what it takes to Rise and become King?
Shoot us a message at servicerok[at]onemt.com with any questions or comments relating to this wicked multiplayer strategy war game. Ask us anything!
Also, connect with Rise of the Kings and friends:
www.facebook.com/RiseoftheKings
You may also like
User Reviews :
This game is similar to KOA. Not counting to many glitches that occurs during game play. This is a pay as you play game also. So don't be fooled. Most people don't stay because of this. You do get rewards but the payout isn't that great either. While KOA rewards are more ROK Only deserve 3 Stars.
Best game I ever played in my life, I deleted all my previous games just to focus on this one. This game takes you in, it's like you are living inside it….words can't describe precisely how I feel about this game. The team who designed this game, you're the BEST!!!!!! 5 stars for me and so is everyone else who is playing
Great game with many "inside the game" games to keep it fresh. It is pay to win, however, you can enjoy the game without breaking the bank like many other games.
Very good game, but when i do ashen path i get kicked out of the game. Its a drag. I have sent faq messages and recieved no answers or assistance ill change my rating when you fix bug. Still no action from you on my ashen problem.
ONEMT

Dear Lord, Thanks for your kindly feedback, we are deeply sorry for the untimely reply from our customer service staff. We are always working to optimize the game and provide a favorable service for our players. We will pay more attention to and strictly demand our behavior in the future. Thank you:)
This is one of the best games. I've being playing for almost a year and its very addicting . The only problem i have is that i could only get two castle themes and to get the others you have to part take in certain events or purchase it . I would really be glad if it would be easier for me to get diferent castle themes other than that this game is awesome!
Latest Update :
[New Content]
1. New Mythical Beasts: Dark Dragon & Astral Dragon
2. New Gold Hero: Minos
3. New Supreme 30day Superstar Stockpile
4. New Event: Daily Recharge
5. New Function: Battle Replay
[Optimizations]
1. Castle art optimization
2. Daily Quest adjustment: Quest difficulty reduced, resource rewards upgraded.
3. Rewards from some events have been adjusted.
Rise of the Kings developer :
Video :
Leave your feedback regarding Rise of the Kings
Get more android apps/games/updates
Subscribe to our mailing list and get new android apps / games and updates to your email inbox.
Thank you for subscribing.
Something went wrong.