[Game] Roblox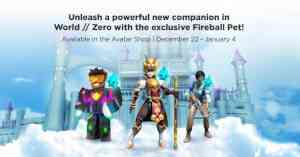 Roblox is the ultimate virtual universe that lets you play, create, and be anything you can imagine. Join millions of players and discover an infinite variety of immersive worlds created by a global community!
Already have an account? Log in with your existing Roblox account and play now!
MILLIONS OF WORLDS TO EXPLORE
In the mood for an epic role-playing adventure? Want to compete against rivals worldwide? Or do you just want to hang out and chat with your friends online? A growing library of worlds created by the community means there's always something new and exciting for you to play every day.
PLAY TOGETHER ANYTIME, ANYWHERE
Take the fun on the go. Roblox features full cross-platform support, meaning you can play with your friends and millions of other people on their computers, mobile devices, Xbox One, or VR headsets.
BE ANYTHING YOU CAN IMAGINE
Be creative and show off your unique style! Customize your avatar with tons of hats, shirts, faces, gear, and more. With an ever-expanding catalog of items, there's no limit to the looks you can create.
CHAT WITH FRIENDS
Hang out with friends around the world using chat features, private messages, and groups!
CREATE YOUR OWN WORLDS: www.roblox.com/develop
SUPPORT: en.help.roblox.com/hc/en-us
CONTACT: corp.roblox.com/contact/
PRIVACY POLICY: www.roblox.com/info/privacy
PARENT'S GUIDE: corp.roblox.com/parents/
PLEASE NOTE: A network connection is required to play. Roblox works best over Wi-Fi.
Roblox user reviews :
Honestly a pretty good game, almost no complaints. One thing I've noticed though; in the games that are car-based, the vehicle physics just feel weird, like the handling on the cars is stiff like an RC car, or they're lighter than they should be. Especially if you hit a jump, it seems like the car doesn't stay in the air as long as it should, like the gravity just feels a little off. If possible, maybe try making the cars handle smoother or make them weigh a bit more to handle more accurately.
The game is really great but there is one problem with it. On Samsung devices, there is a weird crash that makes your screen black and white. It will also make you lag a lot too. If a game crashes and you try to log back in, it will crash again. It will make the game unplayable. It can also happen when you try to get in roblox. Also, other people are experiencing it too. I really want roblox to fix it, so many other people can experience a good time. Please fix the weird crashing issue.
I'm giving it 5 stars because I grew up on this game it defined an entire generation, not alot of games can accomplish that. However there are some issues,in some games when you exit the player list you can move your camera at all, and sometimes the dynamic joystick bugs out and control ls both the camera and the and the players movement, usually this isn't a problem, however with my device I have to use the classic joystick, which makes it difficult to play because I play on my phone. Fix it?
This is a great game, but one day i played it and it showed me the sign in or log in thing, i pressed 'log in' i wrote my username and password but it didn't work. Please help me! I really love this game
I was trying to create an account (as I would) and I filled in everything and clicked sign up, i was faced with the anti-robot system and I complied, however, the system has a timer that you can't see, and it says you ran out of time and makes you try again, but you have to do more the next time, basically you cant get passed the anti-bot system because you have to think.
I love the games although once you play on ipad or phone it'll cause a lot of lag, so please make it that theres not a lot of lag, but one time on roblox therr was a bug and I couldnt log back into my account. I tried multiple times, but it still didnt work. I have now lost my account and I spent money on it to get robux. So i had to make a new account. All I'm saying is that you should fix that.
This game is amazing. It has a while lot of games to choices from and is perfect For people who are more through lockdown. But the game does have quite a lot of glitches. I don't know if my phone isn't just right for playing roblox but every now and then my camera would play up and I would have to leave the game and then re-Join. Another thing is, is that oven you've been playing for about an hour your phone kindof just gives up on you. But overall I think this game is amazing and game 10/10
Really good game! Just one complaint, It really sucks how you have to have wi-fi to play this, when I first got it, it was 3 years ago but I was so excited to play it, and it wouldnt let me play it, Just this year I got wi-fi so please just make it work enough where you can play games on it without wi-fi if that is possible, thank you Love your game
I absolutely love this game because, 1: You can play with other people and chat in real time, 2: Different games for different types of people, 3: You can make friends with people and chat privately (be careful for bad ppl tho) and 4: You can fully customize your avatar and even create games and clothes if you have a premium membership! The controls are good and you can play on mobile or PC, and the graphics are AMAZING  I rate this game a 9/10 because you can still get scammed in games.
Can You Please Add Change Username GUI I Had This Username Since Day 1 Which Was 11/20/11 And That's 3 Years And I Just Want A New Name And In Plus You Guys Shouldn't Be Making New People Have Nothing Like For Instance 10 Tix A Day Is Bad I Am Not That Person Cause I Buy My Robuxs But Its Not Fair To Others And You Made A Limit 100 Tix For A Shirt And Only Get 10 A Day Is Not Fair. You Should Be Rewarding Every Who Starts Atleast 100 Robux But Your So Greedy To Not Help The Noobs And New.
Awesome Love the game and everything else on it. FIX THE CATALOGUE FOR MOBILE!!!!! whatever I search for I get something completely different and STOP with all the updates! My SD card is overflowing with updates and won't store another one. Many of them are awful like items are now 100 tx. players quit roblox because of this update
10 tix a day is just horrible with the prices of 100 tix for like a shirt on roblox.it would be really helpfull if u can add to the amount
Latest Update :
To make Roblox work better for you, we deliver updates regularly. These updates include bug fixes and improvements for speed and reliability.
Contact developer :
Video :
Download Roblox from Play Store

Leave your feedback regarding Roblox
If you like the content that we provide since 2012, put a smile on our face and give us a like or share this with your friends on any social platform. If you want to support this project, any crypto donation of $0.5, $1, $2, $3 is welcome!
You can find our crypto wallets on https://free-apps-android.com/buy-us-a-coffe/
Sponsored Links