[Game] Soda Dungeon 2
 i am innocent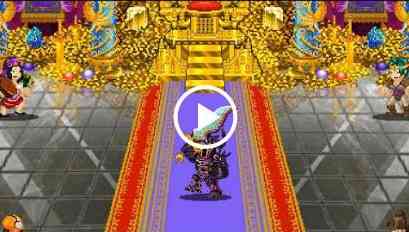 Your favorite fizzy dungeon crawler is back!
The Dark Lord has locked all sorts of legendary items, loot, and goodies up in his castle behind a seemingly endless guard of monsters, traps, and treachery. Daunting? Not for you— You'll be safe in the tavern hiring Soda Junkies to do the dirty work for you. Take the loot they bring back to upgrade your tavern, town, and armory to attract stronger adventurers, then repeat. Build your town, assemble a mighty team, and see if you can make it through the dungeon to the next dimension and beyond.
Along the way your band of merry, soda-fueled minions will encounter trumpeting skeletons, angry chefs, Dark Lords, Darker Lords, and a fairy that is just really, really trying her best. The only thing they won't find is timers, lives systems, or a paywall. Everything can be bought with in-game currency because that's just the Soda Dungeon way.
Custom AI Patterns! – Sick of dumb-as-rocks NPC allies? We are too. Create custom behaviors for you party using Soda Script! Even when you're not looking over their shoulders they're doing exactly what you want.
Craft Gear – Craft new armor and weapons for the adventurers you hire. Find rare materials deep within the Dark Lord's castle to make all new items.
Play While AFK – Have a life outside Soda Dungeon? No problem. Earn Battle Credits while you're away and redeem them for loot when you come back. Even when you're not playing, you're gathering resources!
Build Your Home Base – Assembling the best party will take more than a tavern this time around. Build a blacksmith forge, a wizard's shop, an arena, and more to unlock your party's true potential.
Always More To Do – We heard you. You wanted more mountains to climb. You wanted more goals to accomplish. You… wanted to help people clear rodents from their property ¯\_(ツ)_/¯ Lucky you, because the NPCs in Soda Dungeon 2 are ready to cough up strangely valuable rewards in exchange for completing an assortment of side-quests!
'What's a Soda Dungeon?'
Soda Dungeon is a turn-based dungeon crawler where you recruit a team of adventurers to raid dungeons on your behalf. With the loot they find you'll build up your town, attract better heroes, and find out just how deep the dungeon-hole goes.
Experiment with Confidence – Mix and match classes, try out loads of gear, and send them off to fight. But fear not, everyone comes home safe with all your hard-earned loot. Defeat is just part of the game :)
Free and Fair – Everything can be earned with in-game currency. No loot boxes. But if you want to level up a little faster, we may have some special upgrades for you to peruse.
Cross-Platform Play – Play on your mobile phone, tablet, or Steam and take your save file with you wherever you feel like playing. We're told it's in "the cloud".
Optional Auto-Combat – Feeling lazy? We get that. Set up your party, flip on the auto-combat and let the spoils of battle roll in. You deserve a break.
ANProductions is a one man studio that has been developing games of all types for over a decade.
Poxpower would like it known that he too has been developing games for a long time, possibly even 11 years.
Soda Dungeon 2 user reviews :
I loved the first iteration of this game and the second one has a lot of that feel and adds its own flair. I have enjoyed the game immensely and have done my best to not min max it too hard. You'll find some people try and break the game and then complain it's boring. Just sit back and enjoy the experience and don't grind for stuff just play the game.
(Im so addicted to this game) Warriors dimensions stage 18,238. But i stop grinding. I got all the stuff even all the achievements. After all that the game turned out to be boring. In this dimension 11. Only repeated monster with different stats will show… I know im not the only one who feels like this. Hope there's more stuff characters or even another darklord will add as soon as possible..
Really great game with a lot of personality. There is a lot of things that are very "outside of the box" and I really like it. The designs and animations are very nice, crisp and fluent. The story is quite funny and exciting. The mechanics of the game are very nice and it doesn't pressure you with pay to win stuff. At some point I even wondered "how is yhis game even free?".
Contact developer :
Video :
Download Soda Dungeon 2 from Play Store
Leave your feedback regarding Soda Dungeon 2
Get more android apps/games/updates
Subscribe to our mailing list and get new android apps / games and updates to your email inbox.
Thank you for subscribing.
Something went wrong.