[Game] Rocket Royale
 i am innocent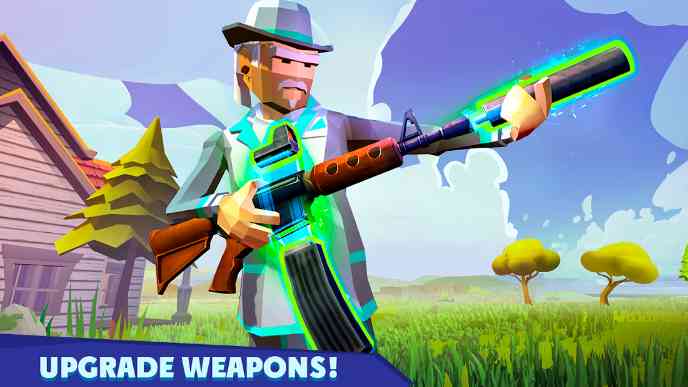 Rocket Royale is one of a kind Battle Royale game, the main goal is to build a Rocket and fly away from the island!
To do this you need to find crafting resources from falling meteors. Of course other players will want to hijack your rocket, so defend it! Collect wood and Build a Fort to defend your positions. The unique battle royale game reveals a lot of tactics by crafting and building covers around you! 100% destructible environment, every building can be destroyed or dismantled! Rocket Rocket Royale has no parachutes or shrinking dead zones, but you can use portals to navigate your way around the island instead.
Rocket Royale multiplayer offers Solo, Duo and Squad up to 3 players per team. All players are real people online, no fake bots! There is a lot of content to discover: characters, hammers, avatars, custom rockets, even dances! Progress by gaining XP and levelling up and compete in global Leaderboards!
The game requires less than 100 MB without additional downloads, and very well optimized for low-end devices!
Features:
Unique Rocket Battle Royale gameplay.
Everything is destructible! Real Sandbox mode.
Craft Defenses, Forts, Towers, Sky Bridges, anything possible!
Real-time fast-paced 25-Players online matches!
Play with your friends online, connect to your friend game via friend list.
Highest FPS (frames-per-second) you can get!
Tons of items and weapons to loot!
Large open world battlefield.
Are you ready to be creative, act smart and cause massive destruction? Welcome to Rocket Royale!
Here is the promo code for a free reward: XXXYYZZZ
Join us on Facebook: facebook.com/groups/rocketroyale/
Follow us on Twitter: twitter.com/GameSpire_org
Rocket Royale user reviews :
I haven't played the game yet but in the reviews I saw people complaining about an ad that pop's up after the match and to fix it, first of all STOP COMPLAINING the game devs have to make money some how if there's no adds then the developers won't make ANY money unless people spend CASH on in-game currency. So suck it up and deal with it, I don't know about you but if I made games I would put ads in them too because what's the point in working hard on a game and not getting rewarded for it
the game's pretty decent. but it feels more of a race than a battle royale. everybody tries to find meteors build rocket and it's done. however it does have the option of last survivor wins but nobody follows that instead everybody is rushing up to make a rocket. i have an idea make it this way that only one rocket can be built in a match ,only one winner can be there. those who want to win will hijack the rocket. that will actually make it a battle royale. and please increase the player number.
Rocket Royale is a very good game. It brings in the feeling of Fortnite but with its own theme. I could have given it a five, but one thing that bothers me is that there isn't options to play Solo, Duos and Squads. Just having it on Squads jsn really enjoyable, since some of us want to play solo.
Great game guys!Just two suggestions I have,1.Make a circle on the minimap to indicate where the safezone is.2.A little bit of lag fixing. Other than these things this is a awesome game,so five stars for you!
Great game. There's still alot of stuff need to fix, but it really fun to play. I really like the rocket thingy cause its different, and I can't wait for duo/squad match. Recent update makes the drop item blacked, even meteorite, and there's probably a hacker/modder cause dead player can still shooting, and when you stuck in wood while building you just gonna die when you break it, drop item sometimes it multiply the item when you pick it or even gone when you swap it. 10/10 would camp and snipe whoever try to come to my rocket again.
Its a great game if u download pay attension to the first screen b4 battle you have to mine the meteors and get the gears to build a rocket most people play exepecting fortnite but no not at all alike. Great game from one ton
There are some bugs like if I make a fort I've built four walls around me and put a ramp in like fortnites forts when I do the second floor of the ramp I do the side walls and when I put down the ramp and I got stuck in it then it puts u back to the lobby plz fix this I like this game it's addicting but plz fix this bug or it would get less addicting for me ty!
Last Update October 15, 2020 :
Added Scooter vehicle, can be found in RR mode.
New LTM "1 shot 1 kill" with new instant kill Barret sniper rifle.
New Anubis Arena map, which appear in Arena and LTM modes.
New types of houses in RR mode.
Improved grass.
Stick Bomb replaced with new Shock Grenade.
One new rare event in RR mode.
Option to disable autorun lock button.
Various tweaks and bug fixes.
Contact developer :
Download Rocket Royale from Play Store
Leave your feedback regarding Rocket Royale
Get more android apps/games/updates
Subscribe to our mailing list and get new android apps / games and updates to your email inbox.
Thank you for subscribing.
Something went wrong.