[Game] Sentence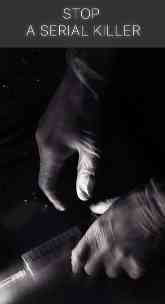 A new psychological thriller from the creators of I Am Innocent.
In a small town, young girls are being kidnapped and murdered one by one. The police have arrested Henry Thompson, a former cop. Could he be the killer?
Choose your messages carefully, maintain balance when friends and loved ones fight, hack into databases, eavesdrop on other characters, and analyze clues to have the chance to catch a serial killer.
Complicated relationships between characters, memories from the past, conflicts between morals and emotions, and challenging themes make this game something more than just another detective thriller.
Key Features:
Wiretaps on other characters, group chats, calls, photos, and videos blur the lines between game and reality.
Hours and hours of gameplay.
Complex characters who struggle with the skeletons in their closets.
The actions you take will decide whether you catch the killer or let them go.
And most importantly: don't trust anyone!
Sentence user reviews :
The idea of combining story telling with a game (puzzle) is fine, as long as it doesn't become too much of the integral part of the game. In this case it has a nice start, but the puzzles end up being too random, taking way more time than the story itself. Puzzle tries should not be under a pay-wall, especially real money, since randomness is involved. I have no guarantee that I just won't lose them and not be able to proceed, which is just a bad monetization strategy. Waiting is just as bad.
The game seems entertaining until now, I've gotten to the point where i hacked into the hospital servers. I'm giving it 5 stars for: not lagging , midline entertaining story, although it could be modified to be more scary than dramatic, good difficulty levels and bonuses. Overall, you did a good job guys! Keep it up!
So, I love this game. The story so far is very well put together, and the aesthetics are amazing, it's just like opening a texting app. The ONLY THING is that the minigames take the fun out of it. At first, they're easy, but after level 7, it gets pretty hard and almost luck based. Also, there's this game just like this called I'M INNOCENT or something along the lines of that; I'm not sure which game came first but either way this one did MUCH better by far :)
It was a good game, but every time I clicked on the lives option and clicked the ad part, it showed me the add, and then just stopped completely. When I reopned it, my life was the same as before no matter if I watched the whole ad or not. The visuals and story is great but this one thing I cannot get past. Please fix.
It's an interesting idea which I enjoy thoroughly, and the puzzles are quite fun aswell. BUT…the puzzles are way too often. You can have two lines of dialogue and then get stuck behind puzzles which repeats quite often. Another thing is that puzzles are very much the same but just done in different ways. All in all, it's a good game but suffers greatly due to the shift in which puzzles become more abundant than dialogue.
The minigame really took the experience away. As the levels progress and get harder, it takes more tries and banks on pure luck to complete minigame levels. The game is cashgrabby and predictable, and the dialogue is too far in between. It's supposed to be urgent with five in game days to solve the case, but there's no sense of time at all. I almost don't want to finish it because the minigame really breaks the suspense and atmosphere of what could be a really good game.
Good game ruined by microtransactions. The story is engaging, graphics good, interface good…. But the fact you have to play candy crush every five minutes or so to be able to progress just utterly ruins the flow of the story, especially when you cannot always have a chance to win so are forced to fail to encourage purchases of extra lives. Disappointing as this could have been a really fab story-based game. One of the best, in fact. I'd rather pay a fee for no microtransactions or minigames
Though the idea behind the game is a good one the writing could definitely use work. Many character responses and case developments are not believable and frankly its exhausting. If you struggle to reply to texts to people in real life this is not the game for you. Because that's all it is. Endless texts and a pretty simple and uninspiring subgame. It actually ended up being a chore to get through rather than something to look forward to.
Contact developer :
Video :
Download Sentence from Play Store
Leave your feedback regarding Sentence
Get more android apps/games/updates
Subscribe to our mailing list and get new android apps / games and updates to your email inbox.
Thank you for subscribing.
Something went wrong.