[Game] Space Justice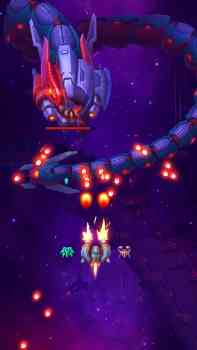 Space Rangers lead the way!
It's the 23rd century, and the galaxy unites to fight against an unknown foe! The best of the best stand together as Space Justice – a small, but extremely efficient special operations team with you as their leader!
Take command of your personal battlecruiser and send deadly fighters shooting all guns against overwhelming odds to secure new victories! Or, maybe, attack and raid you rivals' spaceships in a game of deadly competition…
A classic arcade game reimagined: fast, dynamic vertical scrolling shooter gameplay meets outstanding graphics!
Welcome to the command bridge! Upgrade and enhance your flagship and airplanes fleet, research new technologies and acquire combat drones.
Make your choice: the selection of aircraft, weapons, drones and gadgets is as huge as it can be!
Different pilots, different tactics – make use of each race's strengths in merciless space combat, shoot 'em all up and win through synergy and guile!
Shoot, shoot, shoot! Join efforts with your friends to overcome the common foe. It takes a coordinated attack to bring down most powerful enemies, and the mission's rewards are well worth it!
Enter the PvP mode and plunder enemy cruisers for resources, shooting down all that resist! Play hard, use all sorts of tricks to outsmart your enemy! And never leave your own ship unprotected – lure your enemies into traps and ensure your wealth is well secured!
It takes guts, wits and courage to fight and prevail in an addicting game of deadly space battles! Are you ready for Space Justice?
You may also like
Space Justice user reviews :
The game is great, it has very pretty graphics, most ships are pretty unique in their way of being played and so are the drones, leading to a bunch of possible builds for your style of playing. One of the best shoot'em'ups you can get on phone nowadays. Although, I believe this game lacks an endless mode with increasingly difficult waves of enemies to fight to death, sort of a mod to mess around in while you aren't able to progress the story. I recommend trying it out yourself, definitely worth!
One of the better shooters of this type. I like it how developers took existing formula that is successful and added a few new and good features. The only thing that bothers me about the game is that some levels feel too easy or unispired, especially levels where you need to protect friendly ship. It's AI is borderline retarded and somtimes it doesn't even bother to dodge. But overall, I find this game to be amazing and would recommend it to anyone looking for fun arcade game.
Gameplay is fun. PVP is fun. Co-Op is fun. Player progression is fun… But evolving is a slap in the face. They have us grind for prints for the ship, then charge us premium currency to use the said pieces to upgrade. This is the fist "Play-to-PAY" game I have been interested in…
My.com B.V.

Greetings and thank you for your review. We have included many ways to get crystals in the game to make it easier to evolve your ships. You get them for completing heroic missions, for completing daily quests, as a reward for logging in. Besides that, you can buy them with bro-points in the shop.
I like how smoother it feels compared to HAWK. Also i like the new pvp aspect to it, but removing the equipment? That was like the thing i loved to grind and combine to get a better item. Not to mention I would switch through different equipment depending on the level and what i need. Please bring items to this game and i will rate it 5, stars.
So far fantastic, Energy seems to be drying up at about Level 30. The 2 player system is amazing and I hope they go deeper with it. Events looks worrying as no one could possibly complete the trials as a Free To Play player.
Pretty fun and looks nice. I believe it's from the same makers of HAWK as initially I thought it was just a reskin, but Space Justice feels a lot smoother. Still a lot of similarities to HAWK like the progression system and upgrades. Not bad to kill time.
Great Graphics and Solid Progression System. I literally cant say anything bad about it. They dont constantly shove ads in your face to make a quick buck ( Like most apps now ). You can play this without in-app purchaes , which is nice but are still available. Great Game and Developer!
Latest Update :
Improvements and bug fixes.
Contact developer :
Video :
Download Space Justice from Play Store
Leave your feedback regarding Space Justice
Get more android apps/games/updates
Subscribe to our mailing list and get new android apps / games and updates to your email inbox.
Thank you for subscribing.
Something went wrong.