[Game] Squared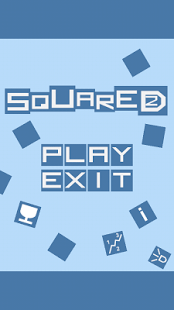 Squared is a tricky puzzle game that puts your mind to the test, in a fun way. It is a game for puzzle solvers that like the feeling of having figured out complicated puzzles. The main idea is to have all tiles on a board turn from the initial color to Orange. Some tiles are initially blue, others yellow (that turn to blue then to orange).
What's the tricky part? Well, once you tap a tile all the surrounding ones turn too.
Here are the features that make Squared a many-hours-long fun puzzle:
Mind-puzzling Gameplay. Every level shows a number of squared tiles. Every time you tap on a tile it (and the ones surrounding that tile) turns to the next available color. The goal is to have all tiles turned to orange from the initial blue or yellow color.
Game Stars. For each level you get up to 3 stars depending on how many moves you performed in turning all tiles to orange. You need to collect stars to unlock the other level packs.
Multiple Levels. Currently there are 3 level packs each with 24 levels. The second and third level packs are locked and to play them you\'ll need to collect 40/90 stars in previous levels. Initial levels are easy, but it gets to INSANE mode completing the last ones.
Achievements. You can complete over 16 achievements that range from easy-to-achieve to difficult \"turn 5000 tiles\" ones. You get to see your achievement progress percentage to see how long until you become a Squared hero.
Material Design. The game follows the material design guidelines to offer a clean & easy to use interface that helps you focus on the gameplay. Game statistics offer an insight on how you played the game (how many moves, turned tiles, levels completed, stars obtained, resets and more).
Squared is available for free on Google Play and only includes advertisements between plays
Squared user reviews :
Great game!
Great puzzle solver It's so simple that you have to wonder why this doesn't already exist. Well played
Contact developer :
Thanks to Holzbaum Productions for sharing Squared
Get more android apps/games/updates
Subscribe to our mailing list and get new android apps / games and updates to your email inbox.
Thank you for subscribing.
Something went wrong.