[Game] Tacticool – 5v5 shooter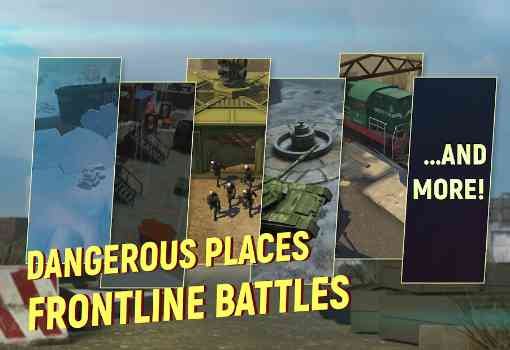 Grab a car, pick up your friends, and beat your foes in this intense 5v5 mobile shooter with real-time physics, destructible environment, and fast-paced battles.
Play different classes of operators, buy and upgrade over 50 weapons and support equipment. Discover hundreds of unique tactics on 5 dramatic maps. Remember: surprise, speed, and courage of action are key principles to win.
PLEASE NOTE! Tacticool is free to download and play. However, some game items can also be purchased for real money. If you do not want to use this feature, please set up password protection for purchases in the settings of your Google Play Store app.
FEATURES
WEAPONS: Rifles, shotguns, pistols, machine guns, knives, grenades, mines, RPG, C4, Adrenaline, and notorious Landau Emitter.
OPERATORS: Unlock and upgrade 20+ characters with unique skills and outfits.
PHYSICS: Break fences, blow up cars, and mess up your enemies by debris.
CARS: Ride cars with teammates, attack your foes right from windows.
Note: A reliable network connection is required to play.
Join clans, share experience and talk to other players on Discord chat:
discordapp.com/invite/yb5dGSe
News, updates and the game's secrets:
Facebook: www.facebook.com/TacticoolGame
Instagram: instagram.com/panzerdogofficial
Twitter: twitter.com/TacticoolGame
WWW: www.panzerdog.com
Privacy Policy:
www.panzerdog.com/privacy
Terms of Service:
www.panzerdog.com/terms
You may also like
Tacticool user reviews :
This game is fun. It does have alot of "pay to play" users in its player base but it's not too much of a big deal. The matchmaking does need some improvement. The special abilities do need some balancing. Overall, it's a decent platform that just needs a little polishing. Just find a good clan to play with and that should enlighten the experience.
Great game… but it's sort of expensive. The gameplay, maps, and guns are spectacular, but some of the guns cost lots of gold. You get 155 gold at the start of the game but need about 500 to actually buy anything. I'm giving this 4 stars, but the devs are lucky I like the gameplay. Otherwise, it would be at 1-2 stars.
Fun, but can be costly! Really addicting, had fun for a while without spending money, then decided to buy 3 Premium Kit Vs, totalling over $400.00 CAD to upgrade my character. Didn't notice much difference after spending the money, kind of wish I didn't, and things still aren't maxed out. You can spend a fortune on this game if you want to, and there's always a challenge as matchmaking scales well and ends up fair. Not worth the money I spent, in my opinion, but will still continue playing.
Fun game & controls are good. Areas that need fixing; first a simple object kills you auto such as running into a door or small chair that just barely moves. 2nd once it reaches to higher levels, it is essentially pay to win. 3rd, the maps are too big for 5v5, most should be a lot smaller for more action. 4th, it would much more fun with more players like 20 vs 20. Gernades should inflict damage around them and RPG, cause that's what they are – explosives. More Maps, I quit for these reasons.
Fun game. Buuuut been playing for several months now and just barely maxed my first weapon. Noooowhere near getting an epic toon, i would estimate between two and three years before unlocking ONE at this rate.. And I do spend a few bucks a month which really does nothing, spend big or dont spend at all. This is a very stingy, very greedy game. On the flip, it is pretty fun. But i dont see any low/nonspender lasting very long. Im probably out soon.
I am so prouf of what this game has become over the past months and I am just here to point out some things u could do. First of all, pls make the game smoother, make the dynamic joystick or static customizable, add more weapons/vehicles. And finally, pls add more game modes and allow an option to choose what game modes u want to play. Thanks if u read this!
Panzerdog

Yes, thank you, we are working on a new mode! As for controls, we may already have what you need – there's an option to switch between two types of joystick.
I really liked the idea of the game, really fun with a lot of different strategies in each game, the rank seems fair and I didn't have trouble with p2w yet. I really really want to see new updates with easy menu (it was kinda weird to know if I was in a squad or not in the first time), show the guns names when you are choosing them for the loadouts, more maps, different kinds of gameplays, and a lot of more!! SURPRISE ME! Dont give up on this game! and don't go so wild on p2w stuffs PLEASEEE!
well done devs! this shooter strikes a perfect balance between fun and skill. the offline play mode is a great addition to the game when youre not near wifi. my only gripe is that there is no option for manual firing, as there is only autofire. other than that, its great!
Game is pretty sweet. Offers alot and you dont really have to pay to play cause they set you up with people that have similar guns around your level. physics are on point and so are the operators. Only thing missing is probably just more game modes and maybe more maps but it barely came out but all in all pretty good game
I absolutely love the game because its so well made with the gun stats, weapons, and everything around, I also love the small details like how the cars dent and the buildings can fall and crush you, this game is amazing, my favorite right now.
Latest Update :
DANCE FEVER
Party of the Year is on!
To make joining the fun easier, TACTICOOL team sends presents to each event participant.
Use these FREE Tokens, open cases and grab valuable prizes. Everyone has a chance to unlock the new weapon!
Good luck, and we'll see you on the Dance Floor!
Contact developer :
Video :
Download Tacticool from Play Store
Leave your feedback regarding Tacticool
Get more android apps/games/updates
Subscribe to our mailing list and get new android apps / games and updates to your email inbox.
Thank you for subscribing.
Something went wrong.