[Game] Tantrix Quiz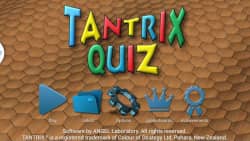 Tantrix Quiz is a simple yet addictive puzzle that may challenge your skills of deduction. The goal is to place all tiles onto the grid as fast as you can, while minimizing your mistakes.
Each level has some clues: some are tiles, some are outlines and some are just a single path. Can you follow them all to find the solution?
Race against yourself and others to see who can solve the puzzles fastest while using clever logic to reduce "trial and error" mistakes.
The Ranking system tracks your scores and lets you know how you stand against everyone else.
Features:
9 levels of increasing difficulty
beautifully designed 3D tiles and real-time movements
user friendly graphical interface for tablets and phones
tracking of all the puzzles you have finished
Languages: العربية, Català, English, Magyar, Deutsch, Français, Nederlands, Polski, Română, Svenska, Español, Pусский
ranking system to keep you more challenged
hint system that will guide you through the puzzle
built-in help is provided
sharing your standings
support for colour blind people added
import new quizzes from emails and news papers via QR-codes
many hours of enjoyment at no cost!
Support:
If you have any technical problems please email us at tantrix.quiz[at]gmail.com.
Please include the application's version, your device information and a screenshot if possible.
The more information that you can provide us; the better we can serve you. Thank you.
We are looking for translators. If you would play Tantrix Quiz in your own native language and you would participate in translation then please mail us to tantrix.quiz[at]gmail.com.
Have fun while playing Tantrix Quiz!
You may also like
Tantrix Quiz user reviews :
Fabulous game! Please consider adding an option to switch to portrait mode.
This is an addictive puzzle game that will improve your brainpower help you to think more and better improving your life
Nice puzzle game, it's really hard to accomplish some levels so it's not so easy
This game is okay I just don't like being timed it's not relaxing
Excellent quiz game very professional, fast, it put me to work hard the brain, thanks
Coolest game i ever played idea is awesome UI is good great work…
I tested only preliminary but Nice I wish someone create in the future a server for playing online
Love this game!!!! I'm very picky with what games I like, if they don't capture my interest straight away then it's automatic uninstall! This is good in that you need to really use your brain but they're not impossible puzzles. By far one of my top faves!
The online competitive site for and the physical board game of Tantrix are available in colourblind friendly formats; however this version is extremely difficult with yellow and green displayed as the same colour causing it to be nearly impossible to play. I will gladly increase my rating if this obvious oversight is fixed. Next to impossible for colourblind players! Add an option to shift colours such as making green change to white.
ANGEL Laboratory

Support for color blind people is added already to the game. Please check if this works for you as well. Thanks!
Excellent puzzle game for young people. The only thing is when you get to the last level, you end up back at the beginning doing the same thing over again.
Absolutely worth the 5 stars! Really nice tiles makes me feel as if I were playing with a real Tanrix set. The category names (eg.: Animals, Cheese, Spaghetti) are very creative. Really nice and clean UI. Really loved playing it, it's an enjoyable brainstorming. Thank you for this awesome app! (p.s: hashCode 42 forever)
Would be five stars but one puzzle piece repeated itself on loops level 20 something and I cannot progress to the next level.
Grate game, but I think there is a but in Pyramids #14 lavel
ANGEL Laboratory

Thanks for the feedback! Please drop a hint to tantrix.quiz[at]gmail.com for the issue with Pyramids #14.
Fantastic! Great logic game, completed all puzzles. If you like logic puzzles, you will love this game. There is a lot of logic and inference involved.
It's doesn't tell you how to play it !
ANGEL Laboratory

There is a hint system built-in in the Warm Up level. Just tap the yellow light bulb to reveal it. And there is also a complete manual page how to play, just open it and read it carefuly.
I'm playing Tantrix strategy game for 10+ years and always loved everything – games, puzzles, patterns, etc. with these tiles. Tantrix Quiz brings us lots of puzzles with beautiful digital tiles – almost as nice as the real ones
Contact developer :
Download Tantrix Quiz from Play Store
Leave your feedback regarding Tantrix Quiz
Get more android apps/games/updates
Subscribe to our mailing list and get new android apps / games and updates to your email inbox.
Thank you for subscribing.
Something went wrong.