[Game] Underground 2077 – Zombie FPS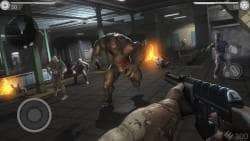 Zombies have taken over almost the entire world.
You and a handful of survivors retreated down into the New York subway, the only place you can hope to hold out and survive for a few extra weeks.
Fight your way through hordes of mutants in the murky gloom of an abandoned underground world. Don't expect to find another living soul: all that's left is cursed to eternal suffering and torment. A full campaign with a detailed backstory and plot! A massive underground labyrinth full of danger and vile creatures popping out of every crack and corner! Gear up with your fellow survivors from a huge arsenal of sniper rifles, assault rifles, handguns, shotguns, grenades and more. You can't relax for even a second in the post-apocalyptic gloom you've been cursed to see. Rest your eyes for an instant, and you're dead! Zombie freaks of all shapes and sizes.
Use different strategies to smash through packs of the undead and reach your goal!
Epic soundtrack. For the best effect, try playing in the dark with headphones on!
Underground 2077 user reviews :
Compared to other third person gun games on here, Underground 2077 is better than most. But it is a bit annoying to come back after a day to see the other group took over all that territory you just got. Levels are…basic and generic, but the controls, graphics, and playability is good. Don't really understand PvP, besides just zigzagging around, shooting at the other guys. It needs some improvement on the basic structure and level design, but y'all did a good job for a time waster.
Enemies are way to hard even on the first mission. 5 magazines in both the rifle and the pistol to kill one zombie is ridiculous. The reload animation looks silly as well as being very time consuming when you have such strong enemies on you. It looks like it could be a good game too
This game has potential and a lot of improvement. Aiming button has no problem but shooting in the head feels like im hitting the body and takes a lot of time to kill. Then i got confused with the down button, whenever im retreating while shooting, it suddenly swaps to secondary weapon. Should put swap button instead of that down button its confusing. Then the mission attempt was 2 but i died once, so had to restart the mission but attempt was zero had to wait for 7hrs to replenish.
Its a good zombie shooter but its a third person shooter and not a first person shooter….you could just add a first person shooter feature…..and the first level of the game is very hard……..I quickly run out of bullets because there where to many zombies and early mutants that prowl around…..its was the first stage and passing it is demanding
The best zombie shooter game I have ever seen in mobile, but of course there is some problems have to be fixed! 1. You should add new monsters! 2.You should add new places like forest and also if game had a dark place it would be very interesting for example if we used a flesh light next to our guns!
Almost there, Zombies start waay too strong and take waay too long to kill. It makes it more tedious than fun, and way too soon. I can't explore the environment you guys spent time creating, if I'm standing in one place just trying to knock the zombies back. that's boring…
Gameplay is ok i guess, the pics are not true to the game the graphics on the zombies & monsters they have very little detail on them even on the highest game settings, the game does create an atmosphere despite the poor creature models but no new update since 2019 means that the game will not be improved in any way in the future
The game, controls, graphics, effects, & animation is both absolutely Stunning and Terrifying but shooting Zombies & Monstrous enemies are really hard to kill an A.I opponent without a single shot to take down. When Upgrades. You can make your weapons both faster & stronger .
The aim, the shooting and the moving ways are all not very good. And the shouldnt the multiplayer mode be focused on teaming up against zombies instead of only like 1 or 2 zombies and then fighting other players with ridiculous hp and armor. And also theres no way to actually play with ur friends since its only a random thing
Liking the idea, and not too bothered by the description of FPS (it's actually a TPS) but the zombies in the very first level are too tough. I unloaded about five magazines of MP5 into the head of one zombie and a fourth of those outright miss.
The controlls are terrible the missions all feel the same, there is no tactical element what so ever you just go around with a gun and infinit ammo just looking at your enemies and automaticly shooting them down after 1-5 full mags
Nice game need more maps and we should be able to chat.challenging zombies brutality is essential,this game has huge potential.keep up the good work
Zombies are too hard to kill, cant even easily get past the first mission, nice graphics though, but pls increase the brightness its too dark and addd more locations and more weapon and this game would be one of the best tpp zombie game
Its pretty cool but seriously, add another button to switch your gun because i keep accidently switching while im shooting, and plus how can i play the other maps once im done with like the first 5, because it doesnt ley me advance even if i have 3 stars on all maps i played on
Contact developer :
Video :
Download Underground 2077 from Play Store
Leave your feedback regarding Underground 2077
If you like the content that we provide since 2012, put a smile on our face and give us a like or share this with your friends on any social platform. If you want to support this project, any crypto donation of $0.5, $1, $2, $3 is welcome!
You can find our crypto wallets on https://free-apps-android.com/buy-us-a-coffe/
Sponsored Links