[App] USDX Wallet – blockchain wallet with stable crypto
 criptext secure email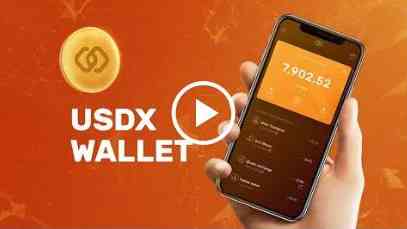 Make money transfers on the go: quickly, securely and without any commission fees.
USDX Wallet is a blockchain-based cryptowallet made for instant money transfers. It features USDX − a stable cryptocurrency pegged to the U.S. Dollar. Setting up an account in the wallet takes only a minute. And best of all, there are no fees for payments in USDX.
The wallet's security is implemented at multiple levels. The primary defense is asymmetric cryptography, which is an essential component of cryptocurrencies. Your private key is encrypted and stored safely; only you can decrypt it and perform transactions. The use of distributed ledger technology ensures that all transactions are irreversible. Moreover, your account is linked to your mobile phone number, preventing unauthorized access and enabling two-step authentication. Every transaction must be confirmed with a code from a push notification or SMS. Lastly, the app auto-locks after several minutes of inactivity and requires a PIN code, fingerprint or face scanning to unlock.
USDX cryptocurrency is pegged to the much-used USD at a 1:1 ratio, making it easy to figure out your balance or calculate the amount to transfer. Having no transaction fees, USDX stablecoin acts perfectly as a means of payment.
The Lighthouse coin, or LHT, is a core cryptocurrency of the USDX Wallet. The total supply of LHT is 1B coins, which will be released gradually to the market. A smart contract ensures that each USDX token is collateralized with at least 200% worth of LHT currency. Only 10% of the LHT supply will be issued each year, of which 5% will be freely tradeable and 5% will be locked on the blockchain to provide 200% collateralization.
Why choose USDX Wallet
Zero fees
We want a stable currency to be available for everybody – so we've eliminated commissions. Make borderless transfers with 0% fee.
Fast and easy transactions
Instantly send funds to your friends by mobile phone number, name from Contacts, their USDX Wallet account name, or personal QR code. Easily repeat regular transactions. Get your real-time balance and a full history of transactions at any time.
High-grade security
Due to blockchain technology, all wallet transactions are verified, stored in a distributed ledger and can't be compromised. Each transaction is confirmed using two-factor authentication (2FA). This means your funds are safely protected against seizure and it's nearly impossible to make a transfer without your permission. For extra security, the app requires a fingerprint, a face-scanning or a PIN code upon every entry and after some period of inactivity.
Money-back guarantee
If you're not satisfied with the service, we will return your money back, no questions asked.
How to get USDX or LHT?
You can buy USDX and LHT currencies for Bitcoin, Ethereum, Litecoin, Dash and over 50 Altcoins right in the app. Also, you can exchange LHT for USDX and vice versa at any time without paying additional fees. Coins are currently listed on four exchanges: Exrates.me, Exmarkets.com, P2PB2B.io and Alterdice.com. More exchanges are coming soon.
Stay tuned as we are constantly adding new features to make USDX Wallet more powerful and convenient. Feel free to ask any questions via the built-in chat (find it in navigation drawer) and share your feedback via support[at]usdx.cash
iPhone user? Download USDX Wallet on the App Store at itunes.apple.com/app/usdx-wallet-with-a-stablecoin/id1367451869
USDX Wallet user reviews :
Not just a regular Crypto wallet. First thing first SECURITY : A+, undoubtly holds a higher level of security so worry less. Faster transactions and that too with NO FEES. Wow! Couldnt be better. UI is as user friendly as it could have been with added live charts for the specific assets. Lastly the money back guarantee, great! Who else can offer that? Totally satisfied.
Lighthouse GmbH

We sincerely appreciate it! Thank you) USDX Wallet, Friendly app
Brillant orange colour and cross chains for a logo is surely reminiscent of the explosive success of the usdx wallet in the crypto world. With over 10,000 monthly active users, top-notch security features,reputable listings,zero transaction fees,borderless transfers and stable coin feature,there is no denying of an app to rule them all. However,there are few things in the wallet ecosystem that needs a fix. price charts,complementary cryptos and improved user interface makes for a 5 star rating
Lighthouse GmbH

Hi, We've forwarded your feedback to our developers. Thank you for taking out the time to send us your suggestions! USDX Wallet, Multi-level security app)
Usdx wallet has high security as all transactions are verified with two-factor authentication. The app is also protected with a PIN code. Usdx wallet can be a very big rival for any payment system not only in crypto world but fiats. Usdx wallet blockchain has speed of Visa & MasterCard combined btw it has No-fee transactions!!! It is a friendly app with stable currency which you can send funds to your friends in seconds using his or her name, phone no or QR code.
Lighthouse GmbH

Thank you! Thank you! Thank you! USDX Wallet, Instant transactions!
Contact developer :
Video :
Download USDX Wallet from Play Store
Leave your feedback regarding USDX Wallet
Get more android apps/games/updates
Subscribe to our mailing list and get new android apps / games and updates to your email inbox.
Thank you for subscribing.
Something went wrong.