[Game] Army Men Strike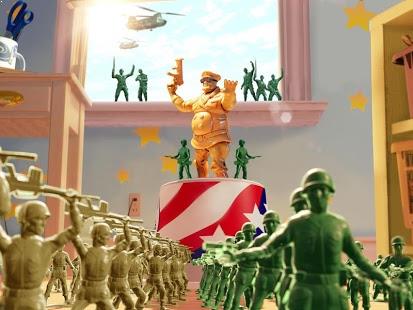 Play like a kid, fight like a man in a war without limits! Recruit and train soldiers to build the most efficient army in history! Command the best warriors in this strategy game full of action.
Captain, the evil yellow army is at your door and outnumber your green soldiers. We need to prepare for war. Recruit, train and send troops and tanks against the military invasion.
Army Men Strike is the ultimate war game combining real-time strategy, tower defense, resource control and simulation gaming into a mobile experience! Based on the toy army of your childhood you must defend your flag against the enemy and attack using a powerful combination of tactics to win the miniature World War between your green army and the evil yellow toy warriors! Lead an epic army of green soldiers, remote-control planes, transformers and many other toys in RTS combat! Defend yourself against the yellow soldier army invasion and put your strategy to the test. Using your best survival tactics is the only chance to win.
Experience a great war game, recruit your toy soldiers, build fortifications to win territory and become victorious in this battle simulator. Target your enemy in this real-time military strategy challenge, take your warriors through tower defense battles, compete against other players to expand your territory until victory and earn prestige and glory in this story. Make your enemy go hopeless.
Let's go to the battlefield and start the military conquest.
Toy Tower Defense
Wage miniature RTS survival war.
Create headquarters, use the moneybox as your treasury, transport resources with your train, and collect metal with magnets in this battle strategy simulator.
Adventurous and playful missions and battlefields make this war robots story interesting and fun.
Build Your Warriors Army
Recruit the elite toys as heroes to lead your army and let the toy war clash commence.
Use strategy power to build the best soldier army for each battlefield! Defeat any enemy in the frontline.
Upgrade armor, weapons, rifles and machine guns and promote your green soldiers and fighters to shooter flamethrowers, sniper men, tanks, artillery units, heroes and many more army troops.
Take Your Miniature Military Forces to Fight
Gather resources to upgrade your squad soldiers and shotgun warriors, shooter guns and base.
Create your tower defense with fortifications to keep war toy invaders hopeless at bay and increase your odds of survival.
Real-Time Strategy and Army Tactics Adventure
Choose your military targets on every battlefield and plan your soldier hero conquest. Protect your territory.
Put your acting skills and strategy to the test against other players in the RTS survival combat simulator: This is not a toy war robot game, so use your best tactics.
Army Men Strike: Test Your Strategy to Win in the Front-line
Build and deploy your army battle troops and legion of military warriors to fight wisely in every adventure.
Compete or cooperate with other alliances for the defense of your territory. Diplomacy or war, what do you choose, commander?
Your war toys are waiting for you to strike in this challenge.
It's time to return to the battleground. Enjoy a toy game with worldwide players.
PLEASE NOTE. Army Men Strike is free to download and play. However, some game items can also be purchased for real money. If you don't want to use this feature, please disable in-app purchases in your mobile settings.
Under our Terms of Service and Privacy Policy, you must be at least 17 years to play or download Army Men Strike.
Terms of Service:https://privacy.volcano-force.com/html/tos/en.html
Official Facebook Page: https://www.facebook.com/ArmyMenStrike/
You may also like
Army Men Strike user reviews :
The game is nice, however is too much oriented towards pay to play. Paying players have acces to items that regular player do not have and it is easy to become unbeatable. It ruins the fun. As a hard working player is impossible to win the weekly event unless you pay for it. On top of that, Chinese players have access to payed content for half the price the rest of the world has. The game is biased big time. More ballance is needed. Stop giving access to new players at high end unbeatable troops.
Volcano Force

Sorry for the negative experience. In AMS, we have a lot of free events which will be a great help to increase your power. Also, you can join a stronger corp to give your support in battle. If you have any concern or suggestion, feel free to mail us to GM through Settings – Contact GM. Thank you.
Horrible repetitive gameplay, seizures inducing graphics, real life money burning game mechanics. Also ads are misleading. Game looks great in ads but the real gameplay is slow, boring, repetitive and just a money grab. suggestion: add possibility to give negative star ratings. in hotels, even 2 stars means certain standards. this game not only has no respect for standards but abuses them and therefore should get negative rating.
Volcano Force

Hello. We do apologize for your experience with us so far. May we ask how we can improve our overall experience? Please feel free to contact us again so that we can help sort you out! Thank you!
Fun only if you pay. I've seen some pushy games when it comes to stuff like VIP, but this is just too much. Also, if you were nostalgic about the old school army men like I was…this is not it unfortunately.
Volcano Force

Hello, sorry for the negative experience. There are lots of free events becoming available which can help you build your Command Center and strengthen your power and troops. Should you have any concern or suggestions about the game, please contact us by sending mails to the GM through Settings > Contact GM. Thank you.
If you are a new player just starting out, this game will be very frustrating…and you'll probably wanna delete it from whatever device you have installed it on. It's an expensive game…upgrades and upgrade packages are "through tha roof" and pretty ridiculous if ya ask me. And I say that because the people with alot of money ta blow are the ones with the most power in this game. And they love attacking the people with less power than they have.
Great way to waste time. Takes bit to get used to it and work things out. But once ya do it fun but still room for improvement. Needs to be easier to gain corp points and stuff cheaper in corps store
Its a fun nostalgic way to waste time. The inner workings of upgrading your troops and accessories takes a little time to learn but theres always the help section if you are stuck.
Very cool game. Suggestions, allow us to speed troop training for people in our corps. Also allow us to move our buildings for free. Maybe have other colours for our corps…grey…brown…green…or flags of nations. Different troop types for each nation or corps….like grenadiers …sniper
Last Update January 12, 2018 :
1.Battle formula is balanced.
2.Skill bugs of Officers like Metal Detector, Energy Expert and Flora are removed.
3.Items like Super Bomb, Exhilarant and Emergency Healing Apparatus are renamed.
Contact developer :
Download Army Men Strike from Play Store
Leave your feedback regarding Army Men Strike
Get more android apps/games/updates
Subscribe to our mailing list and get new android apps / games and updates to your email inbox.
Thank you for subscribing.
Something went wrong.