[Game] Blades of Brim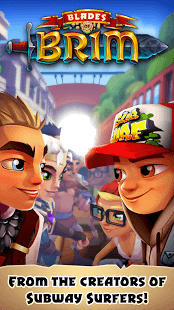 This free game gives you endless fun that never ends, filled with cool missions and unlimited weapon and armor upgrades available.
Join running forces with the awesome heroes of Brim to save the world from the invading army of Goons!
Dodge into an epic, enchanting and endless universe where magic and mayhem awaits your unique wall running character, as you complete quests on your run to become the greatest hero Brim has ever seen!
Take a stab at collecting treasure and gold coins whilst you dash & dodge, jump & roll, and hack & slash your way through the mega army of goons in order to upgrade your epic characters, weapons and magical blades.
Attempt to leap over the endless depth of treacherous and dangerous cliffs as you hack and slash goons and their ugly bosses with your magical sword.
Leap over deadly cliffs & run on walls to escape the nasty goons
Dodge enemies and obstacles on your path.
Collect essence & gold coins to upgrade your character and blade
Slay the hideous villains
Befriend pets such as Elemental wolves, horses and magical dragons
Level up your armor and boost your weapons
Perform fast paced hit-combos and wall-running stunts on your running path to become the greatest hero of all time!
From the creators that gave you the #1 game of all time, Subway Surfers!
Blades of Brim user reviews :
I love this game, but it gets a bit annoying at times, especially when you want to finish a mission but the game purposefully wont help you with it. For example you need to collect 2 essences, when you don't need it the game is full of them, but as soon as the essence mission kicks in they are nowhere to be found, same with powerups. Other than that the game is really great.
SYBO Games

Thank you very much for your review and feedback! We value all feedback as it helps us improve Blades of Brim. Once again, thank you and happy gaming!
SYBO, you did it yet again. First Subway Surfers, which was fairly enjoyable, now this. Blades of Brim could be called an upgrade from subway surfers. Instead of unbreakable trains, now you have the Goons. I like the fact that you can just keep going with your combos and also that the games difficulty keeps progressing as you finish runs, adding more and more stuff to do. An overall fun and well-made game. Keep up the good work!
SYBO Games

Thank you very much for your review. We are glad that you are enjoying Blades of Brim. Happy gaming!
updating to 5 stars, this game is class. I've gotten to the end game point without buying anything, endless play, tight controls and unique runner. if you even like the idea of an endless runner download this game. I really hope you guys will be coming out with a new game in this universe, with more to do, different challenge modes and a chance to expand the universe. Only downside is the lack in enemy variety, but oh well :) still one of the best mobile games available right now
SYBO Games

Thank you very much for your review. We are glad that you are enjoying Blades of Brim. Happy gaming!
Awesone game Lol theres some bugs in here but its a great game to play for a long time there was this bug where there was a wooden plank way up and there was a wall blocking the path than i went through the wall
Great fun You guys really did it with this game. It's much better than I had hoped. Plenty of content right off the bat and so much to earn and look forward to. My only concern is when my phone gets a notification, the audio from the game stops.
Good Game But give more than one theme song, kind of boring if u listen just one all along dev, and dont give me a same item when i purchase the chest, if u do that u can add some plus poin to the item. overall its very good game. good Job Dev
Fun, creative and with a lot of variety! There's a ton of content to buy, use and do in this game. You won't be bored for hours! Run, jump and sprint up walls or ride a trusty steed to fight monsters that fly, shoot magic and are titan-sized. There's a special event going on too so try your best to gain items to exchange for exclusive loot. The rewards are so generous you won't need to pay to play comfortably.
Latest Update :
Welcome to the latest update for Blades of Brim! We have worked hard on improving a lot of little details in the game, and we are constantly working on new features and content, as well as fixing the issues that we know some of you are encountering. Thank you for updating! Now let's beat some Goons together!
Contact developer :
Download Blades of Brim from Play Store
Leave your feedback regarding Blades of Brim
Get more android apps/games/updates
Subscribe to our mailing list and get new android apps / games and updates to your email inbox.
Thank you for subscribing.
Something went wrong.