[Game] Bullet Echo
 free apps android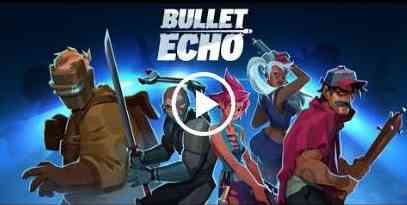 Lead your team to victory in this unique PvP tactical team shooter! Choose from dozens of different heroes with unique play styles and abilities.
Unite with friends, set a strategy, and be the last team standing when the battle ends!
From the creators of C.A.T.S.: Crash Arena Turbo Stars, King of Thieves and Cut the Rope.
UNIQUE TACTICAL STEALTH ACTION: Your vision is limited by the beam of a flashlight, but you can hear enemies' steps and shots.
DESIGNED FOR TEAM PLAY: Start playing with friends online right away! The level of your hero is matched with the highest level in the party.
MULTIPLE GAME MODES: Team vs Team, Solo and Battle Royale mode with 5 small teams on one map.
UNLOCK AND UPGRADE NEW HEROES: Each hero has a unique set of abilities. Rank up to boost your hero's power and unlock new perks.
BE ON TOP: Participate in championships, accomplish missions and receive valuable resources.
GET REWARDS: Fight to unlock new heroes with unique guns, new perks, maps and game modes!
Official Discord server of the game: discord.gg/u4ApPB7
Bullet Echo user reviews :
Awesome. IDK why or who complains about, but I've got clean experience without bags or connection problems. About P2W – it's totally not true. It's about investing time and experience. I would recommend new players focus on upgrading 1 character though, as I did, but it's up to you. Controls, gameplay, graphic, music and mechanic is a top. So, the stars are the same, top. 10 echoes of 5.
Stalker's ghost ability makes no sense. Why have more than one charge when you still have to wait for a cooldown before using it again? Just put one charge! It's not like there's a 2 use per round limit because it literally recycles forever, and it's not like if you get a recharge box you're allowed to use it again immediately. I can't wrap my mind around it. Please explain. My best guess is that it was an oversight.
Every since the update all the epic heroes I have (blue ones) are all shown as green when the loading screen shows the team right before the right. Also could be just me but so far every person I've fought has demolished me even if I catch em off guard. Uninstalling the game and going to try downloading again. However the skins effect, great idea and they look super dope. PLEASE DON'T TURN THIS INTO A PAY TO PLAY GAME.. PLEASE. It's a great game just don't wanna see it ruined..
This Game is Insanly good! I really appreciate the devs development ideas here and the vasics is great! I just have one issue! The micro transactions and bombardment of purchases is to much! You have a winning game here that will make you a lot of money any way! Higher levels where we need 12 to 15 wins to rank up should get at least 2 loses before charges to progress. Great Game! It's the first time I ever wright a review for any app so know I really appreciate this Game! Bravo!
For once I have found a mobile game that is actually fun. This isn't one of those money farms that spam ads so already it is in the top 10% of mobile games in my opinion. The gameplay gives an infinite amount of outcomes each time due to different players. Over all I rate this game 10/10 and think that more games should reach the level of quality that this game has reached.
I really want to love this game but there are a couple of niggles that prevent me. The first is a connection issue ever now and then I struggle to get into a game for some reason. The other is I wish I could click on heros that I haven't got yet so that I can see what their name is, this would help in working out which heros I need to play to complete missions
By far a 5 star game. The controls are easy, the background music is tense, the graphics are 100% and the overall feel and thrill of the hunt for other players is awesome. Its not a run and gun game. It takes a combination of listening to your surroundings and being patient. Then move in for the kill. Im very impressed. You dont have to spend real cash to level up if you dont want to. But i chose to spend $7 on specials and upgrades just to support the developers of Bullet Echo. Get it!!!
The game is good, gameplay is great by mobile game standards, but it's really frustrating making one mistake or the RNG just not being in your favor and you end up getting last place and loosing your streak and 4-5 trophies, you just can't make a mistake in this game unless you have money to pay for it. Other than that, great game.
Contact developer :
Video :
Download Bullet Echo from Play Store
Leave your feedback regarding Bullet Echo
Get more android apps/games/updates
Subscribe to our mailing list and get new android apps / games and updates to your email inbox.
Thank you for subscribing.
Something went wrong.