[Game] Checkers Online Elite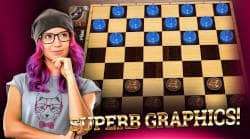 Over 10 million downloads! People can't be wrong about our Checkers!
Checkers board game (draughts, dame, damas – on various languages) is well-known ancient game, that still very popular over the world for its simple rules and addictive gameplay, which hide deep tactics and variability.
Play Checkers Online – a special mode where you can compete with other players. Gain new levels and ranks, climb up in leaderboards (daily, weekly and global) or play in special Tournaments with awards. Use your awards to obtain and customize design of your Checkers pieces. Checkers Online mode is completely free. It uses «energy» which can be obtained in many ways: as daily rewards, defeating your opponents or wining in the tournaments.
Game also can be played offline where you have plenty of game modes to choose from. For example, English/American Checkers, Russian, International or Brazil. And we have some special guest here for you. It's called Random Checkers and it's completely fun and addictive. Let the random generator decides how many pieces will be on board, where they will be placed and what rules of movement will be applied. Also you can disable force jump option via Settings.
Game features:
Online Checkers mode with leaderboards, levels, ranks, customization and ELO-rating
User profile with detailed statistics, where you can change you nickname and upload avatar
Search opponent with desired game level or play with friends via private room or ID
Online tournaments with cups and awards
Chat in online mode
14 game types: English/American Draughts, International (Checkers 10×10), Russian, American Pool, Giveaway Checkers, Diagonal, Thai, Turkish, Italian, Sparse, elf-Eaters, Brazilian, Blind and Random Checkers (10×10 random placed pieces with changing movement rules).
4 difficulty levels
Excellent graphics
2D and 3D perspective modes
Unlimited undo function
Play with friend via "Hot-seat" mode
Over 100 designs for checkers pieces, including flags of countries
You may also like
Checkers Online Elite user reviews :
This is definitely the best app for all of the checkers and draughts variations and you can play and chat with people from all over the world or play against the computer.
The game does have several nice features, and the graphics are pretty good. However, this game does not let you win. After jumping my opponent's last piece, it continued to play. Secondly, I never heard of putting a time limit, forcing the player to make a move. Also, it does not give you a board that allows the king to move multiple squares diagonally. I believe this is called Draughts. However, the developer's version of American Draughts board only supports single square moves.
I learn a lot of this game. Thank you very much
It is challenging to play online with many country opponents. Thank you for make it available. I repeat it since you ask for it. I like to play it.
This is THE best online checkers app! I love their rules for a "draw". THIS app actually let's you play out a long strategy to turn what would be a "draw" with other checker apps, into a victory! I also love the 30 second rule. If your opponent doesn't move in 30 seconds you win the game. The ONE thing I DO NOT like is when you win by forfeit, it is NOT counted as a loss for your opponent! This leads to many simply quitting to avoid hurting their stats!
This is a nice app but it is extremely unfair that it frequently has "network failures" that cause you to lose games and rating points. Developers, this is a major glitch in the game's programming so I'm pleading with you all to fix it so thousands of players around the world can enjoy fair competitive games. If the network fails, the algorithm should just cancel the match with no adjustments to either player's statistics or rating. Thanks in advance for your consideration Nikolas TalEl
I like this game very much. I'm old school so I pretty much know the game to be called pool from the style of play. So I was a bit surprised to know that I can play it here online. I would say that if you are a true checking player you can find your style of play here. Very challenging to meet your match indeed. Thumbs up to whoever developed this game!
Love that the game have the ability to find other players really fast, and is able to connect with higher level players, Love that there are really very little to no internet drop off once the game is connected to an opponent. Two things to work on is the precentage, if i lose a game at a certain point my % drop by one but no matter how much game i win in a row it never jumps back up to the previous %. finally let us be able to see the names of the players level so we know ie: Legend, champion.
Contact Developer :
Download Checkers Online Elite from Play Store
Leave your feedback regarding Checkers Online Elite
Get more android apps/games/updates
Subscribe to our mailing list and get new android apps / games and updates to your email inbox.
Thank you for subscribing.
Something went wrong.