[Game] Cute Wars Puzzle Battle – Cats vs Dogs Match 3
 creative destruction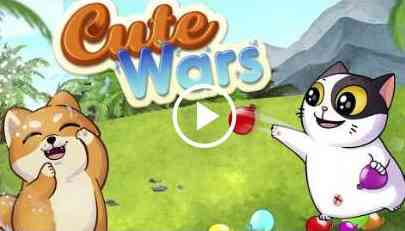 Download for FREE "Cute Wars Puzzle Battle – Cats vs Dogs Match 3 ", and start joining balloons to beat your opponents in this addictive challenge of mental agility!
Join together balloons in the different battle fields to force explosions that are more powerful every time, before running out of lives.
Join 3 balloons or more with the same colour to combine the power and perform more powerful attacks. Create chain reactions, and if you clean the whole board, get ready to beat your rivals in all the other levels!
CuteWars Puzzle Battle comes for FREE, but you can accelerate your progression with some in-app purchases.
Are you ready for CuteWars Puzzle Battle ?
Play online against rivals of the opposite faction. Choose what side you want to be in the millenary battle with our nice protagonists.
Enjoy an addictive gameplay from the first time. Join 3 balloons with the same colour at least to perform attacks in a very funny way.
Improve your skills playing in the 8 available levels (more coming soon).
Collect more than 15 collars that will give you special and unique skills during your game.
Discover what happens when you play with balloons next to a cactus (join 3 balloons nearby to water it).
Join the weekly competition and win great prizes.
Go up every week in the Cute Leagues until you arrive to Champions League.
Get your weekly reward if your faction wins.
Collect all the characters you can.
Get rewards recruiting your Friends!
Play with Mimitos and Shibo, and their friends.
Download Cute Wars Puzzle Battle – Cats vs Dogs Match 3 by eBabylonGames NOW!
*This game requires Internet connection.
Learn more about eBabylonGames: www.ebabylongames.com
Don't miss our latest news:
Become a fan of eBabylonGames: www.facebook.com/eBabylonGames/
Follow us on Twitter: @EbabylonGames
Enjoy yourself with CuteWars Puzzle Battle – Cats vs Dogs Match 3, a FREE puzzle game but adding the emotion of the multi-player battles!
Cute Wars Puzzle Battle user reviews :
Game is good but it cheats because i never gets to make the first play always my opponent and it has internet connection issue keep saying sorry check your internet there's nothing wrong with my internet connection it's your game you should check on your end and don't be saying it's on our end i uninstalled it because I'm always losing most of the time cheating game they my opponent always gets to move first
Overall the game is fun and entertaining for the most part. The only thing I don't like about it is the whole "connecting to Facebook" thing. Perhaps it'd be better if we had an option to connect to Google or Twitter instead, for people like me who don't use/have Facebook but still want to save our progress.
It is very fun because it let's you pick who's side are you on. And there is 2 animal's to pick, cats or dogs. I picked dogs because THE FACE, but the cats face is cute too but i like both animals. So i recomend to get this game, but you cant pick who to battle
The game is okay in general. It's doesn't cost money to play, entertaining, fun, blah, blah, blah. My only problem is the fact that, so, I have very good wifi. It almost NEVER crashes. But sometimes, in this one game, when I end a battle, and I win, IT CRASHES. And guess what? When my wifi "crashes", the game takes my coins. It literally takes my coins and doesn't give me anything for the battle I won. This video game is vey enjoyable, but the problem I just explained is really annoying me.
good game, awesome time killer it's cute, purrchases and ads aren't forced. my only complaint is the gambling involved, you can lose everything so easy… it's sad, but other than that it's fun! you just need to make sure your skilled before going for the high money bets. I don't have the game anymore though I never saved my data and my other (now broken) tablet had it
i like this alot because its not like thoughs games with levels and you get daily spins or you can buy tickets to do the daily spin and you can win a diffrent cat or dog you can chose if you like cats or dogs and if you login on facebook you get alooot of dimons buy login in and sharing its avery good game i recomend it
So cute! The idea of cats vs. dogs battling with water balloons is cute. if you have any dogs or cats, – (or loving them) – this is perfect for you.
Contact developer :
Video :
Download Cute Wars Puzzle Battle from Play Store
Leave your feedback regarding Cute Wars Puzzle Battle
Get more android apps/games/updates
Subscribe to our mailing list and get new android apps / games and updates to your email inbox.
Thank you for subscribing.
Something went wrong.