[Game] Designer City 2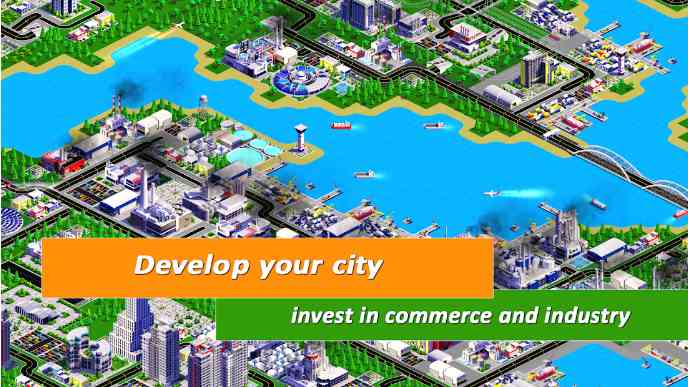 Design and build your perfect town, nurture and grow it into a gigantic sprawling metropolis.
DESIGN AND BUILD YOUR CITY
To build a successful city you will need to attract residents by building houses, condos, apartments and skyscrapers for them to live in. Once they have settled in they will need employment opportunities so you will also construct businesses where they can work. Add bars, restaurants, theatres, stadiums and other entertainment facilities to keep your people happy.
Your residents do not want to live in pollution so it is important to carefully zone your city and ensure that you decorate your city with plenty of trees and parks. Manage power and water supplies, provide trash removal and farm the land to produce fresh food for your city.
Happy sims will work harder and create more income for you to spend building and improving your city. Manage transport networks to keep your citizens moving both day and night. Build large seaports and airports to increase industry and travel.
BUILD IT YOUR WAY
Sculpt your landscape the way you want it. Lower the land to create rivers, lakes and coastlines. Raise it to create elevated land, hills and mountains. Unique in city building games!
Enjoy the 'low poly' art style as you build and grow your way to the top. What will your city skyline look like when you've finished building your dream city?
Designer City 2 offers you the complete freedom to design and build it your way. Plan and evolve your city however you wish. A city building games at your own speed, your own style and your own direction. Play offline or online.
Play competitively and get to the top of multiple leader boards and visit other cities worldwide for inspiration. If you love city building games then this is the city building game for you. Happy designing!
Designer City 2 is the latest installment in the Designer City 'city building game' series.
Note: Designer City 2 can be played completely free. Some completely optional in-game items, such as purchasing game currency, will require payment.
Designer City 2 user reviews :
This is probably the most realistic city building game ever. I seriously love all the statistic and graphs given to show how my city is doing. This game has so many potential and reminded me of a city building game on facebook that got taken down. What this game need is more building type and do not focus only on megatall, get more creative and create more houses and business types. I also love that it has no goals format so that builders can build whatever they want with their own goals. Love.
This game is amazing! Great graphics, and simulation. 5 stars! I do have one problem, the game doesn't offer you enough gold, and doing the achievements and challenges don't get me too much gold. Even when getting the gold mine, because I didn't play the game for about 24hrs, and it said: 1 gold every 4hrs, so I expected to get 6 gold, but I only got one. I hope you read this review and maybe even fix how much gold you earn and how much gold you collect.
Sphere Game Studios

April 7, 2019

Thank you for your feedback. The gold mine doesn't accumulate gold. If you collect it after 4 hours, it will be ready again 4 hours later. There are many other ways to collect gold, please refer to the player guide in the game for details.
you should add more infastructure options especially for transportation like highways and subways. we should also be able to build military bases.
Sphere Game Studios

April 12, 2019

Thank you for your feedback
This game is fun! once you get the hang of it it is fun and I personally like how the cars just drive around and i wish there was a day and night cycle but overall It is one of the best building games i have played
i really like the stile and design of the buildings.there more realistic.and the way i can keep more control over my achevments.thank you for leting me play this game.
Sphere Game Studios

April 24, 2019

Thank you for your review and feedback
I liked the first one, but I must say, i love DC2. Great job to the developers!!!
Sphere Game Studios

April 24, 2019

Thank you for your review and feedback
Contact developer :
Download Designer City 2 from Play Store
Leave your feedback regarding Designer City 2
Get more android apps/games/updates
Subscribe to our mailing list and get new android apps / games and updates to your email inbox.
Thank you for subscribing.
Something went wrong.