[Game] Do Not Disturb 3 – Grumpy Marmot Pranks!
 cartoon network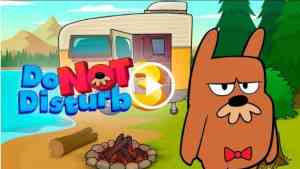 Mr. Grumpy is back, but he's on vacation! Will you respect his alone time and let him relax?
Yeah, right!
Discover even more fun, silly and creative ways to disturb your favorite grumpy marmot and don't go away until you run out of pranks! Which will never ever happen!
Laugh out loud with Mr. Grumpy's "thrilled" reactions, and get creative to find out just how many grumpy faces an annoyed marmot can make!
And don't worry about the big flashy DO NOT DISTURB sign on his door: it actually means "welcome" in marmot talk!
HIGHLIGHTS
PLAY many, many, different kinds of pranks on Mr. Grumpy and give him the relaxing vacation he so desperately needed!
TAP everywhere to find new ways of annoying Mr. Grumpy and have fun discovering endless pranks! There are many surprises hiding in plain sight, so tap, tap tap and then tap some more!
LAUGH with Mr. Grumpy's funny reactions and see if you can watch every single grumpy animation of our beloved marmot!
BECOME the best prankster ever and prove your skills by never getting caught!
Mr. Grumpy secretly loves your attention, he just has a very marmot-like way to show it!
Don't let him spend his vacation all alone and show up in his doorstep unannounced: he'll love the surprise!
If Mr. Grumpy yells DO NOT DISTURB and doesn't answer the door, don't worry: you'll find tons of ways to lure him out!
Third time is always the charm, and mr. Grumpy has lots of charm if you look really hard! Just knock on his door and don't go away until he answers! Don't let him see you, though: he'll love the mystery!
Download now and catch up with the cutest grumpy marmot ever!
Please note! This game is Designed for family and it is free to play, but it contains items that can be purchased for real money. Some features and extras mentioned in the description may also have to be purchased for real money.
Do Not Disturb 3 user reviews :
so funny I like when you get to the end cuz you just explode everything and like it's super cool but I wish there was less ads but I know it's for new games so I'm not even going to mind so but still this game is so cool and it just brighten up my day
it's a really funny game it has not really that many ads I've only had three ads so far and there's a lot of funny stuff in this game Anthony personally this is a really good game
It's a good game but a bit too many ads take some away please love it though lol bother him More !!!!
This game is so bad it kicks me out so I can't even do anything in the game. Please fix this it happened in all the games.
It isn't bad but it is quite boring more than the first not disturb because it doesn't have alot of actions to do over this
theres not much to do I feel like they should make you be able to make him take a hike or be able to move around
Your three games are so fun and funny please make a fourth one
Well I will give this 5 stars there's no more ads if you will turn off your data or wifi there is nothing more ads I'm Soo much fun within this id take a 2-3 hours of playing this even little kids,middle school kids can so much fun within this and it's so safe for kids to play even for me and my lil sister I'm 9 years old but playing this and my lil sister is 5 she's playing safe everyday because of this thank you for you who did this game
Me and my little sister Olivia enjoys playing this we plays this everyday little kids middle school kids it's safe to play I am 10 years and my sister is only 2 we enjoy playing this there's too much ads though but if we turn off our data no ads will come on I love playing this I did when I was little
i love this game but when your done you have to do everything again maybe do more levels but I love so much
Contact developer :
Video :
Download Do Not Disturb 3 from Play Store
Leave your feedback regarding Do Not Disturb 3
Get more android apps/games/updates
Subscribe to our mailing list and get new android apps / games and updates to your email inbox.
Thank you for subscribing.
Something went wrong.