[Game] Drake n Trap
 gacha life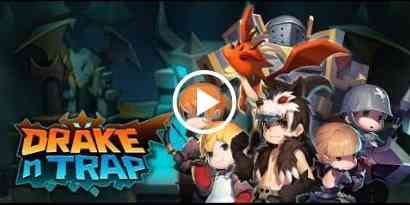 New Expedition unprecedented!
Summon Units and Avoid traps to conquer powerful Boss.
Find hidden treasures of the dungeon.
Major Combat with simple operating!
Implement a various strategy easily and handily.
To conquer various traps!
The dangerous traps nonreassuring.
You can lure the monsters on the traps to kill them.
The Arena with Users throughout the world!
A Competition mode between 6 players at the real time!
Break Through various dungeons classified by the tier.
Challenge the highest tier! Ranking Mode!
Eliminate the boss appeared each 5 floors to be the best leader.
Organize your own powerful deck!
The Attractive Units like Warrior, Archer, even Magician.
The Drake have own skills to take effects with explosion, healing, invincibility.
Making the best team to use charming units and drake.
The Nurture/Growth System to make the Best Party!
Raise the levels of units, drake and Leader.
Strengthen and Compose Weapons/Armors to be strong.
Special upgrade system : Make the skills more useful when the battle.
Composition of the Stage will never got boring!
Challenge to clear the maximum of 500 or more stages.
How to Play
1. Tap and Drag the screen left to move the leader character.
2. Operate the buttons 'Come on/Attack' to move the units.
3. You can clear the stage to kill the boss within a certain time limit!
Homepage :
play.google.com/store/apps/dev?id=4864673505117639552
Facebook :
www.facebook.com/mobirixplayen
YouTube :
www.youtube.com/user/mobirix1
Drake n Trap user reviews :
So far really liking it but not much of a tutorial so far I'd give graphics a 10, The UI is nice so 10 as well but I'm not quite in to the game so I shall further this post later.
mobirix

Thank you for writing a review! We look forward to your interest, and if you have any questions or errors during use, please send to help[at]mobirix.com, and we will find you with more detailed and accurate answers! Thank you!
Wow. I was waiting to review this until I found that flaw all games like this have. But its really hard to. They have covered all the bases. They have mixed together all of my favorite rougelike/dungeon crawlers into one game and its a lot of fun. Its also kinda like playing a reverse Tower Defense game. If anything it would be nice if 1. My main hero actually visually attached the upgraded equipment on and 2. If the levels were longer. Thats about it.
Very entertaining, strongly recommended Updated 4/17, i think the game should tell you what unit counters each elite mobs. For example there is this elite shotgun mob, you cannot dodge or push it away. How do I kill it? Another example would be the polar bear. He just splash aoe and then knockup ur whole party. I dont understand how to clear a stage when there r all these traps, cannon tower along with these elite mobs.
mobirix

We apologize for the inconvenience. This information will be forwarded to the department in charge for review. If you have any questions or errors, please send them to help[at]mobirix.com and we will find a more detailed and accurate answer. Thank you.
Would love to try the game, hopefully someone sees this review. Game goes to black screen and force closes immediately. Not enough time to read the error message before force close. Update: after playing, I considered changing the review. However, $100 usd IAP and an energy system in an "offline" singleplayer game is ridiculous. These garbage energy systems need to go.
mobirix

We also apologize for any inconvenience this may cause. Please check for the latest updates. If you still encounter errors, please contact help[at]mobirix.com for the phone type, OS (software) version and symptom picture you are using for more information.
The game is awesome, its just like NARUTOXBORUTO, But even better, and i gotta couple of requests, it needs more characters, fixed controls, new graphics, Mb reduce, the ranked and arena mode needs to be offline, and skins.
Its a good game. Unique gameplay. But please update it so all the text in the game can be change into english. Some of it still in chinese. E.g. the text pop up on the screen once you open the game and want to claim the afk reward.
mobirix

This information will be forwarded to the department in charge for review. If you have any questions or errors, please send them to help[at]mobirix.com and we will find a more detailed and accurate answer. Thank you.
Contact developer :
Video :
Download Drake n Trap from Play Store
Leave your feedback regarding Drake n Trap
Get more android apps/games/updates
Subscribe to our mailing list and get new android apps / games and updates to your email inbox.
Thank you for subscribing.
Something went wrong.