[Game] Neon Merge Defence
 archer pi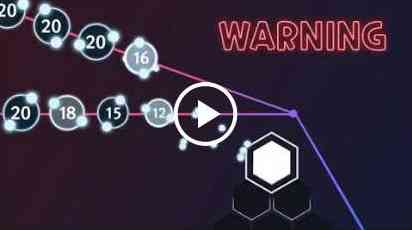 The tower has six attributes and various classes.
I want you to synthesize towers of the same nature, create higher classes of tower.
The higher the rank, the stronger the tower's character.
If you stop the enemy, you'll see a powerful boss.
If we get rid of the boss, we can get a lot of gem and a bomb for emergencies.
Strengthen your tower with gem.
Towers Become More Powerful with Strengthen! This could wipe out more and more enemies.
Simple but addictive defense game!
How much can we keep from everlasting enemies?
Game Features :
Six kinds of towers can be placed in the slot.
If you can get past the 100 rounds, you're the head of the NeonMergeDefence!
You can compete with other users through GooglePlay's ranking.
Check out other addictive games on the facebook page(DeliciousGames)!
There are simple UI, exciting BGM, and various characters.
Easy and easy to enjoy anytime, anywhere. Please use your accent to enjoy the NeonMergeDefence.
Neon Merge Defence user reviews :
Honestly, I don't know which ad to write a review on! There were so many to choose from oh and the game was a nice little touch… FYI… that was all sarcasm. This is such an ad filled app it is almost unplayable. A great game concept that is absolutely destroyed by ads. Time to delete and find something else
The good: This game has a fun concept and interesting graphics. The bad: I have just spun the golden roulette wheel four times and all four times I received the same crappy prize (the worst on the wheel ofc). Is there a way to get the better prizes? Also, the game becomes boring very quickly as there isn't much else to do other than click a button. Another addition is that you have to watch an ad for absolutely everything! Overall, it's just not my game.
The update earlier this morning completely broke progression in the game, significantly slowing down income after you close the game and reopen it. It's clear that testing prior to the rollout of the update was nonexistent, because the issues it causes are pretty impossible to miss.
Fun experience idle merger strategy, too many ads. >4 ☆ if you fix. You have an ad banner, okay, you need to make money, I get it. You can watch ads for bonus items, agreed 100%. Spamming forced ads WHILE playing, not cool. Seemless controls, quite intuitive. I like the auto merge once I've made enough progress, that way I appreciate it more. This game eats a lot of battery power compared to others, check ad programming as it is the likely culrpit. Don't triple ding to make ad money…
My download is glitched. Whatever towers I buy just sit in the center not even placed. I have to drag from the huge pile and place them myself. Even then, I cant fuse anything. I cant buy any upgrades even with the 1.5 Mil I start with. And whenever I go into an "upgrade tower" or "tower info" screen, it freezes in and stays up even though I can press the buttons behind it. I've tried redownloading it twice, and the sams thing happens.
Great game, but the one star and two star tickets you collect. They do nothing, you can not find them anywhere, and where do you use them? I must of collected over 100 of each and still can not find or use them.
It's a really good time killer. Only problem is the double the tactic points by watching a video is broken, I've done it three times and only get 1x the points
Very poor choice not giving us the option to pause and Deploy at the same time. It makes the game more Arcade than true Tower Defense Strategy. Would of got 5 stars
Good game, fun and great time passer. But fix your roulette wheel. Countless times it slows down and is about to land on something good, then jumps forward. Its rather annoying…
Love this game so much. I've been playing it non stop and I don't feel like the ads are overwhelming. I barely get them.
Contact developer :
Video :
Download Neon Merge Defence from Play Store
Leave your feedback regarding Neon Merge Defence
Get more android apps/games/updates
Subscribe to our mailing list and get new android apps / games and updates to your email inbox.
Thank you for subscribing.
Something went wrong.