[Game] Eternal Senia – Hydrangea After The Rain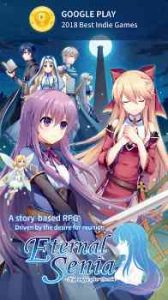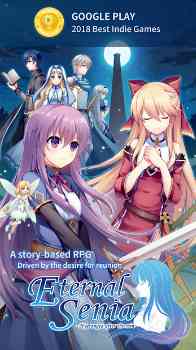 Eternal Senia :
Rediscover the simple pleasure of role-playing games!
The Game
Tap the screen to help Senia fight her enemies
Simple but challenging game mechanics
Grow stronger with the help of new companions
A compelling story split into five arcs
The Story
The story is driven by the determination
Senia is once again on the quest to find her sister,
but this time, her blade won't be her only companion!
Meet Senia's new friends:
Hugo – Calm even in the face of danger,
but beneath his placitude lurks the dark heritage of a wizard
Briella – Forever optimistic and outgoing,
she is the Bishop of the Holy Capital, Balder
Sophie – A young girl with a mysterious past
…and Priest Magaleta,
the elder sister who has always been so kind to Senia.
Will Senia be able to see her again?
Also see our list
Eternal Senia user reviews :
It's a clicker game with Heavy RPG influence. I've seen no bugs so far, game runs smoothly, the art is cute, story is intriguing. The game mechanic with skills feels so rewarding and unique compared to any other Clicker game. I recommend giving it a try if you like RPG's.
Great game tons of fun. Even worth it to spend a little money to support them. I suggest the moon wolf pet. It is only $10 and takes the game to a whole new level. Most games charge a fortune for very little return. This game gives you something really worth while for very little money. I rarely give 5 stars, but this game truly deserves it. also the story is very good and keeps you wanting more.
It's great tapping action game. Tutorial is easy to understand. Leveling is quite simple at first 20 but beyond level 50 and above it will be very slow since it will take millions of points just to add one level. I wish the developers release the next chapter of the story, anyway its a great game and anyone who might read my review, I recommend you this game.
The game itself feels nice. the skills that can be combined are a breath of fresh air for a clicker game, and it feels more exciting than your average idle grinder. However, the pvp is in need of a balance. Most players aim to keep their rank lower, so they can get the highest rewards by limiting their score. Rewards in higher divisions should be increased, so higher level players move up the ranks, and don't limit the other lower-level players.
Sanctum Games Co.,Ltd.

We'll keep it in mind for future improvements, Thank you for your advice.
Fun. I am enjoying this game thoroughly, everything seems fair and the story telling is just right with the clicker game aspect. Wanting to know more of the story kept me going and having nothing seem hard added to that. However, some of the pricing is overpriced in my opinion, also having to pay for certain party members kind of sucks I'd like to unlock all of them in game. Besides that the gacha isnt totally unfair and even has guarantees, I respect that. Much love to this game!
Sanctum Games Co.,Ltd.

We'll keep it in mind for future improvements, Thank you for your advice.
I love it. Best mobile game I've enjoyed in a long time. Barely grindy, plenty of ways to continuously improve without overcomplicating the game, and the story is beautiful. I mean not intense or super deep but really strong for what it is (it's a clicker game that actually tried.) I didn't even play the original but I so will! I will be obsessively awaiting Hugo's side story and any chapters with him in it. Love his character so much, it's so refreshing. Get this game. Give the devs support.
Sanctum Games Co.,Ltd.

Thank you! :D
This game was a suprise to me, stumbled upon it by complete accident. I like it so far the drawing is really nice. What got me the most is the story. Its nothing special, but keeps me playing a game, i would have otherwise uninstalled almost instantly. The story is the highlight of this game for sure. A bit of work on a stats page would be nice: like how many bonuses do i have from my party, but otherwise the game is pretty good and easy to get into.
I really wanted to like this game. I loved the first Eternal Senia. However, after reaching level 45, I'll never play this again. the story and gameplay are at odds so you'll often do something like sneak through a castle by killing everything in sight. The characters are one dimensional. The greatest thing I have an issue with is unlocking the privilege to spend 32 USD on a new party member as my reward for reaching level 45.
Sanctum Games Co.,Ltd.

We'll keep it in mind for future improvements, Thank you for your advice.
giving a 3 because of the pvp system is so unfair, it should be based on your lvl not by competing against everyone in the server, how can a lvl 10 have a chance to win those purple packs to win those 5star party? the same players will always win and will get stronger this way. The game itself is great, cannot fault it.
Sanctum Games Co.,Ltd.

We'll keep it in mind for future improvements, Thank you for your advice.
Latest Update :
1. Conclusion to the main storyline: Finale – Wheel of Fate.
2. Level updated: Balder City, Astral Domain.
3. Store: Chest of the Goddess of Fate is now available.
4. Store: Removal of the Chest of the God of Justice (Unopened chests will be kept).
5. New Companions: Onion, Mochicaat, Ghosty Fox, Candle Fairy, Goddess of Fate – Kulian
6. New Domain of Trials: Goddess of Fate – Kulian companion
7. New items in the Marketplace: Fate's Dark Curse, Fate Divine stone
Contact developer :
Video :
Download Eternal Senia from Play Store
Leave your feedback regarding Eternal Senia
If you like the content that we provide since 2012, put a smile on our face and give us a like or share this with your friends on any social platform. If you want to support this project, any crypto donation of $0.5, $1, $2, $3 is welcome!
You can find our crypto wallets on https://free-apps-android.com/buy-us-a-coffe/
Sponsored Links