[Game] Extreme Racing Adventure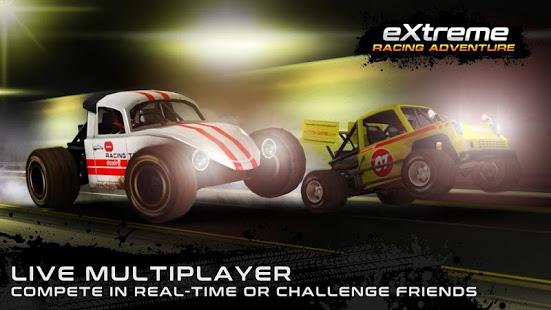 The time has come, following up our hits Mini Racing Adventures, we listen to all your crave about a real racing game for adults.
Extreme RacingAdventure is not the childish racing game anymore, it's made for real extreme racer, maniacs like you!
The tracks designed carefully day and night by our own hands and more challenging and difficult than our previous game which is intended for children. From bumpy off road track, sandy desert, cliff-like hills, to sloping asphalt. Anything you can't imagine from other toddler racing games out there.
The vehicles also designed by snobs like us and from our fans as well. We'll guarantee these beasts will please you to conquer those wild and challenging tracks. And beat your friends too in multiplayer mode.
The development of the game will keep going to the future, so let us know what would you see in future updates. And please let us know if you find any bugs or have any problem with your account, we will back you up. We don't hire robots here, you can expect to talk with fellow human at support@minimostudios.com
Please don't use review section to ask about your problem, we could miss reading your review among a lot of reviews.
See you at the leaderboard top!
Vroom vrooooom…
Extreme Racing Adventure user reviews :
Like anything, the more you do it the better you are at it. There is a variety of tracks–all pretty fun and NOT all the same. TONS of vehicles to get with in-game coins and plenty others to buy with real dollars. Would be cool if the "BUY" vehicles could also be earned during game play…as a reward or available for an inordinate number of coins, perhaps. Overall, this is an all time favorite of mine. Wish I could find more games like this
Every map is challenging, but a great way to kill time. Me and my son both play. I wish there was a way to change colors on the trucks or customize them. The game is very basic, and difficult to get ahead. I like the game but 5 stars is probably too high of a rating. I've played it on and off for over a year. Out of all the trucks I've tried only 4 are ok in the different levels. It would easily earn those 5 stars if you had a better choice in trucks and could actually modify or personalize.
It's a good game. I really like. I didn't at the start but I got into it. If I have any suggestions maybe a recovery button to flip back upright instead of 321 boom. I also think that instead of having the total distance reached per level it should be done by each car. That way you spend more money on the cars to try beat your previous best distance reached.
Great game..But it takes awhile to get exciting,much like real life racing,you get a car that is slow then you work to build it into a racing machine, try it spend a few hours racing, getting coins,and upgrading your vehichle you'll be surprised and pleased by the improvements you can make over time, but like real life it takes time and effort(unless you just drop a few bucks to buy coins and upgrade fast-but wheres the fun in that,to each their own,lol.) Anyways this is a really great game if your willing to spend a good bit of time racing getting coins and upgrading (or buy some coins and do it the easy way ,lol.) Definitely highly recommended. And no I did not buy any coi s and was also a bit let down initially but if you persist you'll be very glad you did. And yes Im a car car guy.
Hill Climb Racing goes 3D! Decent graphics but could definitely be improved. Poor music and so-and-so sound effect, but I hate the dude voice! Can't we get visual warning (that can be turned off) instead of "Watch Out!" And I hate that once the car is rolled over, we can't do nothing, but waiting for the 3 secs timer, to hear that dude's voice again. Makes me feel the game is really, really was made for children, except the graphics are too mature. Offline, GP Achievements and cloudsave.
The game is great. Great graphics and game play. The vehicles are all good. Physics are good. I don't know about the multiplayer. I haven't tried it. The only issue I've found is that there are a few glitches in a couple of the tracks. The biggest being on the Slippery Hill track. I made it to 5722m with the mud skipper. If you roll back down that hill for a second try, you fall through the track into an infinite free fall that causes you to lose all of your earnings for that try.
Very entertaining hill climb like game, graphics are top notch. Ignore the few negative reviews, its actually better than Hill Climb 2….Try it!
Contact developer :
Leave your feedback regarding Extreme Racing Adventure
Get more android apps/games/updates
Subscribe to our mailing list and get new android apps / games and updates to your email inbox.
Thank you for subscribing.
Something went wrong.