[Game] Fairy Treasure – Brick Breaker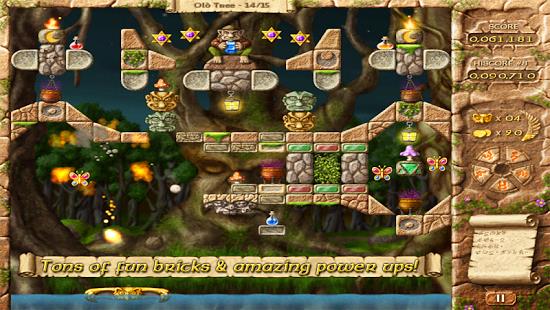 Gorgeous original brick-busting game with tons of new fun bricks and amazing power ups never seen before!
In your quest of recapturing the Fairy Treasure, you will travel along the Fairy River from castle to cave in level after level of fast arcade fun and gorgeous sceneries.
Gather magic scroll parts to find hidden treasures, solve puzzles to unlock secret areas and collect keys to unleash the mighty chain ball.
Fairy Treasure features more than 120 challenging levels of brick-busting fun in an astounding world of fantasy and magic. May the fairies be with you!
Fairy Treasure features:
Magic fairy tale theme with a compelling story
Over 120 levels of brick-busting fun
112 different bricks and enemies
14 power ups and magic potions
Gorgeous theme inspired graphics and music
Realistic game physics
Accurate controls and super smooth gameplay
Three difficulty levels to master
Global high scores let you compete against players from around the world
Excellent replay value
Save your progress
Player profiles
and much much more…
If you like brick breaker games and break out style games you will definitely love this highly improved brick breaker game!
WE WOULD LOVE TO GET YOUR FEEDBACK!
Your reviews/ratings are very important to us, and they'll help us bring you free updates with more great features and exciting new games!
Game On and break the bricks now! :)
Follow us on Facebook:
www.facebook.com/GameOnArcade
Developed and published by GameOn
www.gameonarcade.com
You may also like our list
Fairy Treasure user reviews :
The best game of this type. Have played it 2x already on the easier settings and I'm almost ready to try the hardest setting! My biggest problem is hanging on to the paddle. Sometimes I'll be running my finger across the screen and when I lose a life it takes me a minute to realize the paddle is nowhere near my finger! The problem is mainly the small screen. Those with some type of tablet may want to try a larger screen.
CASH COW! This brick breaking game is nowhere near the best and yet CHARGES you REAL MONEY for balls. So the treasure you collect is basically worthless because it only buys lives, not balls, and lives don't mean a thing without the balls. If you like this kind of game and want a great version that plays well, has real to life movement, where the treasure you collect buys you upgrades and other fun stuff and you DON'T have to use your real money for anything… Try ANCIENT BRICKS
I love this game, but i stopped playing it because theirs nothing new to it. I was hoping for more levels and maybe a series 2. I've played this game over and over again waiting for more new levels but that hasn't happened, so can you please make a heap more new levels so i can enjoy this wonderful game again. Cheers Vicki
Good game, just don't understand why you have to buy balls with real money and not with the coins you collect in game. The coins you collect only goes toward lives, why not balls also ? Or just a money grab ? Sell the game with unlimited balls/lives or add the coins you collect into one and let us decide how to spend them whether on lives or balls or both ? I would love to buy this game say for $4.99-9.99 being able to use points/coins to buy in game products rather than a money pit. Thanks
This game is so much fun to play and I wish that they had more games like this. You are missing out on a great game if you have not played this wonderful game. Awesome!
Good I will give 5 stars if you fix two issues. 1. Is when I want to leave the game there no way of going back to your home screen. 2.The bat will stick and it causes me to loose all my points.
creative distractions love this app! its easy to get distracted by treasures, sometimes losing a life. easy to get back to last level played, which is a 5star rater. but the ads are almost unbearable…
Contact developer :
Download Fairy Treasure from Play Store
Leave your feedback regarding Fairy Treasure
Get more android apps/games/updates
Subscribe to our mailing list and get new android apps / games and updates to your email inbox.
Thank you for subscribing.
Something went wrong.