[Game] Furistas Cat Cafe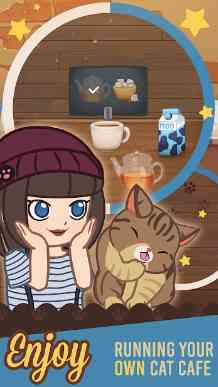 Furistas Cat Cafe : Adopt an assortment of adorable cats, help your customers find their purrfect match, and customize your cafe to bring the ultimate joy!
Furistas Cat Cafe captures the personalities of real life cats and will melt your heart.
By award winning studio Runaway Play, over 10 million downloads of Flutter, Splash and Starlight
Some of the features that make Furistas the best cat game:
Adopt & collect a wonderfully weird array of furry friends, based on real cats. Each cat has a fascinating backstory and behaviors specific to their personality.
Match cats and customers with similar personalities together to maximize happiness, which unlocks more cattos for you to collect.
Customise your cafe! The cafe is fully customizable from the walls to the floor. This gives you full control of creating your own space. Did you want to turn the cafe into a cute cat playground or a Gothic lair? It is completely up to you!
There is a gentle adoption narrative that runs throughout the game, subtly encouraging ethical pet ownership (many of the cats in the game are rescue cats!)
Meet some of our furry family who appear in Furistas Cat Cafe!
Bon Chan and Takeshi are two of the first cats we added to the game – they are both rescue cats, who now live in their forever home with our Lead Artist!
Bon Chan
Personality Trait: Friendly
Bon-Chan is a tiny kitty with a big sense of self-confidence. Since her adoption at the Cat Cafe she has found great happiness in supervising and napping with her loved ones.
Takeshi
Personality Trait: Playful
At least twice the size of his sister Bon-chan, Takeshi is a big ball of cuddly. He loves to eat, and is often caught taking a nibble from other cats food bowls.
So come be a kitty collector, and watch your favorite furry friend meow, purr, blep, mlem, and be a happy little neko!
We hope you enjoy creating your own haven for happiness, full of cute kitty friends, at Furistas Cat Cafe!
Furistas Cat Cafe user reviews :
I LOVE THIS GAME!! im the type of person that gets bored easily with phone games and i tend to delete then quite often. this one however has been one of the only games to stay on my phone for a long time. its a good game to calm down with and the animation is super cute!!! im on level 11 and my cafe looks great!!!
I was actually surprised by how much I like this game. As others pointed out, maybe have more baskets that are not 2 hours or 8 like the one I have now. I do not mind the time exactly, but if I am going to be in the game for a solid 30 minutes or so, it would be nice to be able to open one every time (if I wanted), especially since the materials needed to level up and nurture are only found in larger quantities in the baskets. When I do get a good amount of time in the game, the heart letters end up piled up on my tables….it there something else that they could be used for….maybe towards specific baskets that have coins or possibly even kitty cash. I mean, I get that the kittycash is not going to add up super quick without buying some, but are there some going to be other ways to have it add up? Maybe put out videos we could watch to get some….or mini/side quests to get some kittycash. Lastly, I actually love that the cats come with names already!!!!
I really cute and lovable game. However, it sometimes lags? And there is definitely room for more things to be added. I also wish it was a bit easier to obtain some of the items. Thank you!
The game is so adorable, the cats wonderful. It's a nice game I can play without feeling stressed about beings that I have children to care for.
Last Update February 6, 2019 :
Valentine's Day is the perfect excuse to go visit your favorite cat cafe!
Special Valentines Event with a brand new cat, Calista, a real-life furry friend of a Furistas Player!
Valentines-themed Furniture. Cute!
The VIPs are dressed up for the Feast of Saint Valentine.
Exclusive furniture for Furistas Club Members.
Contact developer :
Video :
Download Furistas Cat Cafe from Play Store
Lekave your feedback regarding Furistas Cat Cafe
Get more android apps/games/updates
Subscribe to our mailing list and get new android apps / games and updates to your email inbox.
Thank you for subscribing.
Something went wrong.