[Game] Golf Clash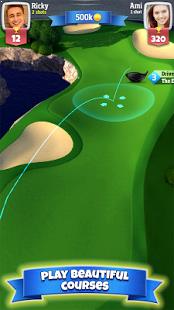 The sun is shining, it's time to play the real-time multiplayer game everybody's talking about!
Play on beautiful courses against players around the world in real-time as you compete in tournaments, 1v1 games and challenge your Facebook friends!
Upgrade your clubs and unlock tours as you master your golf skills in the quest to be the Golf Clash king!
Pre-register now and get a FREE Prize Chest!
Quick-fire 1v1 real-time gameplay.
Revolutionary shot system that's easy to learn but difficult to master.
Thousands of live players online waiting to be challenged.
Progress through more advanced tours as you "raise the stakes".
Earn promotion in weekly leagues to win club card bonuses.
Compete against your friends via Facebook to earn the bragging rights.
Unlock chests as you discover and upgrade to premium clubs and balls.
Save and share replays of your jaw-dropping shots.
Banter your opponents with chat and emoji mid-game and even mid-swing!
Advance through challenging courses and weather conditions.
Golf Clash user reviews :
The wind rules are unbelievable, at the golden shot the same. When opponent goes off you have to wait even two minutes, when you're out for 30 seconds you lose the game at re-login. The game finds you an opponent and even with 4G signal you're forfeiting the game due connection lost. The graphics are ok and the gameplay, but that's it. Don't spend money in it, i did and doesn't worth. Call it Golf Crush App.
This game is frustrating as it is very inconsistent. You can take the same shot under all the same parameters as your opponent and the ball goes in the complete opposite direction. How does that even make sense. Also you can curve your ball with the wind and it somehow ends up going the opposite way. Again, doesn't make sense. Lastly, find a way to keep the view unobstructed when watching your shot. It's annoying to not see where your ball lands because all you see is an up close view of a tree!
This is a fun and addictive game, but -1 star for the wind feature. The wind will change directions shot to shot. In my experience when I am play someone, we can both be shooting in the exact same direction and the wind will do a complete 180 between the 2 shots sometimes. It always changes directions when it is the first shooter's turn again. You really can't get into any kind of rhythm.
Inconsistent!!! You would think a perfect shot means a perfect shot. Ohhh but nooo. You can hit a perfect shot and a bot can slice and still have a better placement. Lol. The only thing constant in this game is how inconsistent it is. Ohhh and in tournaments the game screen will glitch and shoot your ball as soon as you pull back. Releases on its own.. Sad because it used to be a really fun game. Now it's just frustrating. (Change my mind)
Awesome game. Love it. Though it just shut down for maintenence mid game…i went to go back in and it needed updating…so updated it then boom lost the money i spent for the game i was playing but wprst of all tye update has made it not allow me to join any course…needs fixing asap…what the hell man
Definitely worth downloading for some enjoyable casual golf, however, matchmaking needs improvement so you aren't matched with people way out of your league. In shoot outs, you shouldn't be able to see the opponents shot selection, whoever goes first is at a severe disadvantage. Not enough holes that you actually play. More variety needed in holes at all levels. Would like to play previous course for higher stakes,
Thank you for taking the time to post your feedback and suggestions Luke. They are extremely helpful. We are also working on improving matchmaking to ensure that all matches are fair. Thank you and happy golfing!
Great game. Im enjoying it so far. One problem though. There's no sound? No sfx or music. Changing it in the settings doesn't work either. Im playing on a ZTE Grand Max 3. Other than that, the game is fantastic. Keep up the good work!
Latest Update :
Here's what's new in the latest Golf Clash update:
Performance improvements and bug fixes
Thank you for downloading the latest Golf Clash update.
Contact developer :
Download Golf Clash from Play Store
Leave your feedback regarding Golf Clash
Get more android apps/games/updates
Subscribe to our mailing list and get new android apps / games and updates to your email inbox.
Thank you for subscribing.
Something went wrong.