[App] Gravity Screen
,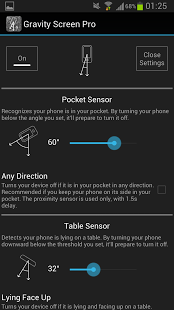 Gravity Screen : It turns automatically the screen off when you put your phone into your pocket or onto a table. And turns the screen on when you take it out or up. No need to touch any button and you are ready to go. It's especially helpful if your lock key is hard to reach or the power button is broken.
The most popular screen on/off app. Reviewed by LifeHacker, MakeUseOf, TheNextWeb, Gizmodo and many others …
KEY FEATURES
Pocket Sensor: Turns the screen off if your phone is in your pocket.
Table Sensor: Detects your phone is lying on a table and turn it off if not in use.
Turn Screen On by Motion: If the screen is off and it's facing up the device can be woken up by moving it.
Keep Screen On by Motion: It keeps the screen on while you are watching the screen. It relies on the small movements of your hand while holding the device.
Smart Lock support: It's a workaround to make the Smart lock feature work fine on devices with Lollipop.
Locale plug-in for: Tasker, Llama and others
UNLOCKED by IN-APP PURCHASE
Better performance
Widgets, Shortcuts
Wider range for Turn Screen On by Motion Timeout
Wider range for Table Sensor
Suspend in Landscape mode
Exclude Apps option
BATTERY USAGE
It should be not significant. I experienced about 6 per cent extra consumption on the test device. However it can be much higher by often using the Turn Screen On by Motion feature. Thus, keep your phone face down if you want to save energy.
UNINSTALL
Please, use the Uninstall button in the app. Due to Android restriction the app cannot be uninstalled on a normal way.
FAQ: goo.gl/D4BgQ5
Gravity Screen user reviews :
Like it, but it keeps vibrating my phone everytime I unlock it or go into apps that are excluded and not excluded. Wish I could turn that feature off but couldn't figure it out. It's not the OS settings because I scoured through everything and tested it. It's the app itself. I tried toggling the notification from it to 'off' but still it does not work. I'm almost at the point of uninstalling it because of how annoying it is.
For me this is a must have app. However, the turn off "any direction (flip cover)" feature is not working for me. It used to work but at some update it stopped working. Other than that, I would rate it 5 stars.
So much for having to press the power button to wake up our phones from sleep or to double tap the screen like in competing apps. All you have to do with this is pick the phone up. Also turns off the screen automatically when you lay it on a table, put it in a purse or pocket or close the flap on a case. Installed it in both of our Motorola Moto Z3 phones. Too easy!
Useful indeed! Now just need to unlearn pressing my power button. Very useful. Power button saver on my Nexus 5. Works OOTB. Might need a restart / on and off toggle to kick in fully though.
Had a few tasker profiles set up to do what this app does. Except for that all important turning the screen on! This really makes my user experience to another level of awesome.
Great App Works well on my Nexus 6. Can be better if can double tap to wake up.
Contact developer :
Video :
Download Gravity Screen from Play Store
Leave your feedback regarding Gravity Screen
Get more android apps/games/updates
Subscribe to our mailing list and get new android apps / games and updates to your email inbox.
Thank you for subscribing.
Something went wrong.