[Game] Grill Masters – Idle Barbecue
 cartoon network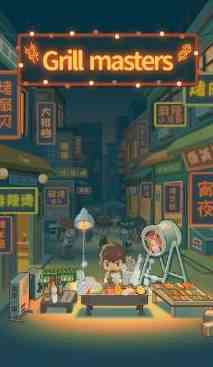 Easy and Relax : Upgrade your skills for more amazing barbecue food.
Also upgrade your cook and waiter can help your business a lot.
Unique Guests : hard-working old man, innocent young girl …. Every guest has their own stories. And your barbecue attract them and share their stories
Featured Barbecue : Roasted lamb, Roasted eggplant… all can be roasted. Just enjoy this wonderful barbecue party !
Come on ! Grill Masters. Time for Barbecue Party !
Grill Masters user reviews :
It's quite fun, just whenever I want the Big person to eat I have to watch a video first. But after all this game is very relaxing and easy to play.
The game is good. But please teach me how to unlock a new scene? Because it says when I reach level 25 and when I reach level 25 it doesn't open!!
A typical of incremental game like sushi resto. Need cloud save and google play achievements.
It's just a awesome game, love this, the satisfied game.
Ad. Bomb. Everywhere. All the time. Every 2 seconds in fact. For every 2s of game time you watch 30s ads. More ad watching than actual game playing time. Don't want ads, then you have to pay a Weekly extortion fee of USD11 +. No other power ups or perks included in that hefty 11 bucks, just ad removal.
You HAVE to watch a video after each very short chapter, and that's not all. You have to choose between a $7 a week subscription or an ad EVERY time. The ad doesn't just start and get it over with. Mobile games are NOT worth subscriptions.
This game is quite relaxing. However, it also needs improvements like: 1. Customer stories/background/ profiles 2. Information on the food being sold Honestly, the game will be quite interesting with knowing your customers stories. I get the (!) mark where there's an option of talking to your customer but it needs additional personalities.
It's so funny that you put the couple from kung fu hustle in this game every time I look at them I smile. Over all pretty fun game as well very cute art. I would say the only thing I'd like to see is perhaps an option to change the "boss" to a female and maybe a few costumes or something. It just seems like the diamonds have little use but for in game cash
This app is adorable and cute. It's nice to pass the time with and it's always fun to upgrade in the game. The only issue I have is with the girl who always appear at the side of my screen saying to watch an ad. There's nothing wrong with it, it's just I wish there was a way to possibly disable her continuously offering. Apart from that minor detail i really enjoy this game.
Game is alright, and is what you would expect from an idle game. However, there is no goal aside from opening new locations. Upgrades in game do not affect asthetics or gameplay; they are restricted to food price, staff speed, chef speed, and publicity. There are plenty of ads to gain bonuses from so gameplay can progress fairly quickly. Scenes/stories gathered from customers serve no value and are not even tracked. Unlocking new locations, unlocks short excerpts of the MC's life timeline.
I've seen reviews about it's concept and they are mostly correct. It's really adorable and fun to play. The part that I like the best would be their background music. It's so calming that I would always find myself playing this game whenever I'm stressing over something. The music is calming and the game itself doesn't require that much action so it became a way to relax myself.
Game is pretty cute and good.. All are nice, Music are calming, and Graphics are nice.. But the ads are kinda annoying, I understand that you make money via the ads but the placement and the frequency of the ads is quite annoying in my opinion.. Also the dialogues are eh.. I suggest you to put the Publicity and Auto Acceleration Ads somewhere that doesn't block any of the gameplay..
Really fun and I'm still super enjoying the game, just disappointing that I can't ever seen to collect the Lucky Bag on the left. I can interact with every other icon and part of the screen, but the Lucky Bag won't open which is frustrating when collecting the reward is a daily task.
Contact developer :
Download Grill Masters from Play Store
Leave your feedback regarding Grill Masters
Get more android apps/games/updates
Subscribe to our mailing list and get new android apps / games and updates to your email inbox.
Thank you for subscribing.
Something went wrong.