[Game] Grow Turret
 i am innocent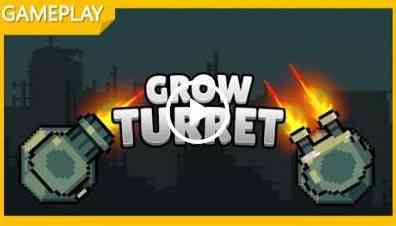 PixelStar Games 4th grow series Grow Turret
Tap the screen to kill the enemies. (withe your tower)
Craft various turret!
Game Features
Auto attack without touching the screen
Build and collect various turrets
Various skills
Build battle car and fit more turret
More powerful – Rune system
Stronger steps to return to the stage
Eliminate the powerful boss and get the turret. – Boss Reid.
Stop zombies' attacks – Eradication battle
Stronger with a collection of books
This game that dont need wifi and play offline without internet.
This game is pixelstar game's 2d retro clicker game.
Not yet online(Real time Multi-play) mode
This version of the game is not a demo. it is a full edition
This is Pixelstar games's Clicker game 'Grow Turret'
Grow Turret user reviews :
Best idle game ever! Playable offline. Super generous with the loot! No paywall! Adds only when i want them! Lots of graphics settings so no freezing! Would definitely recommend to friends ,and have! Would love to see the common idle feature that allows the normal levels to be progressed while I don't have the game open ,but no complaints whatsoever. Favorite feature is the Rapid AutoFire upgrade for 1000 Diamonds! Thanks for a Beautiful , retro-looking , Action-RPG! Please keep adding to it
it's fun to play but the main turret that u use keeps getting stuck shooting at random angles and wont move. its supposed to auto aim at enemies when u tap so basically I cant attack only my AI turrets can… so stupid and is ruining the game pls fix!
Really happy to get my game back when switching phones! Game plays smooth, good graphics. Does take awhile to get going, but that's just part of the grind.
game is decent but some turrets struggle to auto lock on enemies, can't fight hunts like this and when you come back it doesn't remember the stage you left off it starts you back at the beginning level. definitely not idle in this case. nothing earned while away from game, just a turret clicker with the same monsters walking around in a circle around you
This game is really good. All you have to do is tap and it's really simple really easy. You can get really overpowered really fast if you keep leveling and claiming the turret rewards
Not much of an idle/incremental game. The base currency gives almost nothing of value. Instead, every meaningful form of progression is in the form of one-time bonuses or segregated from gameplay and time-gated instead.
Its confusing, there normal coins, alien coins, blue gems and red gems that it seems buys the same item mutliplied by four (for example upgrade power). the same happen with battle car. it upgrades three type of battle car at the same time? also when you reach eradication battle extreme barrier the difficulty is insane and to make any advance you have to eat many ads. Also to reach the level or gain coins you have to this game active on your mobile resulting a the total discharge of your mobile.
Good game really fun but the coins dont generate every time i watch my money it go's down instead of up if you guys fix it, it would be great thanks.
This is not an idle game. It's good. But it's got no idle mechanic
I like this game very much I play this game a week ago and I really really liked it so much that I almost got all the cannons but not really I didn't get any epics is this some kind of glitch I got like a parts of a comment that it says I didn't get the pieces of for the the epic Canon?
I am just astonished this game has been my top favorite because of all the ideas the thing is the ad's when you complete the raid or some of the others it shows a ad but the game is still good and can you add a ice tower?
Just a game to leave running while you sleep past a point it impossible to progress a level in a days time playing vanilla
I would give 5 stars but dev broke the dam game this update game was fun easy to play but when they updated it the camera no longer zooms out making it impossible to add and remove turrets on certain areas of battle car devs thank u for destroying what used to be a good game
This game is very good and you need to defeat boss fights.
Contact developer :
Video :
Download Grow Turret from Play Store
Leave your feedback regarding Grow Turret
Get more android apps/games/updates
Subscribe to our mailing list and get new android apps / games and updates to your email inbox.
Thank you for subscribing.
Something went wrong.