[Game] Three Kingdoms – Heroes of Legend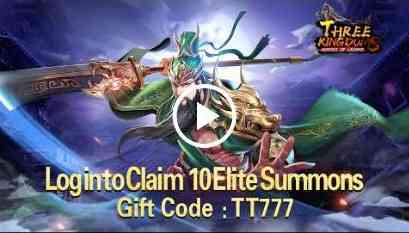 Log in to Claim 10 Elite Summons
Gift Code :TT777
Introduction: The Three Kingdoms is a mobile card adventure game, massive heroes is luxuriant and shining on stage. Card can be collected easily and open your own battle road. Download the game now and have fun!
Detailed description:
The war of the Three Kingdoms is a 3D action card game made with the theme of The Three Kingdoms, focusing on fighting skills and heroes development. Game system includes various hero skills, equipment, pets and other elements. It is a new interpretation of the Three Kingdoms game! This game requires players to have multiple play skills and strategies. Online and offline immersive instant combat mood exist in game. The Three Kingdoms city siege is at any time to be ready. All big forces fight each other with combined fighting skills and unique heroes development system. Extraordinary movement control allows you to run the situation. Come and experience the elegant appearance of the Three Kingdoms.
Game Features
National war, Stringed arrow
On the stage of the struggle for hegemony of the unique military general, the wars caused by the princes followed one after another, and the world of The Three Kingdoms was highly restored. Every moment of combat is fluid, with stunning effects; A new lineup to build the system, let the three countries become your home, full service war ready to start, the best way to seek hegemony and so on to open up!
Recruit heroes, Strategic development
In the game, players can recruit nearly 100 heroes of four forces, each of whom has his own exclusive skills, weapons and partners. Cultivating and using different heroes creates a unique strategy and combat experience.
Various equipment, Fancy building
Players can play for hero equipped with powerful weapons, armor, treasures, st, magic, pets. Players can use obtained in continuous forging equipment for higher material properties. At the same time, players can equip setting stones or forge to their equipment, various equipment greatly enrich the strategic game. Heroes fate equipment can also greatly enhance the skills and attributes. Lets create your super exclusive hero.
Thousand Scenarios, Fierce Battle
The game has 44 chapters and more than 500 levels waiting to be challenged. Players in different levels will face the test against the enemy with different attributes and various skills. Players need to constantly adjust to the line-up change equipment, and gradually overcome difficulties.
Free operation, Various play
Panoramic battlefield map, single finger slide screen, click to move, free operation of any heroes, and a various combination of interactive release. World Boss, 100 people cart, City Siege, Faction Battle, Stage Battle, Train Zone, Team Scenario, PVP and PVE map all have rich content waiting for you to explore.
Super Gift, Easy level-up
The average daily guaranteed income is up to 3000 ingots without even one single recharge! Massive VIP experience is free accessible every day and the VIP level can be upgraded without spending money. Level 18 VIP is just around the corner. On the second day after you registered, we will send S support hero Cai Wenji gift pack to you. In the first two weeks after you registered, participate in our in-game event to get a chance to win SS hero Guan Yu and SS hero Zhou Yu. Three Kingdoms, the most free gift pack accessible game and least money spending game in 2019!
Official Facebook fan page:
www.facebook.com/ThreeKingdomHeroesofLegend/
Official email address:
threekingdomgames[at]gmail.com
Also check our list
Heroes of Legend user reviews :
Hello. This is realy great game, graphics, game play and heroes is nice , skill also ar beautiful, I think is a future game ! Thank for game !
Great game with amazing hystory of classic legend. The combination between epic and modern style of characters make this game different. Keep update with new feature and challenge. One think need to improve is story line. Make it more epic and classical. Thanks for strong graphics also. I have playing this game so long but untill now i am not getting bored. Maybe this game does not need all day time to play to be competitive with the other players. You can enjoy this game anytime you want. Nice.
Great game until you found issues. As previous users have posted, disconnects from time to time and you lose your loots. Already emailed customer support, and yes, just like previous posts, customer support is non-existent or too lazy to reply. Invest your precious time and money somewhere else.
Hong Kong Kunyue Technology Limited

Hello, my lord. We recommend you swiitch your network connection and try again. If it doesn't help, please try to send us a ticket on our Facebook(Three Kingdoms:Heroes of Legend) and we will give you a reply as soon as possible. Thanks for your patience.
Nice characters, plus for heroes advancements, cross servers competitions and rewards. A competitive, addictive and interesting game indeed for serious gamers. Well, one should be aware that serious gamers could very much link to a serious spender. Equip and reward yourself for a better gameplay. Keep up the good work to enhance the game please.
Contact developer :
Video :
Download Heroes of Legend from Play Store
Leave your feedback regarding Heroes of Legend
Get more android apps/games/updates
Subscribe to our mailing list and get new android apps / games and updates to your email inbox.
Thank you for subscribing.
Something went wrong.