[Game] Kid Chameleon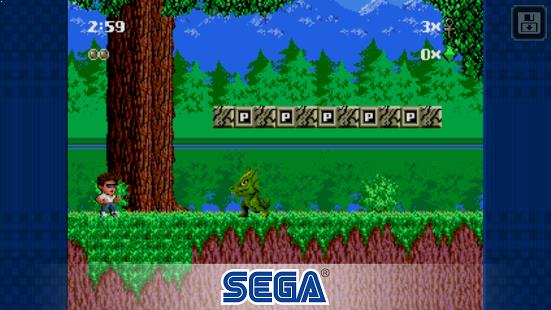 Kid Chameleon : Unleash your super powers in SEGA's colossal platformer Kid Chameleon!
Play free and experience one of the largest platformers ever created.
You are Kid Chameleon, an ordinary kid given strange and fantastic new powers through the use of magical masks. When the villain of a new arcade game escapes into our reality and only you can stop him! Using the masks, transform into an unstoppable warrior, high-flying superhero, or human tank to bring him to justice!
Kid Chameleon joins the SEGA Forever classic games collection, a treasure trove of free SEGA console classics brought to life on mobile for the first time! DOWNLOAD THEM ALL!
GAME FEATURES
Over 100 stages crammed with secret warp points and hidden areas to explore
Become an axe-wielding maniac, a human tank, a medieval knight, a blood-thirsty berserker, and more!
Nine different masks to collect, each with different powers!
SEGA FOREVER FEATURES
PLAY FREE
SAVE YOUR GAME PROGRESS AT ANYTIME
CONTROLLER SUPPORT – fully integrated wireless Bluetooth controller support
OFFLINE PLAY
GAMES RELEASED EVERY MONTH – download them all!
RETRO REVIEWS
Sonic should keep looking over his shoulder, the Kid is on his back. [89%] – Les Ellis, SEGA Pro #6 (April 1992)
Kid Chameleon has a clever combination of Alex Kidd's best games, puzzle strategy elements, and arcade-style action. [88%] – "Earth Angel", GamePro #33 (April 1992)
There's a new kid in town – Kid Chameleon – and he's gonna shake you apart with his rock 'n' rolling adventures. [82%] – Marshal M Rosenthal, SEGA Force #4 (April 1992)
TRIVIA
10,000 point prize blocks are the most elusive blocks in the game… can you find any?
Scoring 100,000 points early on in the game allows you to skip ahead to the half-way point
Giant floating head Heady Metal is the one and only boss in Kid Chameleon
Kid Chameleon received two full stories in Sonic the Comic in the UK
Want to speedrun a level? Try the Cyclone mask!
CLASSIC GAME FACTS
Originally released in 1992 worldwide
Developed by SEGA's in-house American studio STI
In Japan, the game is known as Chameleon Kid
Privacy Policy: www.sega.com/mprivacy
Terms of Use: www.sega.com/terms
Game apps are ad-supported and no in-app purchases are required to progress; ad-free play option available with in-app purchase.
© SEGA. All rights reserved. SEGA, the SEGA logo, Kid Chameleon, SEGA Forever, and the SEGA Forever logo are registered trademarks or trademarks of SEGA Holdings Co., Ltd. or its affiliates.
You may also like
Kid Chameleon user reviews :
When the reviews say the control pad is a huge issue. It is. I loved this game growing up. I was excited to play again, the nostalgia carried me about 2 minutes into the game before I couldn't take another second of having issues with the stupid control pad. All the reviews for every Sega game all day the control pad is the biggest and only issue. It's ridiculous they can't make 1 tiny tweak that'll fix all their games and reviews.
Pow! Mega Drive on the go. Its great on journeys and while in the doctors, or just waiting for your turn at the brothel, I always have a few of these downloaded to help pass the time.
Its full of adds that pop up constantly and make the game almost unplayable, the keys are tiny and slow to respond, the game is jittery. Imo you would be better served downloading a Mega Drive/Genisis emulator. The Graphics are good though. But more cons than pros with this version.
Downloaded the game turn it on and boom instant glitch didn't even make it passed the loading screen I swear technology is going backwards because Sega never did this
This is brilliant remake of the original game and the only issue is the control pad does not give you any significant feedback (colour which way is pressed) but this is expected without holding an actual controller. Simple and fun and classic!
This game is good i played it and i think this is a good game for teens, so sega plz improve this game.
I appreciate them doing this but the directional control is horrible the move pad is tiny and doesn't respond well which makes a hard platformer near impossible, I found it difficult moving through the first two levels which are the easiest.
Takes me back to being a kid, love this game. If you remember playing it as a kid, it's a must have. Especially with all the levels it has. I've had it for a few months now an still haven't beaten it all the way yet lol.
Speechless, I wanted this game on mobile, a week later boom. All my dreams come true, don't listen to any negative reviews – this is an excellent game and port
One of the best games Ive played on the the Geneses or SNES. Still good today
Great to see all these classics offered in a convenient way.
Contact developer :
Video :
Download Kid Chameleon from Play Store
Leave your feedback regarding Kid Chameleon
Get more android apps/games/updates
Subscribe to our mailing list and get new android apps / games and updates to your email inbox.
Thank you for subscribing.
Something went wrong.