[Game] Comix Zone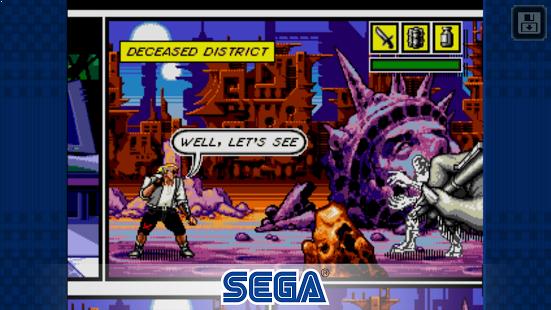 Enter the Comix Zone, in SEGA's classic arcade-style beat 'em up, now available on mobile for the first time.
Play free and prepare for the first truly interactive comic book ever!
You are Sketch Turner, a street-wise comic book artist trapped in a comic book world of your own creation.
Journey into this post-punk nightmare and see your enemies drawn before you. Battle the Mutant Queen. Survive the Dead Ship and Lava Mines. Then defeat the super-villain, Mortus, to escape.
Comix Zone joins the SEGA Forever classic games collection, a treasure trove of free SEGA console classics brought to life on mobile for the first time!
FEATURES
Battle panel by panel through full hand-drawn comic book pages
All the action and adventure of your favorite comics!
Unleash superhero power-ups and tons of intense fighting moves
Wield knives, hand grenades, dynamite, and paper planes*
Search out hidden items with your pet rat, Roadkill
Sharpen your fighting skills to defeat mutant enemies drawn by Mortus
SEGA FOREVER FEATURES
PLAY FREE
SAVE YOUR GAME PROGRESS AT ANYTIME
LEADERBOARDS – compete with the world for high scores
CONTROLLER SUPPORT – fully integrated wireless Bluetooth controller support
OFFLINE PLAY
GAMES RELEASED EVERY MONTH – Download them all!
RETRO REVIEWS
Comix Zone oozes style, looks fantastic and plays brilliantly. [92%] – Mark Patterson, Computer & Video Games #167 (October 1995)
A new concept that really delivers. Just imagine taking your favourite comic and controlling the action. [91%] – Nick Protz, Sonic the Comic #60 (15 September 1995)
COMIX ZONE TRIVIA
Press and hold the punch button to tear off a piece of the comic book, make a paper plane, and throw it at enemies
Make Sketch pass gas by repeatedly pressing down on the D-Pad in certain areas
Comix Zone features a happy and sad ending depending on how you defeat the final boss
SEGA held patent US 6010405 for the game systems innovative simulation of a comic book
COMIX ZONE HISTORY
First released August 1996 on the SEGA Mega Drive/Genesis system
Developed by: SEGA Technical Institute
Designer: Peter Morawiec
Lead Programmer: Adrian Stephens
Privacy Policy: www.sega.com/mprivacy
Terms of Use: www.sega.com/terms
The following permissions are required by our ad partners to ensure you are provided with appropriate adverts: ACCESS_COARSE_LOCATION, ACCESS_FINE_LOCATION
Game apps are ad-supported and no in-app purchases are required to progress; ad-free play option available with in-app purchase.
© SEGA. All rights reserved. SEGA, the SEGA logo, Comix Zone, SEGA Forever, and the SEGA Forever logo are registered trademarks or trademarks of SEGA Holdings Co., Ltd. or its affiliates.
You may also like
Comix Zone user reviews :
Amazing. This game aged well as so far as, if you were to add in collectibles and a few other mechanics you would think it was a modern game. Some features were added at the in-game menu's. Sadly, it is hard to play action games on a cell phone. So just a phone with no controller feels off. I feel like you have more health in this version or you just take less damage. Solid free game and a good showing of an classic game. You dat boy SEGA. (Game developer's)
An amazing game, I downloaded it blindfolded, I was just trying Sega games and I got to this one and God it's amazing. It's a very different beat 'em up game and has that arcade style. The game is hard af but ia enjoyable, it looks good and it sounds good. The controls are fine and you can play with a gamepad. So, is the game worth it? Of course it is I want to see Sketch Turner, his rat and the boss from this game in Sega Heroes, it would be amazing.
Game is no different then comic zone on original Sega, which is a good thing. BUT! Besides the graphics being good and the game being fun, the directional pad DESTROYS this app, shame too. Your either crouching or upper cutting when you want to attack straight forward, meaning the forward button has to be hit JUUUUST right. Let me tell you you'll take SO MUCH DAMAGE from this error it'll ruin the game for you, that's why I'm uninstalling I've tried to many times but it's aggravated me forthe last time
I give it a pretty solid 5 Star. What SEGA is doing wrong is the type of emulation it is using. They can be using Cloud Gaming to be able to run it. If not then it must be what custom emulator they are using. Sonic 1 still runs PERFECTLY, All it had was an Optimization that allowed Ad-Free Users and Paid Users, who bought the game and Restored the Purchase, If you money wasn't there before the update was released.
Thank You to the people of SEGA. It is not only for the evident fact of giving all of this. It is a thank you for keeping up the classic spirit. Time doesn't have to take away all that talent and all that quality. Blessings!!!
Contact developer :
Video :
Download Comix Zone from Play Store
Leave your feedback regarding Comix Zone
Get more android apps/games/updates
Subscribe to our mailing list and get new android apps / games and updates to your email inbox.
Thank you for subscribing.
Something went wrong.