[Game] Mahjong Magic Lands – Fairy King's Quest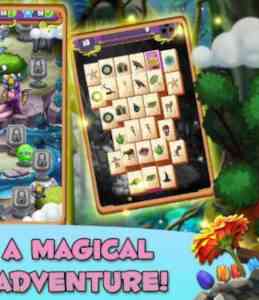 The fairy world is in trouble! As the Fairy King, you must embark on a quest to find a mysterious hidden artifact which has the power to restore peace and harmony to the land. Match tiles & solve mahjong puzzles as you journey through beautiful lands on your quest. Only the bravest can succeed!
A RELAXING, CASUAL MAHJONG GAME
Our standard and expert levels have been designed so that they are always solvable. Match tiles and enjoy our mahjong solitaire game without worrying that you're in an unsolvable situation. If you get stuck, hints are available to give you a helping hand!
COLLECT & CRAFT VALUABLE TREASURE
Discover special crafting tiles as you play our free mahjong game. Collect all the tiles of the same item and you can craft that piece of treasure. Sell your crafted treasure for thousands of coins to help you on your mahjong quest!
MAHJONG – HIGHLIGHTS
Classic mahjong tile matching mechanics with a fairytale twist
Complete daily tasks to increase your task multiplier and get more free coins
Easy to understand gameplay and helpful hint system
Embark on a mahjong adventure through 320 challenging levels
640 additional bonus levels
160 beautiful pieces of mahjong artwork to collect
Free daily rewards for active players
Each level uses its own unique tile sets
Replay each level as many times as you like
Earn coins to unlock more mahjong boards
Fill coin globes up to earn free coins
Play offline – no wifi needed!
PLAY MAHJONG SOLITAIRE OFFLINE, FOR FREE!
Enjoy our free mahjong game with or without wifi. Take mahjong with you wherever you go – on the plane, in the car or even on the beach!
FUN DAILY TASKS & REWARDS!
Fairies love giving out free coins! Every day the fairies will give you new tasks to complete. In additional to unlocking and completing levels, finding valuable treasure and spinning prize wheels, you'll get bonus coins when these are given as daily tasks! Every task you complete increases your task multiplier for… you guessed it… even more free coins on the next task!
UNLOCK BEAUTIFUL ARTWORK & HD BACKGROUNDS
Each level you complete on your mahjong quest through the fairy lands will reveal a new, beautiful piece of Mahjong Magic artwork. Collect each piece and save the art to your camera roll, share with friends and use as an amazing HD wallpaper. Each piece of artwork is yours forever!
YOUR JOURNEY THROUGH THE FAIRY LAND…
Land 1 – Fairy Wonderland
Begin your journey in a wonderland land full of magical fairies!
Land 2 – Dreaming with Fairies
Pierce the veil and enter the magical lands of the Fairies. Tread the dreamlands of the fairies through 20 beautiful pieces of artwork.
Land 3 – Deep into the Fairy Forest
What mysteries will be revealed deep within the fairy forest?
Land 4 – Elven Woods
Maybe the mystical elves can help you in your quest!
Land 5 – Angels & Fairies
Travelling towards the Angel's Kingdom, will they answer your call and help you in your quest?
Land 6 – Angels Among Us
The Angel King gives you two of his finest bodyguards to assist you on your journey
Land 7 – Veil Of Fairies
High in the cold mountains, can you journey through the dangerous Veil of Fairies?
Land 8 – Fairies & Dragons
Fearsome dragons nest in the nearby caves – are they friend or foe?
Land 9 – Fairywood Thicket – Coming October 20th, 2017
Adventure through the dense forest of Fairywood Thicket on your quest to find the mysterious artifact to bring harmony back to your lands.
DOWNLOAD FOR FREE TODAY & START YOUR MAGIC MAHJONG ADVENTURE!
You may also like world of solitaire
Mahjong Magic Lands user reviews :
This is a fun game. I also like the hidden object games with Fiona the Fairy. These games are fun and not boring. There are different parts to the game which is very interesting. I do not have to spend money. FUN GAME!!!!
Great app lots of fun and rewarding. Keeps the mind sharp. However after playing a while(on level 280) it jams me up not having enough coins to open up levels to play. I am not going to spend cash on any game. I'm stuck hit get coins button longer than it takes me to play normal and the expert level. No dungeons available yet. I'm just going to uninstall this it's a waste if time.
I love the game and the graphics. But I've tried 5 times to play this game today and have had to wait for it to download all the maps, takes 20 minutes to get back to my level every time. Plus today it kept saying I wasn't logged into the internet and that took almost an hour to get one level of maps downloaded. I was on the internet the entire time. Ridiculous! If this continues i'll just uninstall this game and find another one.
Love the graphics and great music! Love not being timed and you don't have to use real money to get the jar of coins, only have to watch ads if you want extra coins- very relaxing game
Contact developer :
Download Mahjong Magic Lands from Play Store
Leave your feedback regarding Mahjong Magic Lands
Get more android apps/games/updates
Subscribe to our mailing list and get new android apps / games and updates to your email inbox.
Thank you for subscribing.
Something went wrong.