[App] MaxNote – Notes No Ads, To-Do Lists, Notepad
 jw library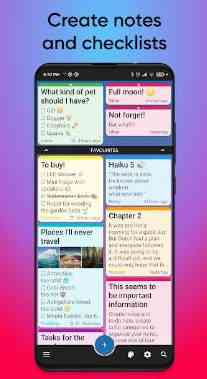 FEATURES
create notes and to-do lists;
add pictures and audio records ;
create categories to organize your notes, choose any color for the category;
autosave;
backup and sync ☁️;
numbering and auto-sorting in lists;
convert text notes into checklists and vice versa;
store your notes in a main list, archive, or trash.
TOOLS
text search + search in several categories, found text is highlighted;
share notes — one or all at once;
pin favourite notes at the top of the list;
get full information about the content of the note: number of characters, words, lines, files;
sort checklist items alphabetically and by status.
CHOOSE
list display type — compact, one column, two columns, flexible grid;
list sorting type — by categories and creation date/update date/alphabet;
pictures order and note covers;
categories order for categories sorting type.
CUSTOMIZE
background color;
main color of the application;
text size of title, content and description;
card appearance.
Special feature — Reachability: Pull down the list to bring it closer to the bottom of the display. Use it if you have a large display or if you just don't feel comfortable reaching for the top notes. Themes for Reachability: Summer, Autumn, Winter.
Try it in the app to make it clearer how it works.
Expect more useful features in future updates.
Feel free to leave feedback and suggestions. If you have any problems, please contact me on Google Play or email — maxciv.help[at]gmail.com.
MaxNote user reviews :
It's a really great app!!! I like it a LOT. It's been good as I've been quite upset lately, and this helped me calm down. Only problem is, when I try to watch videos for the fonts, after every one, they say net useless. However, on the same day, I was able to watch a video for the stickers! Please resolve this problem!
Notes taking by using cateogory is convenient now.But the interface takes some time to getting used to.I share notes with my wife by using the same google account in max note. It would be more convenient if notes gets saved automatically (like in khatabook app) and reflects on both phones at once. Manual backup is old now…
It won't let me create a note in any other category – will let me search but there's nothing to search because the default is orange and it won't let me do a damn thing. Color note is way better. Uninstalling.
MaxCiv

You need to click on the "Categories" button when you create a note, not when you are on the home screen.
This looks great but disappointingly as with many promising apps, I appear unable to be able to use it with my exchange Active sync account. I'll gladly change this review if I'm wrong.
MaxCiv

You don't need a Google account to use the app.
Great app. The only fault for me is Google. More google?! There is more than Google in regards to the internet and I could live with less of it being involved in my daily interactions. It would be great if there were other backup choices. I almost deleted this app when I started it and saw the all too typical login/signup. Gladly you don't have to. So glad because this app goes above and beyond in its features. Not a fan of google, but you should really give this app a try!
MaxCiv

Thanks for your feedback! Google was chosen because it is the most accessible method for users (if you have installed an application from Google Play, then you have an account). It also has a great API. In the future, I can also add a local backup.
Update! Changed rating to 5 stars. Dev reached out and I was able to fix both of my issues! Orig review follows: has potential. I downloaded on my phone first. Was liking the app, so I downloaded on my tablet. The gradient background is cool, however, on my tablet, the only color choice I have for the main color is black. Also, the sync/backup isnt quite working. I set up categories on my phone, backed up and those categories don't appear on my tablet. Hoping the developer fixes these things.
MaxCiv

Thanks for your feedback! On "Select color" dialog move slider at the bottom all the way to the right, this is the percentage of black color. Automatic backups are performed once a day, so if you want sync now, manually press "Backup" button on phone, wait until end of backup, then press the same button on tablet.
What a wonderful app it is well developed and very versatile and I love that it is free of ads even though I would most certainly contribute to it's development it's just that good the only suggestions I would have right now would be change the font color and add the ability to attach videos to your notes other than that this app is spot on!!!!!
MaxCiv

Thanks for your feedback! Video and further color improvements are in the plans.
Contact developer :
Download MaxNote from Play Store
Leave your feedback regarding MaxNote
Get more android apps/games/updates
Subscribe to our mailing list and get new android apps / games and updates to your email inbox.
Thank you for subscribing.
Something went wrong.