[Game] Mazebert TD
 i am innocent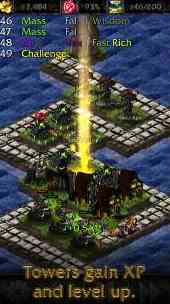 Mazebert TD is an unconventional tower defense in which no game plays the same.
Featuring 172 unique, randomly-dropped tower, item, and potion cards, you'll find each defense must adapt to the cards you're dealt.
Key features include:
Refreshingly unique (and damn hard) gameplay.
Random tower drops each round.
The ability to buff your towers using item, potion, and hero cards.
Towers gain experience, and so do you! The more you play, the stronger your towers become.
Cooperative play and discussion among a vibrant, friendly community.
NO PAY TO WIN FEATURES. All in-app purchases are strictly cosmetic.
Periodic additions and updates, including annual season-based content.
This game was made by one developer in his spare time, because he loves making and playing games. Because this is a labor of love, I value your feedback immensely!
With that in mind, I encourage you to share your ideas, suggestions, and feedback by joining our community at Mazebert.com. There, you can suggest new features, detail any bugs you find, and even submit ideas for new cards. If the community approves your card, I'll include it in the game, and your name will be added to Mazebert's credits.
I hope to see you in the forums, and happy building!
Andy
Mazebert TD user reviews :
The gameplay and the game mechanics are excellent. The balance sadly isnt. I have tried 15 times to get past Easy mode on 200. The closest I could get was 80. Maybe ditch the tower exp and just use gold to upgrade towers or if not then perhaps a seperate game mode for it.
Although quite challenging for a newbie like me, very fun and addicting. No in app transactions that affects gameplay is a big + too.
I like the game, even the dificulty is great , just waitng for updates.
Nice tower defense ever ! Please increase the range of scarface best tower in the game!
Andreas Hager Gaming

Thank you! Yeah Scarface is great. I'd love to try it with Prophet Lucien hero, once I manage to beat the DoL map.
This game is really good if you like challenging games. Period.
The game is really hard to learn, but once you learn it, you will love it
If you like games with a lot, and I mean A LOT of RNG, try this, else stay far away. EDIT: Maybe drop 2-3 same tier tower cards from which player can choose 1. This will make me feel like it's my fault for a bad strategy instead of feeling pissed at RNGesus while still keeping the core gameplay same. There will be a need for more tower variety for this to work though.
Andreas Hager Gaming

Thanks for your review Allen! Is there anything in particular that you'd change, that would make the game more enjoyable for you? EDIT: Thanks for your suggestions!
An extremely similar game to YouTD mod on Warcraft 3, one of the most enjoyable tower defense games out there. The game is a real blast and I recommend it to anyone who is either into TD games or just gets bored with every game after a day or two.
Andreas Hager Gaming

Thank you so much for your review! And yeah, I've been playing a hell lot of YouTD
If you are feeling nostalgic for the old Warcraft map YouTD, this is the game for. Not the best graphics, not that many towers yet but there is a good progress and development lately.
Andreas Hager Gaming

Thanks!
Awesome game… I was surprised to see that there are new cards and will be adding a whole new deck. I've been deleting and redownloading this game so many times. Nice work on the updates.
Andreas Hager Gaming

Thank you! Hope to see you when the season starts
Really fun game with plenty of potential. Thank you for the quick response it shows you put in a lot of work in to this game. Cant wait to see what else you come up with. Great game!!!
Andreas Hager Gaming

Thank you so much!
Contact developer :
Video :
Download Mazebert TD from Play Store
Leave your feedback regarding Mazebert TD
Get more android apps/games/updates
Subscribe to our mailing list and get new android apps / games and updates to your email inbox.
Thank you for subscribing.
Something went wrong.