[Game] Mega Shooter – Shoot em up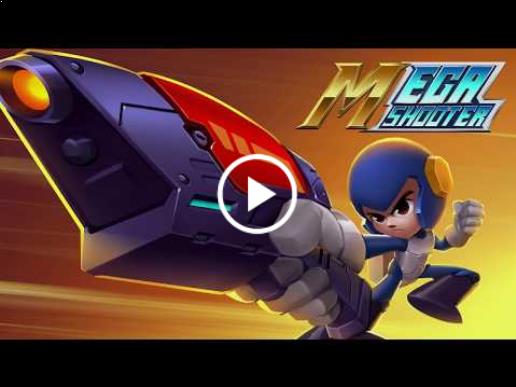 Mega Shooter is a shoot em up game with its very unique game play.
A fast paced action shooter game! Use a wide selection of weapons and powerups to tear through increasingly challenging levels.
30xx, when the Earth is about perish by pollution, disease. A ship carrying the most advanced and strongest robots is sent into space, hoping to find a new planet that humans can live on. Throughout the journey, robots must fight off large and dangerous aliens on the planet they come.
A great action shooting game with many great features. Let's play, shoot & fight, take your gun, kill all enemies and become a hero!
Mega Shooter will put you in the battle in the galaxy. In here, you have to battle with endless wave of monsters to keep you alive and gain victory. On your journey in the galaxy, your comrades are the battle hero robot. They will follow your command to battle with the space monsters. To kill all of those monsters, you will need weapons, guns and in this game, there are many of them. You can choose the one you like from blizzard gun to fusion cannon, bazooka, metal saw gun, laser beam to many more. Let's explore them by yourself.
FEATURES
Cool sci-fi 2D style art and animation (Galaxy style)
Unique gameplay with shoot em up style.
Fun, challenge and entertain gameplay
Epic battle, many interesting levels
Many metal heroes robot on your side to fight and shoot along
Tons of guns to choose. . From gun to cannon to bazooka to shoot those monsters
Monsters are ready to give you death. Defense and survivor game style.
Big, bad, ugly bosses are waiting. Crazy and massive battle
Shooting games multiplayer: coming soon
HOW TO PLAY
The core mechanic of the game is you shoot vertically. The monsters will spawn every where and you have to control your hero robot to move and avoid them, also kill them.
You can dash to move faster and take no damage.
When there are too many monster, use the special gun ultimate shot to clear them. Each gun has own unique ultimate shot and choose carefully for your robot hero like metal gun to melee or bazooka for big explosion.
Each characters in the game has an unique ability and they can be useful in some particular missions and situations. Learn how to use and master them so you can win all those monster with your metal robot hero.
The upgrade mechanism is very clear and easy to do. All you need is just money in game. Collect coins and do missions to upgrade characters and guns to become stronger so you can beat those space monster easier.
Many kinds of monsters are there, on the journey in the galaxy to knock you down. Be careful to all of them or you'll pay the price, even with the tiniest one. And your metal hero robot have to face with the big, bad bosses too, defense your headquarter. Battle with all of those bosses will be very massive and epic, challenge you and you have to use all your skill to kill them. Enjoy the fight!
A great action shoot em up game with many great features. Let's play, shoot & fight, take your gun, kill all enemies and become a hero!
Thank you!
You may also like
Mega Shooter user reviews :
Ive been waiting on part 2 of bug zapper (i think thats the name) guess this will due. I miss the little guy getting carried away. The graphics aren't as good, but its still well designed and is now the only game i play. Down load is a must
Right now I give it 4 stars cause it has fun factor and is very rewarding, just wish you can shoot multiple angles and change the controls also, the hints and info between load times are very fast to read if you guys can make a section or even give it more time to read, I like it's not a cash grab like many other games of this genre or pay to win so far
great idea. i feel the megaman theme. HOWEVER, the game itself is wacked. you only shoot up. its pretty basic… tooo basic. has hella potential though.
this Game is so Cool.Can you just continue to Add more Levels,Monsters and Guns please. also, Love the Music
Great game all in all but u should add a sideways shoot button so that i will be easier too shoot the goopy and wierd creatures
Good gameplay and nice graphics and medium difficulty
Amazing game. I really love it
Contact developer :
Video :
Download Mega Shooter from Play Store
Leave your feedback regarding Mega Shooter
Get more android apps/games/updates
Subscribe to our mailing list and get new android apps / games and updates to your email inbox.
Thank you for subscribing.
Something went wrong.