[Game] Mow Zombies
 i am innocent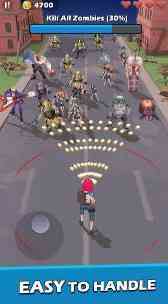 Dear zombie hunter, the world has been destroyed, you are our last hope, zombies occupied our home completely, we will provide you with the last power of humanity — weapons, please use them to save our world.
Game features:
1. Use only one hand to avoid and destroy the zombie horde coming towards you from all sides.
2. The thrilling zombie siege is visually stunning.
3. In addition to killing all zombies, there are more interesting quests to complete.
4. Get more featured guns to make you better.
5. Challenge the best boss to prove you're the best.
So take up arms and start your challenge now!
Mow Zombies user reviews :
Man I hate giving this game a bad review. It USED to be fun. But they just updated it, and it's clear all they care about is making money. They nerfed all the stats, while almost trippling the cost to upgrade them, but you can use thier premium currency to cheaply do it. They nerfed the rewards of all the free stuff, and increased the gems needed for stuff. Now the game is almost unplayable unless you pay money. It's disgusting way you did with this update. The game used to have a fair balanc
The update is interesting…new levels of guns for more power, more interaction with the camp. What i don't like is that you don't get a lot of hearts like you used to from the camp or watching the ad for more hearts. Ads not being readily avail for triple rewards or rewards period is STILL A PROBLEM!!! Weapon chips drop more, saved your asses there, but still an issue. Having an issue with getting the same save point on my new device though..any suggestions on how to do that? Not starting over
This is one of the few action packed games I can play. I only have the use of one hand and like the fact that the character turns and shoots automatically. It allows me to play with just my thumb. The game though fun can get a bit repetitive after level upon level of the same thing when your trying to upgrade weapons that don't seem to change. Power ups in game are cool, but I feel they should be part of the upgrades you make to your weapons. Adverts that give bonuses don't always work.
good game.latest update kinda balances things i think? the game is still super hard you cant even out run the dogs how will you survive if they pop up even when you teleport? you need to find at least 6 or 7 power ups if you're lucky and watch a video to continue. coins still has low value you cant upgrade weapon without watching a video. ifeel like my best weapon isnt good enough. i think you need to purchase the grim reaper for you to continue.? … still waiting for a good balanced update.
Good game so far. However, you have to option to watch ads to triple your rewards or to open chests, which will help boost your character quicker. Over half of the time when I select to watch the ad, it says it is not available. Most of these times are for a 1 time reward that I can't go back to. Don't offer something if it is not going to be functional
I was, loving this game. Had most of the weapons and upgraded them all. Then an update. Things now cost twice as much. Powerful and upgraded weapons are now useless and weak. There's no site to support understanding of any new features or messages that appear in the game. I went from loving it and playing it daily to rarely at all anymore. That last update has destroyed my love of this game.
his game is AWESOME!!! Check it out guys!!! I'm not one for zombie games but this is brilliant. The game is always busy. They're generous with rewards ; really!! It's non stop and not boring at all. Please install& enjoy!!RW (((((Update: I have one querie: when playing and WARNING comes up, is to slow. It interrupted the game play. Can you quicken that up maybe???)))))
Contact developer :
Video :
Download Mow Zombies from Play Store
Leave your feedback regarding Mow Zombies
Get more android apps/games/updates
Subscribe to our mailing list and get new android apps / games and updates to your email inbox.
Thank you for subscribing.
Something went wrong.