[Game] Narcos Cartel Wars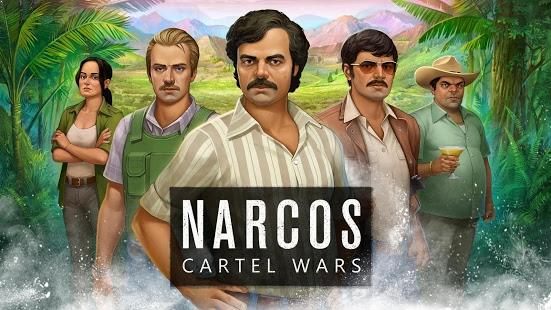 Please be patient when first starting the game after updating.
Loading time may be a bit longer than usual, as the game will be downloading additional new content.
Power. Loyalty. Warfare. Product.
It's all fair game when you run your own cartel in the official game of NARCOS.
Step into the dangerous and thrilling role of cartel kingpin in the official game of the hit television show NARCOS.
Decide between leading through raw power or gathering respect through loyalty. Sometimes bad people do good things… In the end you must decide, will it be "Plata o Plomo"?
NARCOS
Learn the ropes of running an operation from El Patron himself and manage your "relationship" with the authorities through agents Murphy and Pena. Enter the world of Narcos with exciting events and updates of content from the show.
Recruit and build
Choose Plata and hire sicarios and build your defenses. Collect different sicarios, level them up and have them defend your base and add bonuses to production.
Wage War
Choose Plomo and send sicario led death squads to take over high value resources from other player cartels.
Profit
Develop your operation by building out your jungle finca with processing plants and labs. Select smuggling lines and plans to maximize revenue.
Cartel
Team up with other players to form cartels, lay siege to enemy cartel compounds in multi-day campaigns for domination.
There is money and power to be made. From now on, nowhere is safe.
About NARCOS:
Narcos is an inside look at the men who would stop at nothing to take down the cocaine drug lords. From the Colombian government to the DEA agents, from the policemen who would risk their lives to the US officials who would spin the story. Narcos is an unfiltered look into the war that would change the drug trade forever.
Narcos Cartel Wars user reviews :
Great game, really good work guys. As a suggestion, you could add more sicarios and "change name" option, even if you gotta spend gold to change your name, that would be worth it.
This game is really addictive once you started to play it. Nice gameplay better than any strategy games that I played before but when you reach lvl 50+ & rating over 10k, it become harder & harder to play. Don't bother spending money because it is not worth it. I play this for 5 years but still can't get the best out of this game. After new updates over & over again, the game become corrupted like the developer themselves. Thank you developer for corrupting this really good game.
FTX Games LTD

Thanks for your feedback, Iskandar. We're always looking to improve, so please reach out to us on our forums at ftx.me/NarcosForum and let us know your thoughts!
Reasonable game that past a certain stage becomes a little bit pay to win oriented. If you need support with an in-game issue, you could be waiting along time for a resolution. Im waiting almost 2 mths for 4,500 missing gold from offers… they just keep saying, they have no new information. I wonder, have they tried to help or am i being fobbed off? Ive been playing 12mths.. my lvl37 account has tougher outposts than my lvl49 account, alot tougher too! It should be the other way around…
FTX Games LTD

Hello Peter. Could you please provide me with the first part of your email address that you used to contact support so that I may look into this personally for you? Thank you very much!
I play this game for a year now but its keep giving me problems like sometimes I have only one attack in the cartel wars instead of three and sometimes I havent even attack in the cartel wars then my game logged out on its own and sometimes the speed of this game is slow .. And it take to long to upgrade my things in this game sometimes it takes two days to upgrade
It's a great game and very addictive but be leopard to spend a lot of money to be competitive. Best to stop at level 38 or 44 unless you want to spend a boat load.
Addictive. Game is great. Really have to think before attacking. The only thing I don't like so far is the shield. I know theirs 3 different kinds. Each shield protects by how many days etc. Protects your resources. Would be nice to have another shield to protect your ranking. Protecting the resources is great, protecting the rank is great too. Just saying despite how much I spent on this game.
Best Game on Play Store Fantastic game! I'm really enjoying it but it still needs some tweaks though. Please give rank points every time we defend our base. I find it tough to advance in the game because each time an area is captured by the enemy, we lose 1 rank point. Keep up the good work!
Latest Update :
Bug fixes and stability improvements
Contact developer :
Video :
Download Narcos Cartel Wars from Play Store
Leave your feedback regarding Narcos Cartel Wars
Get more android apps/games/updates
Subscribe to our mailing list and get new android apps / games and updates to your email inbox.
Thank you for subscribing.
Something went wrong.