[App] Note Anytime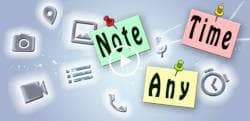 Keep Your Ideas Anytime Anywhere
Add notes, make lists, and set reminders. Take shots or shoot videos to note down your thoughts real time. Retrieve your location and save phone numbers to dial later. Share notes anywhere.
Group your notes
Label your notes with different colors, tags, and categories, so notes with the same color, tag, or category appear together.
Smart Search
You can do Instant search or go to Search Home to do multi-condition search and manage it afterwards.
Warm Tip
Adding a location will initiate GPS service temporarily and connect to the internet to retrieve current location.
Initiating GPS service will consume more battery power and decrease battery life.Connecting to the internet may increase your telecom fee.
Key Features
You can create the following different kinds of memo in a note or add it to the note.
Create simple text memos quickly.
Create lists to break down steps and mark tasks that are finished.
Create one-time and recurring reminders. The later can be set to recur every day, week or month.
Use camera to take pictures and annotate what's on your mind.
Use camera to take videos and annotate your feelings.
Through Voice Recording, capture your thoughts at the moment, create a voice memo and add annotations.
Through Voice Input, create text memos right away.
Select a photo, a video or a voice recording scattering in the multimedia on your phone to create a memo.
Use Location service to create a location/an address memo where a map is included.
Use Location memos to plan a tour itinerary, and initiate Google Map to navigate to your next destination.
Through a Location memo, the current location can be retrieved automatically. You can move and reset the anchor freely, search any location, and search nearby locations.
Create a telephone number memo, so you may click on the number to make a call in a flash.
Create an email memo quickly so that you may click on it to share the note to the recipient.
Share your memo to friends anytime. There are many sharing tools for you to choose from.
Undo and Redo are provided to edit your memos in notes.
Edit Home Filter in Settings to filter the notes you'd like to display on Home. Filtering conditions can be set according to key words, categories, tags, colors, memo types and/or modified time.
Enable the Direct Editing Mode in Settings, so you can edit notes directly when entering them.
Change system background color and enable more colors in Settings.
Disable Display Toolbar in settings, so that the toolbar will be hidden upon entering a note.
The following features make it easy for you to organize and search your notes and memos.
‧Fast text search enables you to search any text contents and descriptions in all your notes and memos in an instant.
‧Categories, tags and colors help you manage and differentiate various notes.
‧Categories and tags are customizable; that is, you can add any new categories and tags.
The following advanced features are exclusive for Note Anytime Pro
‧Import and export (backup and restore) safeguard the notes and memos you created.
‧Smart Search enables you to set multiple search conditions and manage your searches for different kinds of memos.
‧Categories and tags are customizable; that is, you can add any new categories and tags or delete the ones you added.
‧Different sort modes are provided. You can set the sorting order according to time, title, category, tag, and color. Ascending or descending sorting can be set when doing an advanced search.
‧Sorting order being editable allows you to edit the sorting order of categories, tags and colors. Notes will be shown in accordance with the order you set.
‧Search favorites allows you to create unlimited and reusable search favorite rules. Search conditions can be set according to key words, categories, tags, colors, memo types and/or modified time.
You may also like
Note Anytime user reviews :
Great app as a little brother to AllNote without drawing and formatting. Two things: please make it possible to share TO Anytime note. I don't understand why this is not implemented. Second: images are not in best quality when inserted, mostly applies to landscape photos. Maybe adopt AllNote approach where you open the image when clicking. BTW, there seems to be a bug with refreshing of icons on Nougat in both apps, please fix. I have tried a lot of Note apps, these two apps suits me very well. Fast and easy, with the clever smart search. Love it.
Latest Update :
1. Fix the issue where the screen moves very slowly when it's being slid up or down on some devices
2. Add a feature that a note created on each category, tag or color screen is automatically set with the same category, tag or color.
3. Add a feature that a note is selected after holding it down.
4. Add three languages—Spanish, French and Japanese.
Contact developer :
Video :
Download Note Anytime from Play Store
Leave your feedback regarding Note Anytime
Get more android apps/games/updates
Subscribe to our mailing list and get new android apps / games and updates to your email inbox.
Thank you for subscribing.
Something went wrong.