[App] PhotoLayers – Superimpose, Background Eraser
 jw library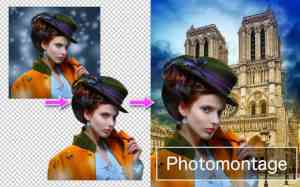 This is an application for making beautiful photomontages.
This app has the powerful feature of making the image's unneeded area transparent.
( Background Eraser )
You can combine up to 11 pictures together at the same time in order to create a photomontage.
This app also has a useful feature of changing the image's color tone and making it more attractive.
By using this app, you can be a great artist !
PhotoLayers user reviews :
I was pleasantly surprised to find that this app does everything I expected, pretty much flawlessly. It's very easy to use easy to understand controls and it actually does save your edited images to wherever you want them to go here photo album on your device email etc and if I have seen an ad, it wasn't intrusive enough to cause me to associate this app with ads ..and I've used it to edit easily a dozen photos.
It's a very good app when editing, I recommend this if your a new or starter Editor! If you want to erase the background of your main picture you can delete the background. (I should never mention this!) But the bad thing is, is not moving the picture. I wish you could move the picture! If you started editing well this is a great app or editing app to use! That's it! And Happy New Year!! -Gemma Garcia
love it. does exactly what it says it does. May not be comprehensive, but has given my thumbnails and still art a way to manifest themselves. I use this constantly and the banners aren't even that annoying. Only complaints are you can't zoom on the main background as far as I can tell and that there isn't a landscape mode, which would prob be bad cause of the ads.
I don't understand what are with these heavy critics! This is probably the best editing app so far! I'm doing a small business, I do poster and editing a lot using this app! Almost 2 years now! However there is certain improvements and suggestions, BUT I do realise that this app functions to only add layers and cut background photo! Not ADOBE Photoshop or Ai!
I like this a lot. It's easy to use and the results seem to be very good. . . I am still a novice but am having fun. . . would recommend if you want to do some picture editing. Still using this in 2021 January
Easy to use. Had to put a mask on my avatar because of pandemic. Pixlr editor could not get rid of background pixel but your software had 'magic' button which cut a precise outline. Very intuitive. Did not even have to read instructions. Total Thumbs up!
I downloaded about 8 similar apps at the same time to compare. This one bar far did a better job of erasing the background which was what I wanted an app for. It also adds layers, shadows and you can edit the photo brightness etc which is more than I wanted and definitely handy. Only thing it doesn't do which I could use was the ability to straighten up my photo. Really pleased with it.
Awesome app the only thing is, I wish when adding another photo, that you could Zoom in to both photos as though they are already combined. It would help to edit and shade things in when replacing or erasing. Great app tho
I've found this app to be very handy over the years, you can create some great stuff with it like banners or profile images that look great. The main thing I like about PhotoLayers is that the cursor is offset so you can see what you're editing instead of it being under your finger. Load an image for the background, crop it and adjust the color tone to your liking then add a foreground image to place on top then use the Cut option to delete the background by hand or Auto function.
It so easy to remove background. And can convert to png files easily just by using phone. The tools are just quit enough for a beginner, can create layers of photo at the same time.
1st i really liked this app. But after using it…. It makes my hd photos in low quality. Example – When I cuts a 2500×2500 pix photo it converts in 500×500 pix photo. Pluse i'm unable to zoom in during adding one photo on another photo .Plz fix it. It will be very helpful.
So much more to this than adding one pic to another. Easy, clear instructions are readily available. So many options! Great app. Big thank you to the developer/creator. I recommend downloading the app: "Photo album for finding saved images" It works in tandem with this one and makes it easy to find any edits or finished works.
Contact developer :
Download PhotoLayers from Play Store
Leave your feedback regarding PhotoLayers
Get more android apps/games/updates
Subscribe to our mailing list and get new android apps / games and updates to your email inbox.
Thank you for subscribing.
Something went wrong.