[Game] Protect and Defense – Tower Zone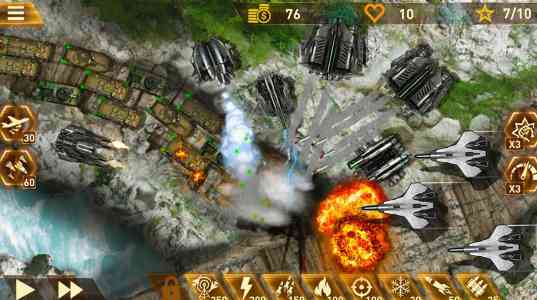 Enemies have invaded your lands.
Thousands of tanks and airplanes are ready to battle with you. Wars can not be avoided and you need to clash the alien face to face. Your enemies are not any monkeys – these are professional warriors! Only one side of the conflict will survive. To win you need to become king of TD.
Military equipment of your enemy is not a toy. Every battle with your enemy turns into battle royale. You and your enemy have modern equipment: tanks, ships, airplanes, artillery, mines and bombs.
Protect & Defense: Tower Zone is a tower defense game that will appeal to both professionals and new players.
You expect an interesting gameplay. All weapons and abilities are perfectly balanced. To win, you need to build new towers or update them. You also have the support of artillery, aviation and other bonuses. All towers have different abilities – some can damage few targets at the same time, while others shoot slowly but powerfully.
You will have to defend against many aliens using a variety of tactics. In the game you can customize fortifications as you wish. A flexible system for adjusting the level of difficulty will provide an exciting gameplay for any player.
Game features:
Strategic tower defense td game
Interesting gameplay
Many tower with different abilities
Bright and beautiful graphics
More than 30 beautiful levels
We hope you enjoy our game!
You may also like
Protect and Defense user reviews :
Decent app. Towers need explainers. Enemies must be focused. Towers should be able to focus specific enemies weak/slow/etc.
This has a nice interface and plays smoothly. It could be a very fun game but the AI is too stupid to target an enemy right beside a tower. Instead it insists on targeting something at the edge of its range in another direction. this make the game very frustrating to play. Fix the AI and I will re-review this game. it really could be a hit if it played fairly, instead it begs to be uninstalled.
Total ripoff of an older game: Defense Zone 3. The placement grid, tower types, loading checkpoints, graphics, level designs, nearly all the other mechanics are the same. Aside from needing some polish (freeze tower has barely any upgrade path, some text in English version still pops up as Russian, bonus ad loading is buggy), this game like so many other mobile games suffers from being "addictive but not very fun." Enemies get tougher and you upgrade your towers linearly, it's all very "by the numbers," and that's it. There's little strategy, no target priority, no upgrade branches, no real variation in enemy types, and everything on the screen is a similar color scheme so you wouldn't be able to see the difference if there were. It's a playable game to pass some time, but nothing special.
Game is addicting as hell, however it would be nice to see more variety of weapons and a lot less ads for stuff. Still very fun, except I don't speak Russian lol.
It's interesting game, I like this game style, but that would be cool to have maybe more towers, like a farm what can give more cash overtime, it is just suggestion.
It's great, pretty challenging and works well. Not overly taxing on normal level when one needs to watch TV at the same time. A good job.
This is aa fun tower game. Great graphics and. Moves quick. And challenging. Glad I found this one
Fun gun combine and grow alien shooter, but major drawback here is that the game is heavily redundant by the second go round. We all need more duffusing background plot story lines that will keep forward momentum energized and everyone heading in the right direction…. Next time 4 stars if we keep updates and upgrades" popping for the Holiday Shopping"!!
Very fun I really like that you can go back and play the first level and other levels and keep your turrets. Game play is easy and runs very smooth. Graphics are creative and look realistic. Can be very addictive. Thank you for making such a fun game. God bless.
I like the graphic, the sound, the games are addicted. Nice!
The game is very fun game it's hard but I enjoy playing this game
Awesome game. Sometimes to much going on especially in the corners.
Game is great…but just need a help guide to understand the upgrades and enemy vehicles.
Keep you thinking where to put your towers, cool game I like it.
Like this game I have to think where to place my tower
I am having fun playing with your game
Omg best game ever
Bueno el juego
Cool game
Contact developer :
Download Protect and Defense from Play Store
Leave your feedback Regarding Protect and Defense
Get more android apps/games/updates
Subscribe to our mailing list and get new android apps / games and updates to your email inbox.
Thank you for subscribing.
Something went wrong.