[Game] Questland – Turn Based RPG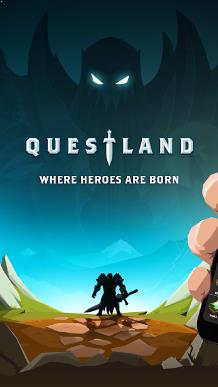 Questland is a first person perspective online role-playing game in the tradition of dungeon crawler cRPGs!
Fight epic monsters (PvE) and duel other players online (PvP) in this incredibly dynamic turn-based action game with CCG elements!
How do I play?
Create a character
Customize your hero
Fight
Loot
Craft legendary swords and armor
Enjoy fast-paced battles
Use your sword, fireball or blizzard
Explore amazing locations
Upgrade your legendary gear, make tactical decisions
Become The Chosen One!
Embark on an epic quest to defeat the Shadow in this never-ending war between good and evil!
Highly Addicting Fantasy Game!
It's one of those games, that always leave you satisfied with your progress… yet somehow wanting more.
Features:
CUSTOMIZE your hero whenever you want to: hundreds of looks to choose from!
COLLECT exquisite gear: common, uncommon, rare, epic, legendary
UPGRADE your armor with powerful Orbs and enhancements
FIGHT and lose yourself in great battle experience – fast-paced action
FIRST PERSON PERSPECTIVE – feel the thrill of combat thanks first person perspective during battles!
ENJOY stunning, modern visual effects and beautifully detailed locations
ASSEMBLE the collection of the most powerful Orbs and use their power to your advantage
EXPLORE the vast world of Valia: inspect the battle tower, visit shops, embark on voyages, meet colorful individuals and merciless monsters
QUESTS will keep you entertained and busy. Enjoy hundreds of assignments and funny narrative from fellow characters!
The story…
Once peaceful and beautiful land of Valia is now covered in darkness of an unknown origin. Swarms of ghouls, blood-lusting spiders, skeletons and other monstrosities have invaded the land. Who controls them and how can he be stopped? The answers are within your reach, and with each swing of your sword they are getting closer.
Your task? As dangerous as it is obvious – use the power of Orbs, defeat the evil and bathe in glory and fame!
Please note that although Questland is free to play, our users are able to purchase game items with real money. If you don't want to use this feature, please disable in-app purchases.
Also check our list
Questland user reviews :
Beautiful and simple. I don't have so much time for games, so this is the perfect balance between invested time, good quality and rewards.
pretty good start to this game, somewhat different from the usual idle games… it's kinda like a simplified WoW. so far so good edit: Very chaotic layout(so many different things mix together like spend gems, quests and a lot of pay 2 win options) wish they would seperate it more clearly. I also noticed the game is very slow loading most of the time…Hoping new updates would change this atleast
Gamesture sp. z o.o.

Thank you for taking the time to leave your review. Questland is constantly growing and full of engaging live events such as monster hunting or crafting, other activities include pvp Arena, story Campaign, and many more. We hope you'll be back to check them out and see there's plenty to do in our game. Thank you, Hero!
Love this game alot super fun but the only down side is maybe there could be a toutorial for new players to make it easier to get around. And when you see a boss it could do a roar or something looking plain when it zooms into there face. Besides that super fun
I wish I could add have halve of a star. Only because, I feel like these mechanics are top notch in gaming mechanics. Little by little you can gain a level. It's like 90% gain, but you have to add that 10% to accomplish a new level. A little struggle means you are learning to excel to a new better improved you.
Overall this game pretty good for me. Nice graphics and good gameplay. 10/10 will top-up again if you guys offer nice bonus for it. I only get connection problem on the arena when I try to fighting in. The other things seem pretty smooth for me, I dunno if I wrong at choosing a region, I'm currently in Asia but I choosing America. Does that wrong?
The game is really good and it provides a lot of opportunities for players to do get ahead without the need to spend money. The only criticism that I have is that the game's currency eternium is quite hard to come by and you need a lot of it to upgrade your gear, the game gives you the ability to smelt your gear to get eternium but they don't allow you to smelt legendary gear, which I think should be allowed to give players more opportunities to get eternium
This game is good so far. It's a little overwhelming at first with so much to do, but I'll settling in and enjoying it
Latest Update :
This release sets up new features and also includes some technical optimizations that will improve on loading times while playing.
Contact developer :
Video :
Download Questland from Play Store
Leave your feedback regarding Questland
Get more android apps/games/updates
Subscribe to our mailing list and get new android apps / games and updates to your email inbox.
Thank you for subscribing.
Something went wrong.