[App] ReliefMix – Affirmations & Tones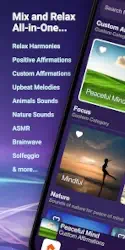 Create your own mix of relaxing sounds, healing frequencies, isochronic tones, subliminal messages, custom affirmations, and more!
Record your voice or use text to speech to make custom audio affirmations, and combine your personal affirmations with a huge selection of sounds.
NEW: Use ReliefMix to play your favorite sounds, brainwaves, and affirmations while using your favorite audio app. For example: Use ReliefMix to play custom subliminal affirmations while listening to your favorite music app.
Mix Relaxing Sounds
Enjoy hundreds of relaxing sounds, focus music, healing frequencies, and more including:
Ambience: Cities, storms, villages, forests
Meditative Melodies: Relaxing meditation music
Positive affirmations: Choose from hundreds of affirmations, or make your own!
Upbeat Harmonies: Uplifting focus music
Animals: Birds, crickets, frogs…
Nature: Beach sounds, heavy rain, thunderstorms, fire sounds
Binaural Beats, Solfeggio frequencies, Schumann Resonance, and Isochronic Tones
Brown noise, chimes, fan noises…
ASMR sounds: ASMR chewing, cleaning, and much more.
Positive Affirmations
Make custom affirmations or choose from over 200+ affirmations including peaceful, kindness, focus, and positive affirmations. Create the perfect subconscious mind programming audio for your needs. Enable subliminal affirmations to play subliminal messages quietly in the background.
Brainwaves
Empower yourself with solfeggio healing frequencies, binaural beats, and isochronic tones.
With ReliefMix, you can:
Listen to affirmations while sound plays in a different app
Backup & sync your custom mixes and custom affirmations across your devices
Relax at the beach with calm beach sounds as seagulls fly in the air
Improve focus by combining focus music, isochronic tones, and subliminal affirmations…
Record your own custom affirmations to work towards your goals…
Sleep soundly among a forest ambience with crickets, birds, and frog sounds…
Take warmth during a rainy thunderstorm as you listen to fire sounds…
Find yourself amidst a spring day with river sounds and birds flying by…
Combine ASMR sounds including ASMR chewing, brushing, and cleaning…
Zone out with brown noise and theta isochronic tones…
Combine healing frequencies and subliminal messages for positivity…
Sleep deeper to rain falling on a rooftop as an owl hoots nearby…
Spark creative thinking with binaural beats, isochronic tones, and solfeggio frequencies…
Create subliminal messages for positivity throughout the day…
Listen to nature sounds and sleep sounds offline!
…The choice is yours.
This app has no advertisements, and all sounds, affirmations, and brainwaves are available for free.
ReliefMix user reviews :
This application is really nice. I appreciate the variety of options for Isochronics, binaural beats, subliminal messages etc , in addition to customizable auditory subliminal messages and music. Though it's a bit glitchy in some ways. Still, it's free, and I can't expect everything to be perfect in respect to that.
Robin, thanks a lot for your feedback! ReliefMix has a ton of content and features, such as the ability to mix affirmations with binaural beats and sounds. Since your review, ReliefMix has been updated numerous times to improve performance and fix any issues. If you encounter any problems, please email support[at]reliefmix.com for support. Thank you!
I've used binaural music & hemi sync for over a decade. I have several apps that offer these but this one has become my go-to, namely because of the custom mix options and the amazing library of music, frequencies, and affirmations. Even the images are stunning. The layout/menu could be a bit more streamlined but I love the easy option to suggest content.
Thank you for your positive feedback!! ReliefMix is indeed unique because of its extensive library and powerful features. As for the layout/menu, it would be amazing if you emailed your suggestions in detail to support[at]reliefmix.com. We actively work with users to ensure the best experience possible
So far a nice app, I like that you can mix binaural beats with affirmations. I would like to see where custom affirmations can be added. Also a male voice. Edit: The Dev's have really polished this app, since my first review. Lots of nice calming music and new features.
John, thank you for using ReliefMix! The latest update allows you to create custom affirmations using your voice or text to speech. If you have any more suggestions, feel free to email support[at]reliefmix.com. Thanks again!
This app is awesome, I ended up getting the premium lifetime version and within the last hour I've been feeling better. Thank you!
Hello, Thank you for your kind feedback! I am glad to hear ReliefMix is helping you. If you have any suggestions (features, sounds, etc.) please feel free to email support[at]reliefmix.com.
Great app, easy to use, many types of background music/ sounds and brain wave entrainment are included, you can customize existing sessions or create your own
Hi Sandra, thanks a lot for your feedback :). ReliefMix has tons of sounds, affirmations, and brainwaves and allows you to combine everything to your liking, including making your own audio affirmations. If you require any assistance, or have any suggestions, feel free to email support[at]reliefmix.com. Thanks again!
Contact developer :
Download ReliefMix from Play Store
Leave your feedback regarding ReliefMix
If you like the content that we provide since 2012, put a smile on our face and give us a like or share this with your friends on any social platform. If you want to support this project, any crypto donation of $0.5, $1, $2, $3 is welcome!
You can find our crypto wallets on https://free-apps-android.com/buy-us-a-coffe/
Sponsored Links