[Game] Run SackBoy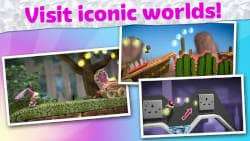 Sackboy, the knitted hero from the multi-award winning LittleBigPlanet™ series on PlayStation® lands into the palm of your hand in this brand new endless platformer!
RUN as fast as you can through an ever-changing handcrafted world
DASH to ESCAPE the GOO and the clutches of the grumpy Negativitron!
Iconic worlds and characters from the LittleBigPlanet™ games
Exclusive costumes to customise your Sackboy
Collect Stickers to unlock Prizes!
Power Ups and Upgrades including the all-new Glider!
Challenge and compete with your friends
Run SackBoy! Run! is free to download and can be played without making In App Purchases, however some in-game items such as Save Me Hearts can be acquired through in-app purchases. You can turn off the payment feature by disabling in-app purchases on your device.
Bubbles can be purchased or can be collected in game at no extra cost. They can also be used to buy special costumes that increase your multiplier, upgrades to power ups, Save Me Hearts or Lucky Chests.
Run SackBoy! Run! is free to download and uses push notifications, this feature can be turned off by disabling it on your device.
A third party Analytics provider (Google Analytics) may collect data about how you use this app. This can be disabled within the settings menu within Run Sackboy! Run!.
A valid Facebook account is required to activate Leaderboards.
A third party solution (Ad Colony) is used within the game for promotional purposes.
Run SackBoy user reviews :
the game is overall fun, but it's just so full of glitches! It also seems a bit annoying to me that if you open up a lucky chest (a 500 one) I just get 1 coin for a costume I don't even want. But that's just my luck. It also won't let me sign in to Facebook. I tried, I continued with my account, and then nothing happened. It's still a fun game though!
Really brings back memories. The game itself is amazing honestly. It doesn't force add down your throat, the gameplay is fun, stickers make the game addicting. Only problem is that it's running on old software so it's a little laggy but that's the only problem so far. We really take some things for granted. I enjoyed playing this when I was 12 and now I'm enjoying it 5~ years later. Who would've guessed?
Amazing game! I've always loved the LittleBigPlanet franchise, and this game is no different. I only have a few minor complaints. The first thing is that occassionally when starting a run or going to a new world, the music won't play. Of course, this doesn't affect gameplay at all but I really like the music. The other thing is that Save-Me hearts are extraordinarily difficult to collect. They're extremely rare. Throughout all my time playing this game, I've only found 2 naturally while running.
I like this game very much! I finished the stories of lbp1 and 2, but, I never wanted it to end. So, I decided to play this because it reminded me of the old lbp games. This game has a nice atmosphere and details, and, the controls are pretty responsive. However, there is one major disadvantage about this game. When I collected the set of the RSBR shirt, I put my email and everything, but, it tells me that a problem happened. I did everything correctly, but it still doesn't work. Please fix.
Great game! It uses ads well and isn't entirely play to win. Yes, a few features are locked behind paywalls but the game is still very fun. There's also stickers you can collect. Certain stickers allow you to get items in the other LBP games and that is very cool. Coming from a long time fan of the LBP series, this game is very good. I definitely would reccomend it.
This game is very addicting, you'll love it! It has fun challenges and the gameplay is amazing. You wont want to stop. However, the reason I gave it three stars only is because when I exit the game, it completely resets all my scores and bubbles! All my progress disappears – and all the hard work I put into the game, as well. I deleted this app after only 7 days or so of play. Maybe it has something to do with the device I'm on, but either way please fix this glitch. I really hate it. A lot.
This game is very good overall but on a run that was almost perfect I was trying to beat my 5,000,000+ score and then a little bit after I got a glider my game crashed I got so mad when this happened. So please if there are bugs that hasn't been fixed please try to fix them. Also some jumps in the last map are almost impossible to make it made this game a lot harder. But aside from that it is still a very good game but hard too
Absolutely LOVE the game, the graphics are awesome, the gameplay is simple but not boring, the music makes me happy and last but not least; as I never have had a playstation but always adored seeing friends play Little Big World on their console I always hoped something like this would come out for mobile! The reason I give 4 stars is because in the 2nd level the white electro pads are impossible for me (as a color weak/blind) and I never succeed to pass this level because of it. Is there any way the pad could be a little more different from when it sits next to normal white floor?
Contact developer :
Video :
Download Run SackBoy from Play Store
Leave your feedback regarding Run SackBoy
Get more android apps/games/updates
Subscribe to our mailing list and get new android apps / games and updates to your email inbox.
Thank you for subscribing.
Something went wrong.