[App] Safe Notes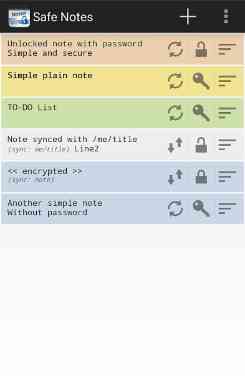 Password protected notepad that's safe, fast and easy to use.
Free forever – no ads or in-app purchases.
Protect notes and to do lists with password, and lock the whole notepad app with the PIN.
Copy any text from your phone to your computer (app-to-browser).
Write colorful notes, memos, emails, to-do lists, and encrypt them if you want.
Custom note colors / fonts / text size / sorting order / etc.
Sync notes online and access them both through web browser and Safe Notes app.
Taking notes with Safe Notes is as easy as it gets.
You can sync individual notes with ProtectedText.com, and access then from this app and through web browser.
Safe Notes provides ultimate security – you don't have to trust us, or any other third party to be completely secure (read more under FAQ on www.protectedtext.com).
Unlimited text size (up to 250 000 characters per note)
Search function
Simple safe password encrypted notepad!
How it works
When an individual note is locked, the password is permanently removed from your smartphone, and the note can't be decrypted without your password. You don't have to trust us, or any other third party, to store your password for you.
You can sync individual notes online to ProtectedText.com and access them with a web browser. No registration is needed. A note can be stored under any URL you'd like to use, e.g. yourname/sometitle, and then accessed through the app or online at ProtectedText.com/yourname/sometitle
The first user to use a specific URL owns it (by knowing the password that was used to encrypt the note on that URL).
The password never leaves your device, not even when notes are being synced online. Syncing notes with ProtectedText.com only stores encrypted text.
We can't decrypt your notes even if we wanted to. That gives you the ultimate security, but it also means that a lost password can never be recovered.
You can modify the same note on multiple devices, and when you sync notes, you'll be informed if there is a possibility that a note will be overridden by changes made in the meantime.
Deleting synced notes from your smartphone doesn't remove the online copy, so you can recover it later. You can permanently delete notes through the ProtectedText.com website.
Notes can be shared with friends by giving them the password to access your note.
This is the official app for the open source and non-profit service www.ProtectedText.com. Read more on: www.protectedtext.com/
What our users say
Simple and secure way to store sensitive info securely with encryption!
A great tool for keeping your personal information private yet available.
Best way to quickly transfer URLs, code snippets, email addresses, etc, from my phone to one of my computers or from computer to computer
Safe Notes is a simple and secure password protected notepad for all your notes, memos, messages, emails and to-do lists.
Technical details: Both Safe Notes app and ProtectedText.com website use AES algorithm for encrypting/decrypting the content, together will 'salts' and other know good practices to achieve exceptional security; and SHA512 algorithm for hashing. On top of that, all data is only provided through SSL.
You may also like
Safe Notes user reviews :
Great app, perfect for me and my girlfriend to save my personal stuff… i looked through the source code, and its well written and easy to understand, and is very secure, protected by AES encryption that can't be broken, even if the main server is completely hacked. The password is only stored in your head. Super useful, just one comment: When another version is saved and u have bot saved your work, you should get a notification. Might save a bit of time, work, and confusion. Thanks you for an amazing app
I totally love SafeNotes. I've been using it successfully, on more than one device, for a couple years now. My favorite feature is the ability to lock individual notes while leaving others open. I must admit that several questions asked of me, before i was able to compose my review, I had to respond that I was unsure of the feature. Those features, if available, are not important to me. Maybe one day they will, but until then I'll enjoy the features I like. Locking notes or the entire app are totally great features.
In settings, I have the 'autosave note when app closes' checked, or on. This feature doesn't work. I've closed the app probably three times, forgetting to save my work first. It's frightening when you realize the several pages you've input are gone, proof. Could you please fix this bug? Otherwise, it's great. Love being able to assign different colors to the notes, and the way you assign a title externally. Except, I encrypted a note when I first opened the thing. There is no way to recover my password, I guess? IDK what's in it, as I had not set a title. Wishlist: rich text. But… thank you for the free app!
This is a fantastic Notepad. I have used two others in the past and moved from the last one because of the excessive advertising that was added. There is no advertising with this one and your password is encrypted. So that if you have important things that you don't want seen by others, it seems to be very secured here. I would recommend this app to anyone wanting a secured way of storing notes.
Notepad

Thank you for your nice review DuPree. We appreciate it alot!
Latest Update :
Stability improvements and bug fixes.
Contact developer :
Download Safe Notes from Play Store
Leave your feedback regarding Safe Notes
Get more android apps/games/updates
Subscribe to our mailing list and get new android apps / games and updates to your email inbox.
Thank you for subscribing.
Something went wrong.