[Game] Slashers – Intense 2D Fighting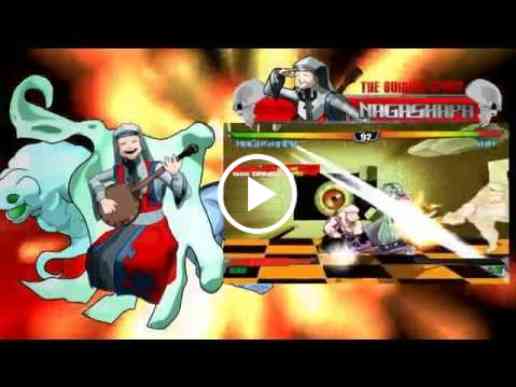 Slashers slashes its way to bring back the old 2d fighting games' spirit and challenge with simple game mechanics and tactical gameplay.
Main Features:
Choose from 10 unique fighters with different abilities:
Characters include an Ottoman warrior who wields a dagger and uses powerful slap attacks, a Kazakh shaman who uses spirits to attack and curse her opponents, a half-beast with his pet which helps to create combinational attack patterns, a templar knight who resists and counters opponent's attacks.
Cartoon-like HD Graphics:
Big and detailed characters and backgrounds compared to most old-school fighting games.
Simple control scheme to focus on tactics rather than inputs:
4 attack buttons (Slash,Big Slash,Kick,Power). Ultra responsive smart virtual pad makes a fighting game playable on touch screen devices.
Online versus play and ranking system.
Support for cross platform online play. Challenge players all around the world!
Journey mode.
Create a fighter, earn experiences and fight bosses.
Combo Challenge mode.
Perform specific combos for each fighters, record your own combos, upload and see what other players around the world could do!
Power Combining System:
Choose 2 power moves (AKA "supers") out of 4 at the beginning of every fight.
Each power move has different aspects and strategies. Know your opponent and adapt your counter or attack strategies!
Tactical Features:
Enhance your gameplay style and create your own combos with features like: "Block" (AKA "Parry"),"Recovery","Power Recovery","Free Cancel","Power Cancel","Power Escape","Throw Escape" and "Limit Break" attacks.
Ultimate Power Moves to destroy your opponents:
Destroy your opponent with a character specific method when they are on low health and you are on the winning round.
Slashers is also optimized for MOGA Controllers.
You may also like
Slashers user reviews :
My Opinion : It's the second best Mobile biased online fighting game ( i also like the offline mode) . It features the traditional fighting game arch and it's unique mechanics. I love this fighting game. It deserve more attention. I hope more content creator will come to promote this game. Please fix the glitches devs. Don't leave us
I was a little hesitant at first since this isn't as well made as other fighting games, but it was actually really good! Fun fighters, modes, and a decent price for the actual game. However, I wish the community was better and had more players online and ready to play online. I have played online a few times, but there are not too many people who dont want to play online, especially since there are only 4 people online. I hope this game gets some popularity in the future!
Fun game, but did you really had to put a paid membership to fully own it.. Come on, how u gonna make this game free and let me pay after wards, it's a rip off, just sell ur game from the start
pretty good little fighter, does what all the big name publishers should have done a long time ago. i appreciate something like this.
Literally one of the best mobile fighting games out there honestly it's extremely in depth and isnt scummy with micro transactions and stuff like that just a genuine quality game
Best fighter game since the original one but same original characters from back then and different backgrounds keep it up
Honestly a pretty decent copy of mortal kombat or street fighter. Very well done! Could be better like in terms of modes ig. Idk still exploring but a well deserved 4 star. Edit: Gotta spend 7$ to keep on playing the game. When u first log in with your gplay account, it activates a free trial which after like a month or something ya gotta spend money to continue playing. Over decent game, bought premium but still waiting for updates
This is amazing this is what im talking about idk how long this game has been on mobile but i give my absolute praises to the developers i mean this is console like gaming considering they have controller support combos and mix ups and more will definitely be looking for slashers 2 im guessing the game only been out for 3-4 years or so idk but its pretty cool wish i would have discovered ot earlier :)
So I figured out online ranked battles will work if u challenge a play instead if quick match..I just want to keep on reviewing this game..this is the best damn fighting on the market..it's me RETRO lol so you know I been rocking with u guys since day one..go ahead and make the console version ready
Stun Games

We're planning for a Steam version very soon, stay tuned!
Contact developer :
Video :
Download Slashers from Play Store
Leave your feedback regarding Slashers
Get more android apps/games/updates
Subscribe to our mailing list and get new android apps / games and updates to your email inbox.
Thank you for subscribing.
Something went wrong.