[Game] Super Jakes Adventure – Jump & Run!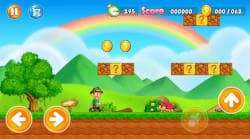 Are you looking for the best 2D adventure game? Then don't miss out Super Jake's Adventure – Jump & Run! , the best new game in 2021, it's free!
The beautiful Jungle World is invaded by jumpy monsters! To save his brothers called Bino, Sboy, Ted, Bob and Jabber, Super Jake, the incredible jumping Jack and leprechaun, needs to jump start his awesome world adventure, collect strawberries, jumping & running, smash the monsters on the run, earn the coins, and most importantly, fight the boss who masterminds the invasion!
GAME FEATURES:
Classic 2D platform game play – run & jump in the super world, smash the monsters, save the leprechaun brothers (called Sboy, Ted, Bino, Bob and Jabber the Jumper)!
100 challenging and addictive levels for adventuring – we are working hard to make more incredible levels!
8 great beautiful worlds in game aventure! Save the Jungle World as a jumpy jack!
Unlock 6 funny skins for Jake, the jumping jack, using your gems – adventurer Jake, pirate Jake, ninja Jake, leprechaun Jake and more!
More than 18 super tricky monsters to smash on the run!
Smooth retro game play, realistic physics, awesome graphics, great adventure worlds and beautiful music!
Epic boss fights in each world adventure!
One of the best new games in 2019 or 2020! Have fun in this classic platformer for free!
HOW TO PLAY?
1. Press the Left, Right and Jump button to make Jake, the incredible jumping jack and leprechaun, run & jump in the Jungle World
2. After you eat strawberries, press Shoot button to shoot monsters with bullets
3. Jump start your gaming and enjoying adventuring in the great adventurer world!
Are you ready to enter the funny Jungle World, jump start your world adventure and smash the roaming monsters? Download Jake's Super Adventure – a classic retro game and a funny 2D platform game – and start adventuring in this retro game adventure for free now!
Jump start your super adventure, jump & run, save Jake's leprechaun brothers named Sboy, Jabber, Bob, Ted, Pep and Bino, and bring your childhood arcade memories back! We promise you will be soon addicted to our incredible game adventure on the run!
Like us now:
www.facebook.com/superjakesadventure
Super Jakes Adventure user reviews :
I like the game alot I have played before in the past BUT…an ad after each level is annoying! Ads are fine,but NOT after every level! I REALLY miss playing this game! I found some stuff out,but I will keep it to myself! Thanks for the short adventure The freaking ads freeze!
I played the game and I completed all the levels .This is very interesting and addictive game … I have a only complain about this is that there must be different abilities of the skins if player has paid for them . All the skins are with same ability ..this is boring .
Actually a really good game :) well worth the money to unlock ad free. Only problem is I finished it! But there's something to be said for making it have an end that you can complete. Some levels can get really hard but they're not impossible, just takes a bit of practice to work out how to beat them, and its all the more rewarding when you do!
Rocklio

Thank you Richard and congratulations on finishing all levels! We will create more levels and create a bonus mini game at the end but it will take a few months to do so since we are only a 2-men team. Stay tuned!
Very nice and helps to remove boredom but ads are a lot and every while advertising and real money is needed for the jewelry in the game although it doesn't deserve money for a game
This game is excellent, very enjoyable. You're not running at break speed jumping and bumping; a good game to really appreciate.
Really enjoyable game! Very much like Mario Brothers but weirdly better. Very easy to play. Really appreciate the game being available.
I like how you can save Jake during the game, but I think that in most cases the game makes us die to force us to watch all the damned ads! Repeated ads over and over again, makes us want to uninstall this game quickly!!! You can only get 5 diamonds per ad and they start you out with needing 30 diamonds to save Jake, then 60, 90..etc.. I think I've had enough of the flying  ,birds, and everything that is going on at the same time to make you die! Uninstalling!!!
This is hard game but my favorite game a It's in the game and after passing the level the experience increases and on playing this game looks like i should end the game and I used to spend 3 hours in this game and also liked the characters of this game
Contact developer :
Leave your feedback regarding Super Jakes Adventure
Get more android apps/games/updates
Subscribe to our mailing list and get new android apps / games and updates to your email inbox.
Thank you for subscribing.
Something went wrong.